Carentan is good fun to get to whilst it is a long way around the top past Cherbourg and down the other side you see land nearly all the way and there is Barfleur drying harbour to pop into to break the monotony. Head down a twisty river and through the lock into a long strait canal. The road goes under the canal.
They had the foresight to install more poles for pontoons than they needed so don't think when entering the marina area they are some sort of markers – they aren't, so stick to stbd side of the canal. Carentan was well bombed during WWII and is mainly made up of post war buildings with a few historical ones remaining.
marinas.com/view/marina/10458_…
Carentan Marina – Richard says this marina is very good. Carentan is down a river then a canal that goes over the road. Many restaurants and a lovely peaceful place – even a swimming pool on the other side of the canal. Needs to be seen to be believed as it is a massive metal tank on stilts.
Contact Details
Communauté de Communes de la Baie du Cotentin
"Service Port de Plaisance"
Directeur: Denis LEPREVOST
Tel 02.33.42.24.44
E-mail – port@ccbdc.fr
Web site – www.ccbdc.fr
Marina Information
The Visitors pontoon is K pontoon
Speed limit 3 knots
LOCK GATE : When entering the harbour outside the peak périod, which is 1st June to 31st August, it is necessary to warn the lock keeper. A telephone is installed under the crow's nest for this purpose. You should lift the receiver, wait until the message ends and hold on.
SHOWERS : Showers are open in the main block from 8.30 a.m. until 17.30 p.m. from the 15th May until the 15th September, and from 8.30 a.m. until 17.00 p.m. for the rest of the year. Two showers are available 24 hours throughout the year and are accessed by a code.
VHF Channel 9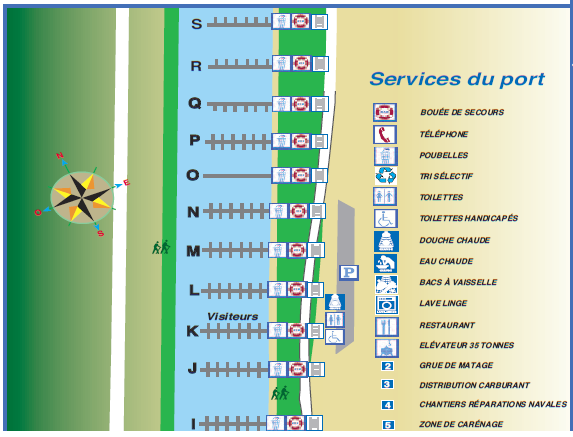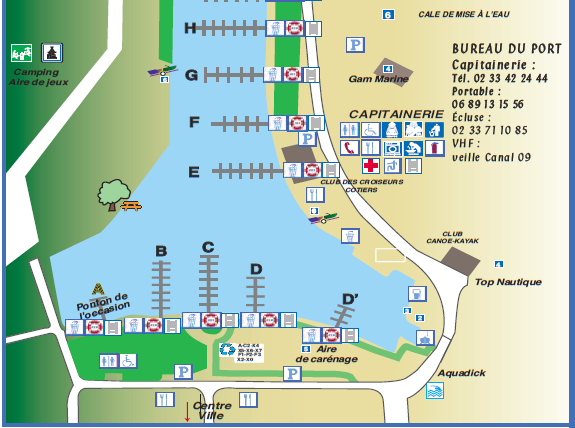 Tide times – see the attached tables – Carentan2018
Pilot Guide – www.sail-the-net.com/marinas/e……
30 visitor moorings
Car Rental / Hire cars
We rented through http://www.francecars.fr/ who were very helpful and efficient. Where it says "Modifier l'agence" on the web site, type in Cherbourg and then a drop down list should show Dielette, Carteret Yacht Club, Saint Vaast, Carentan Gare SNCF and of course Cherbourg. They delivered the car on a truck.