Dahouet is 59nm from Guernsey. Dahouet is across the bay ESE ish from St Quay.
Guide du Port – http://www.guide-du-port.com/port-dahouet-piegu/
Opening
We visited in late May 2012 and had previous reports that everything would be open. This was not the case and even the 2 restaurants that were open during the day, the Jez and the Petite Navire were closed when we tried to eat in the evening. They only served food at lunchtime.
We then had to walk for 30 mins into Val Andre to get some food as there was nowhere else.
Facilities
There were plans to replace them and hopefully they have now been replaced. Any updates would be appreciated
2012 report said "At first sight, they looked OK but on closer inspection, they were dirty and poorly maintained. While we were there they were never cleaned and the toilet roll dispensers were left empty. The showers work with a jeton which is purchased from a machine at the entrance to the facilities and costs Euro 2. It takes change. Showers are basic with no hangers and start too cold and finish too hot. Disappointing.You have to press a button on the shower unit to make the water come out. This is obvious in the men's' showers but not the ladies.The door is quite stiff to open from the inside. Watch your knuckles and children may not be able to get out."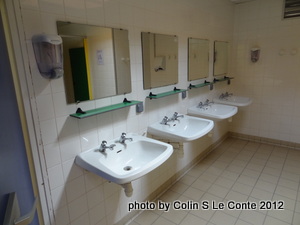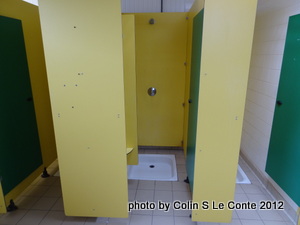 Port Office
The Port Office is the other side of the marina. The service in 2012 was poor. Even the weather forecast was 3 days out of date. Good job there is free wifi. Wifi times out every 30mins and you have to re-login. It does not seem to support VPN.
We believe the marina opens about 2 hours either side of high tide on neaps and 2.5 hours on springs, but please check. The marina opening times are contained in a booklet in the harbourmaster's office but we could not find it on the internet.
Val Andre is ten mins on bike or 30 mins walk from the boulangerie. A lovely beach there.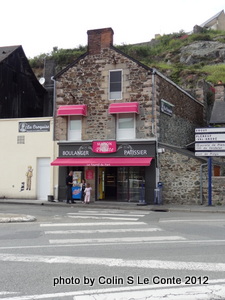 Boulangerie is 10 mins walk from the visitors pontoon.
Cliff walk is good, not suitable for bikes. Takes about 50 mins from visitors pontoon to Val Andre centre.
There is also a small chandlery in Dahouet, a Tabac/bar, a boulangerie and a takeaway.
Dahouet itself is very quaint and usually not too crowded, however, Pleneuf-Val-Andre is a short cycle or walk along the coast. A typical French holiday resort with excellent beach, casino and lots going on.
The entrance to Dahouet is a little forbidding but not a hairy as it looks. A bit like going into a bigger and wider version of Beaucette Marina entrance in Guernsey.
Pilot Guide – en.val-andre.org/
Contact information
Tel: 06 80 07 53 93 (mobile)
Tel no 02 96 72 82 85
Fax: 02 96 72 82 85
Website: www.pleneuf-val-andre.fr
Marina Master is Guy FRAVEL
E-mail – portdahouet@pleneuf-val-andre….
We have e-mailed the marina office on a number of occasions and never received a reply in English or French. We also e-mailed the Tourist Office and did not get a response. It is not surprising people go elsewhere.
Wikipedia – (french) – fr.wikipedia.org/wiki/Dahouet
Pictures
www.panoramio.com/photo/147187…
www.trekearth.com/gallery/Euro… Pléneuf Val-André Sites
www.trekearth.com/gallery/Euro……
Tides – tide.frbateaux.net/56
About halfway up the harbour in Dahouet there is a beacon (green?) on the starboard side with a reading of the depth over the sill at the time. (they were under water last time we arrived)
High Tide is about 40mins before Guernsey (please check)
www.pleneuf-val-andre.fr/maree…
Map –  en.val-andre.org/discover/map-…
Weather – www.fallingrain.com/world/FR/A…
Long-term www.worldweatheronline.com/Dah…
Web Cam – http://www.pleneuf-val-andre.fr/webcams
Yacht Club
The Val-André YC have their clubhouse in Dahouët. The Secretary is Alain CHEVREL, contact details: alanchevrel@orange.fr or +33 (0)296.729.232. The Yacht Club contact is ycva@orange.fr
Restaurants
There are basically three eating places on the quay (opposite the marina in Dahouet). The Petite Navire the Tiwanee and Le Zef.
Tiwanee 
A 2011 visitor from Guernsey reported. "Ate at the Tiwanee the first night. Its very good food, menu good choice, and good value. Its halfway down the quay and there are two trees in front which obscure the name. Normally they only open in June/July/August.  Very good atmosphere. (tel 02 96 63 05 85. Quai des Terre-Neuvas). However, in 2012 there was a sign up saying they would open in mid-June.
Le Zef
At Le Zef there is a limited choice (but good moules). A bit expensive for what it was.
Report from 2012 – good galettes crepes and quite a good menu. Service a bit slow although we did get the last seat. The manager said they do open in the evenings, but not Wednesday as it is Boxing Day (he boxes).
Petite Navire
We have eaten at Petite Navire in the past and it was perfectly ok. (02 96 72 96 92 Quai des Terre-Neuvas)
Similar menu to Le Zef. Galettes and Crepes looked fine. Closed in the evenings. Like some places, they are open most of the afternoon, but not for food.
 L'Atelier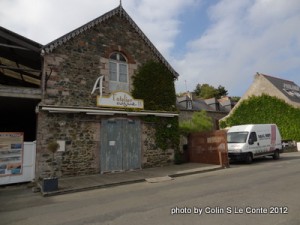 There is also L'Atelier–a cafe with basic food. In late May 2012 appeared to be closed, however, the next day when we passed, the awning was out, the doors were open and there were a couple of tables outside.
Otherwise, there are many restaurants in Val Andre–ten mins on bike or 25 mins walk."
Markets
Pléneuf – Tuesday
Lamballe – Thursday
Val-André – Friday
Erquy – Saturday