Tide tables – 2018 – and marina gate opening times – www.cc-lespieux.fr/fr/port-die…
La Raz restaurant and La Phare have both now closed.
Dielette now has a digital tide gauge as well as the conventional board.
2018 News – February
– the gate and the lights are now working
– Shops on the harbour: ship chandler, sailmaker, a wine shop and from November 2017 a printing house which will open a grocery space for the season
– Restaurants: L'Escale and le Bouche à Oreilles are still open. But le Raz Blanchard is currently closed until a new manager is found and le Phare and la Falaise are closed.
– Free buses to Flamanville and Les Pieux (closest towns from Dielette) in July and August (except Sundays)
– Small market on Sunday morning during the season
– Diélette is a member of Passeport Escales (www.passeportescales.com)
The link to the tide tables and original marina opening times are www.cc-lespieux.fr/fr/port-die…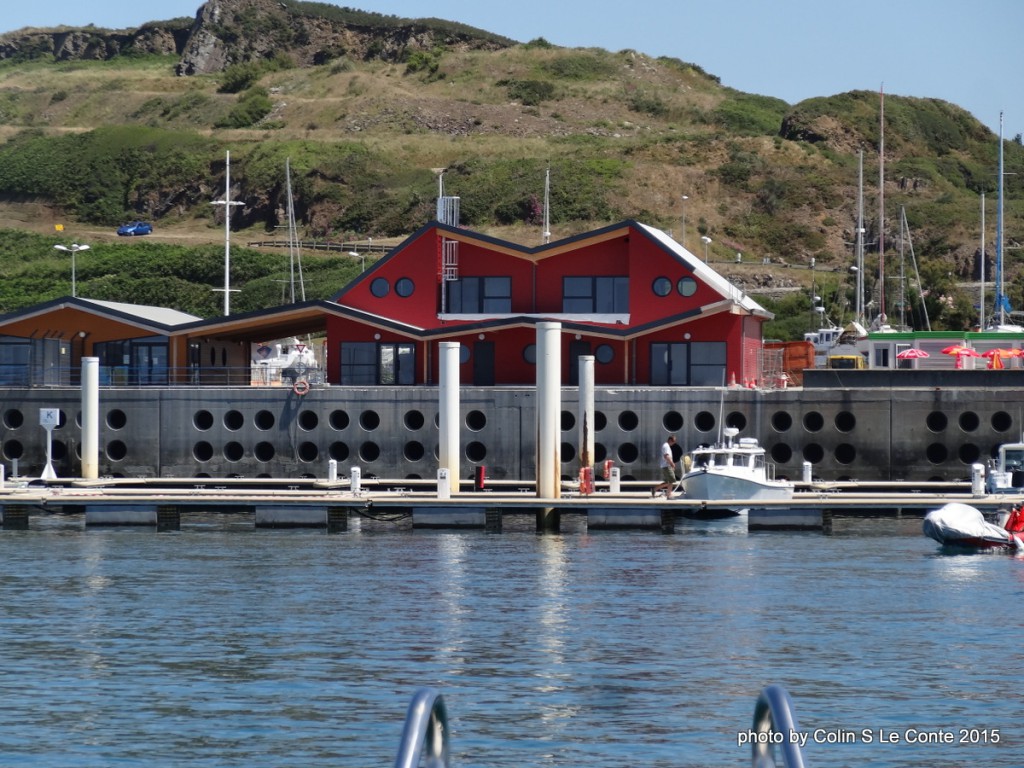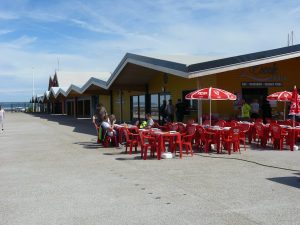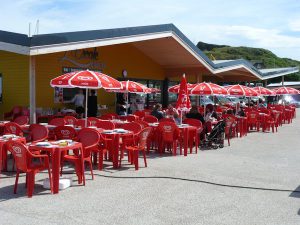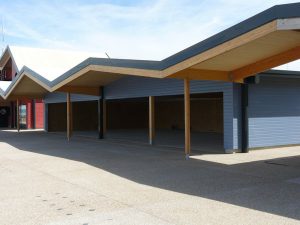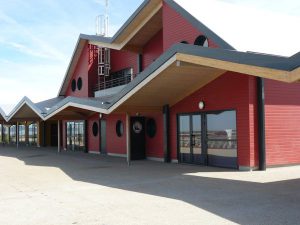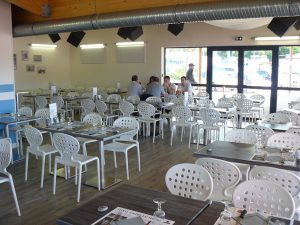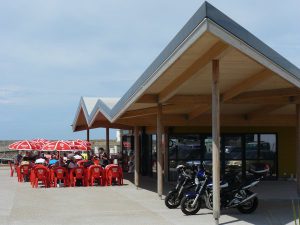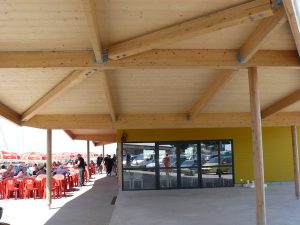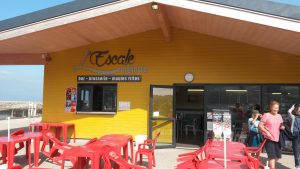 2016 photos with thanks to Patrick Banfield and Richard Bird
The harbour is reasonably 24-hour access but best check with the Marina Harbourmaster. The outer pontoons can be used for mooring (but there may be a swell) and can also be used to increase your arrival/departure times.
The most useful page – www.cc-lespieux.fr/fr/port-die…
When there was 1m of water at the shallowest point of the harbour entrance, the depth at the pontoon in front of the Dielette harbour office was approx 1.9m. A Guernsey Chart Datum of 2.5m would give about 1m at the entrance of Dielette harbour in 2010.
Boats having a berth in Guernsey have a 50 % discount on the mooring fees during all the year, except June, July and August. Jersey boats have a 50% discount all the year except on Friday, Saturday, and Sunday nights.
Dielette is a very pleasant marina and often has room available when Carteret is full. Only 20 mins from Carteret by car/taxi. The closest French marina to Guernsey.
The marina staff do not come out to provide guidance but stay in their marina office. No village or town close by and so not much to do unless you have a car.
There are pontoons in the harbour where you can moor if the tide is too low to get into the Marina. Sometimes there is a bit of a surge, especially at the harbour mouth and towards low tide. You cannot get in the harbour at all tides as it has silted up, so beware. Also – be careful near the wall of the marina on the harbourside, there is a big sill.
www.cc-lespieux.fr/fr/port-die……
transports.manche.fr/port-diel…
Pilot Guide – Capitainerie – 02 33 53 68 78
VHF channel 9
The marina office speaks good English and responds very well to e-mails. The marina staff are very helpful
E-mail: portdielette@cc-lespieux.com
Website: http://www.cc-lespieux.fr/fr/port-dielette/port-dielette-en-vogue/default.asp
Tides – maree.info/37
Marina opening times – www.cc-lespieux.fr/fr/port-die……
Map www.cc-lespieux.fr/fr/port-die……
Supermarkets – Restaurant L'Escale sells take away croissants and baguettes in the morning. Provisions can be obtained by walking over 2 km to Flamanville where there is a small bread shop and another selling groceries. It is a long hill.
Otherwise, a taxi to Les Pieux puts you in a small town with two good supermarkets. A longer walk along the coast (take water if it's hot) brings you to Flamanville nuclear power station where there is an exhibition of some interest and staff who will happily answer all questions and sell you a nuclear power plant.
Useful information from Bumblebee – www.bumblebee.gg/media/14352/D…
Restaurants – www.tripadvisor.com/Restaurant…
L'Escale The L'Escale is on the pier, eat in or outside. Moules and Frites or Entrecôte and frites are their specialities.
A very helpful manager who speaks really good English. Sitting outside in the sun (on the red chairs) is great if sunny. Inside, the room is modern but the fluorescent lighting is disappointing.
Richard says – make sure the steak is French style (à point – very pink!) otherwise it will end up like a piece of charcoal.
Moules are good especially so because of the very high turn over, it is used a lot by locals and will be busy on Sunday during the summer. More so now that the new power station is being built and they have included specials at lunchtime aimed at those workers.
Meal report from September 2011: 'Good, fast service and food came out in no time. Moules were excellent. RibEye Steak was disappointing. Little difference between the steak ordered as a point (pink) and the 2 which were bien cuit (well done).'
Meal report May 2017, Great Moules, RibEye steak still very disappointing. Overcooked chips meant only have of them were edible. Cafe Gourmand for dessert was awesome.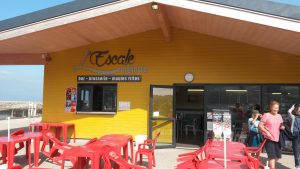 Note: The nearby fish warehouse is now closed.
Le Bouche a Oreille Down a track a ten-minute pleasant walk away is Le Bouche a Oreille. A great atmosphere and food cooked on the log fire. Maitre'd speaks good English, so you can easily book in advance by phone even if your French is limited like mine. Very good meal in October 2016
Tel no 02.33.41.84.49, e-mail contact@boucheaoreille-siouvil… .web site http://www.leboucheaoreille-siouvillehague.fr/
Hotel de La Falaise Further along the coast road towards the power station is Hotel de La Falaise, once again an easy walk all on the flat. Nicely presented rooms with typical old hotel type atmosphere and food of hotel quality.
www.france-travel-photos.com/t……
The Semaphore My favourite is The Semaphore with superb views from the cliff top location of Sark, Jersey and Alderney. Food the best in the area but will need to book as the French love it too. I was told by someone that if you book at the Semaphore restaurant, they now offer to pick you up from the marina. Closed when we tried to book in October 2016 – restaurantlesemaphore.fr/index…
Market day – Sunday (high season)
Web cam – www.cc-lespieux.fr/fr/port-die…
www.meteo-normandie.fr/webcams…
Bus – I am told there is a free bus in Dielette July and August 2011 (as attached top of page)
Car Rental / Hire cars – I am told you can rent a car through L'Escale although they were closed whenever we tried. Tel no +33 2 33 52 67 10.
We rented through http://www.francecars.fr/ who were very helpful and efficient. Where it says "Modifier l'agence" on the web site, type in Cherbourg and then a drop down list should show Dielette, Carteret Yacht Club, Saint Vaast and of course Cherbourg. They delivered the car on a truck.