Marina Tide times 2018 – ports.granville.cci.fr/wp-cont…
Next event is a regatta of 30 Cap Corse between 7/5 and 12/5 2018
Granville is a great town and has a fine marina. The town is larger than you would expect and has many great shops and restaurants.
The marina staff are helpful and efficient and Granville is a great place to start your journey around the coast to Saint-Malo and then west to Saint Cast and the rest of northern Brittany.
As well as the attractions of Granville, the Isles Chaussey are virtually outside of the town and make a fine view as you approach the port. Numerous day trips are available from the port to this interesting group of French islands.
The marina is busy and popular and it may be difficult to get in during July and August. Recently they have adjusted some of the pontoons past the lifeboat so boats can raft up. This is better for regattas and visiting groups and does provide more flexibility than all fingers, but we do prefer finger moorings. We are not sure if this is a permanent change or just for the recent regattas. but it seems to work well. After all, no one likes to be turned away.
Facilities
The facilities are good but not great. A code for the ladies and the gents (different code) and there are plenty of toilets and showers. Showers are free and do not need a jeton. Toilets lack seats which are a shame.
Both the supply of water & electricity on the pontoons are controlled by time clocks and may need resetting every 24 hours. Easily solved by pressing a button on the control panel but might just catch somebody out.
Ramps
At half tide and below, when the marina is closed, the ramps are VERY steep. They have non slip material but are too short and must be around 45 degrees. They can be a bit slippery when wet. They are quite a climb so you have been warned.
Meet and Greet
In July 2014 we were met by a small fishing type boat which escorted us to our mooring. Strange but efficient.
marinas.com/view/overview/951_… 
Tides – tide.frbateaux.net/45
Contact
Tel 02 33 50 20 06
e-mail herel@granville.cci.fr
website: marina.granville.cci.fr
VHF Channel 9
Restaurants – LE PONTON BRASSERIE, Port de Plaisance, Tel: +33 (2) 33 50 19 31. One of 3 Restaurants on the Marina (excluding Ibis Hotel).
The others 2 perhaps more 'family friendly'. Modern premises, possibly lacking in character, but good menu & can be very reasonable if you stick with moules frites and a carafe of house wine. Reservation advisable.
La Citadelle restaurant, 34 rue du Port, 50400 Granville, France +33 2 33 50 34 10
An amazing restaurant alongside the old port (2014). One of the best meals for years. French menu and v good service. Ranked 3rd on TripAdvisor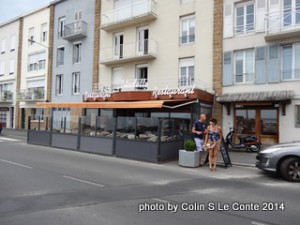 RESTAURANT DU PORT, 19 rue du Port. Tel: +33 (2) 33 50 00 55
One of a number of Restaurants to suit all budgets by the old harbour. Good quality seafood eaterie. Reservation essential – the restaurant has tables on the pavement, ground floor, & first floor. First floor perfectly nice room but ground floor better. Closed Sunday evening & Monday outside July & August.
RESTAURANT DE LA MER, 74 rue du Port. Tel: +33 (2) 33 50 01 86. Booked solid when we tried for a reservation on a Friday night early September which must be some sort of indication. Looks good from the outside – next time! Closed on Monday and Tuesday (Mondays only during school holidays). Thanks, Phil!
Yacht Club – www.yachtclubgranville.com/wel… – you are welcome to go there for a drink but there is not much inside except for a bar.
Guide du Port – www.guide-du-port.com/port-gra…
Market day Wednesday – also Saturday in the summer – a great market, extensive and also has a covered area.
Web Cam: www.meteo-normandie.fr/webcams…
Weather www.windguru.cz/int/index.php?… www.windfinder.com/forecast/gr…