Lezardrieux is a great place. A lovely trip up the Trieux river, fairly easy navigation with a Chart Plotter, and a non-tidal "marina". Some tide flows through the pontoons so best approach around high or low water – but nowhere near as bad as Treguier.
2017 – the speed limit is 3 knots upriver from Les Perdrix and 5 knots from Vieille de Bodic starboard beacon tower (as you enter the Trieux river) to Les Perdrix although the local boats do not seem to obey them.
Harbourmasters office is at the top of the visitors' pontoon. No one ever meets you as he stays in his office. It appears to be best to moor on a free finger on the first pontoon anywhere east of the customs/police boat. The fingers are quite short and only have a loop at the end to put your rope through, but they are OK. There is room for a large boat, or 3 smaller boats on the T piece at the end but again the boats do not seem to be managed very well.
Facilities are OK. They have been repainted and were in better condition in 2017. A bit dark and I don't think a jeton is required for the showers anymore.
The Internet is now a quick process and worked OK.
E-mail communication with the office could be improved.
There is a "shortcut" path from behind the boat works which comes out behind the church.
Great new Video – featuring a Princess V39! www.youtube.com/watch?v=uxas4A…
Visiting Yachtsman Reports
2016 – Marina office was helpful and more proactive in helping to find a space. Auberge du Trieux excellent. Menus range from 19  to 50 euros plus a la carte. Good food and service.
2013 – I love Lezardrieux, it is up the beautiful Trieux river, it is non-tidal and it is one of the shortest journeys from Guernsey to Brittany, with the last half hour of the trip in beautiful protected waters as you head up the Trieux river.
However, the marina does not seem to care. No one helps by meeting you or telling you where to moor, you have to guess and hope for the best. The facilities are still the same basic facilities that have been there for years and remain dark and dingy. The Marina office closes early so you cannot find out the code for the facilities until the next morning.
August 2011 – The Marina 'facilities', incidentally, remain miserable!
Sept 2010 – I really don't like saying this because Lezardrieux has my favourite Restaurant, the Auberge du Trieux, but the Marina facilities are really starting to get a bit grim. The gents showers had a coat of paint early in the season but nothing else has been done.
marinas.com/view/overview/786_…
www.letrieux.com/lezardrieux.h…
Pilot Guide
If you leave around half tide going up, motorboats will have a good following tide all the way back to Guernsey.
Contact Information –
E-mail: port-lezardrieux@wanadoo.fr but sadly they do not reply
Tél. 02 96 20 14 22
Official info
Tides
Guide du Port
www.guide-du-port.com/port-lez…
Map
www.map-france.com/Lezardrieux…
Weather –
www.meteoconsult.fr/ter/france……
www.metcheck.com/EUROPE/europe…
Restaurants – LEZARDRIEUX *** Auberge du Trieux: Tel: 2 96 20 10 70. Very good value – good seafood menu, reasonable wine list. Service good. Great ambience. The owner has won many rosettes for excellence.
Greg said he had an excellent meal there – Sept 2009 –
website –  www.auberge-du-trieux.com
2016 – Auberge du Trieux excellent. Menus range from 19  to 50 euros plus a la carte. Good food and service.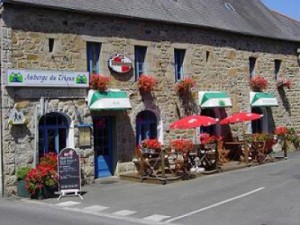 New creperie just opened in Square It is called Lez ar Dreo! Tel no (mob) 0033 (0)7 67 08 20 82. Web www.lezardreo.fr., but not live yet. (2018)
Le Moulin de la Galette. 2018 update – Moulin de la Galette (up the hill on right) been sold and reopening later in the year.
Very convenient – just at the start of the hill to the village of Lezardrieux. Serves good Crepes with quick service. Has a few other items on the menu including Entrecôte and frites. We have been every year since 2008 and always had a good meal.
The Yacht Club used to be good with drink and food together with English speaking staff. 2015 some friends reported excellent food and good value.
Taxis Best taxi firm is Taxi Le Bourdonnec.
Tel 02 96 20 15 90, Mob 06 84 18 26 27 ILE DE BREHAT
Market day
Friday
Restaurant – www.tripadvisor.com/Restaurant…