Lock times 2017 – port-de-pontrieux.fr/la-capita…
New Video including Pontrieux – www.youtube.com/watch?v=uxas4A…
News – January 2017
We will proceed to a dredging operation at the end of the month for three weeks.
We have received a message from Yann BURLOT, Maître de port, Port de Pontrieux, 64 rue du port, 22260 PONTRIEUX
Port : 06 73 87 07 95, Fixe : 09 64 41 73 27
You can reach the pontoons even if your draft is 1.8m. (A report in 2017 said "recommended track from the lock to the visitors pontoon has 3.0m")
Between the lock and the harbour, be just careful to keep the green buoys on your right and just after keep the new mooring line (it has been put in place last summer) on your left.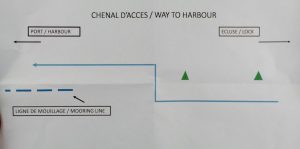 There is about 48m of alongside pontoon for visitors with 1.8 depth and below that soft mud so not problems. There was one spare finger and the harbourmaster guided us to it in his dinghy, depth about 1.9m but again below that soft mud.
It had emergency dredging last winter after local council approval.
Approach after the lock is straight forward providing about half way along you pass between the red and green buoys and treat the moored boats as red buoys. Around 2.2m at its shallowest.
Harbour Master very helpful and has good English both spoken and written.
He says 24 hour access through the lock (tide permitting I assume) (if you are brave enough to try the river in the dark!!!) Water (standard threaded connectors) and showers are free. Probably electricity also but did not check.
John (Sadler 34 – Aqua Ted)
June 2016
Today we went by bus to Pontrieux and returned by train, the Harbour has been greatly cleaned up, new footpaths, grass verge etc. I spoke with the Harbour master Yann who told me that some dredging had been done and that he has a depth of 2m as far as the visitors pontoon and that the lock keeper now hands out a plan of the port to show the best course to take and where the shallow bits are, he tells me it's in English.  He did tell me that he had accommodated a 2.2 m draft yacht by prior arrangement.   The plan is to complete the dredging this coming winter.
---
We have also received the following very helpful feedback from JohnM
The plan was executed so there is a set of fingers have been added 2/3 years ago, some of which can be used by visitors. Also alongside pontoon further up. It is 2 years since we visited but when we did a lot of the older boats had vanished. I assume that happened when the pontoons and fingers went in. Prior to that we tied up just passed the harbourmaster's office either on the wall or outside some other boats that were not very old. If we get there this June we will report further.
---
The lovely village of Pontrieux.
We loved Pontrieux from our first visit a few years ago and wanted to go back.
We made a special effort to go to Pontrieux in early May 2013. The weather was good and the tides were neap with a coeff of 55 (neap tide). However we did not have a problem getting to Pontrieux (draught of 1m). The Pontrieux harbourmaster had said it would be OK and he was right.
We left Lezardrieux 2.5 hours before HW and arrived at the lock just over an hour later. We were travelling at 5 knots and had the tide with us. We never saw less than 2m of water.
There are a few words of warning as there are lots of shallow areas.
Stick to the outside of the bends and the middle of the straights
The large expanse of water just after the bridge gets very shallow if you go off a direct course, especially if you go too far to the left. I will add some waypoints you can put in your chart plotter which should keep you on course.
Towards the top, there is a red buoy and then a green buoy. Stay close to these as it gets shallower close to the shore (we had to tow a yacht that got stuck)
Never go the wrong side of red or green posts or towers
Always go up on a rising tide
When you get to the lock, there is a fair bit of room to wait. There are now thick while ropes you can hold on to. They are not everywhere but should be ample.
I used the latest update from Navionics (2013) and the charts for the river were much better than last time. So if you are going to Pontrieux, a chart upgrade would not hurt. We could not find any charts of the route.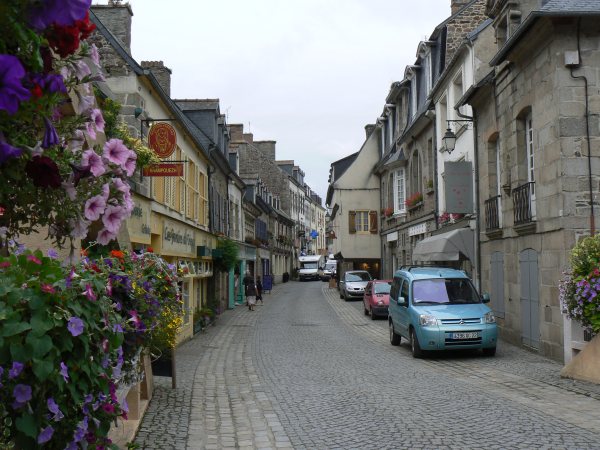 View across the bridge linking the 2 town "squares". The east one is a triangle, and the west one is a trapezium. The east square contains the tourist information office, which is known locally as the Eiffel Tower – because Gustav Eiffel once slept there
Official web site – port-de-pontrieux.fr/
marinas.com/view/marina/10854_…
marinas.com/view/lock/515_Pont…
Pilot Guide
www.letrieux.com/portdepontrie…
Contact information
E-mail: yann.burlot@lyonnaise-des-eaux…
Office +33 964.417.327
Mobile +33 673.870.795
Tides – www.letrieux.com/horaireecluse…
Lock Times – http://port-de-pontrieux.fr/la-capitainerie/les-ecluses/
Guide du Port
www.guide-du-port.com/port-pon…
Map
Things to do – see www.ville-pontrieux22.fr/Patri…
The boat tour of the Lavoirs is very good by day or night. Only Euro 4 and some pilots will do the tour in English. We really enjoyed it. Available from mid July to the end of August when the Laviors are decorated with flowers, mannequins and clothes.
Visitez notre site : www.cotesdarmor.cci.fr/
Chateau de la Roche-Jagu: Only open for parties reserving in advance (evenings). Can anchor off if keel can settle in mud! Look out for the 500 ton dredgers during the night! Can be a rude awakening. Anchor out of mid stream!!!
Restaurants
By the River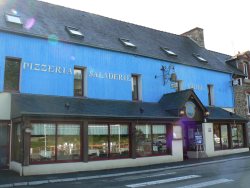 La Sterne: Tel : 2 96 95 19 55. Modern restaurant on the quay. 2009 update – Very good meal. Not nouvelle cuisine any more. Moules and frites for Euro 10 (probably more now)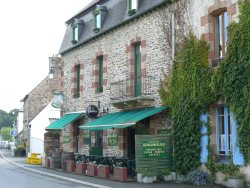 Schooner Bar – does good filled baguettes as well as other stuff. Has WiFi; believe there is a charge.
In Town (15 mins from moorings)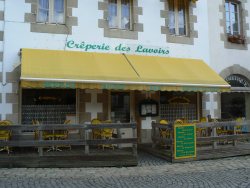 La Creperie de Lavoir: Tel 2 96 95 33 00 Best crepes in the World! 2009 update – very nice meal. Not much character but good location in Town.
Le Pontrev – A good Restaurant in the town is Le Pontrev opposite the Post Office in the westermost square. Used to be run by a couple of blokes and was consistently extremely good value. A single visit under the new patron suggests a continuation of the old regime. Thanks Dave C.
La Piazza Restaurant – 18, Place Yves Le Trocquer. Tel: 02 96 11 81 29. Reservation essential. Mainly a Pizza Restaurant but other dishes available. The Pizzas are simply the best ever. 6 of us ate for Euros 105.50 inc. 4 pichets of wine. WiFi also available. (Phil 2011). Good meal, slow service and very busy (Colin 2013)
Market day
Monday 0800 to 1300 Town Square
Pilotage
If the tide is not high tide – you may need to keep to the deepest parts of the river. Normally these are at the outside of the bends. I was told that dear Dave Fletcher from Guernsey (who was Assistant Harbour Master) used to put markers down the channel each spring to help boats.
The following google maps have been recorded as they show very well where the deep water is. These is a link at the bottom of the page for the full size images. I thought it best to record them in case they had new satellite photography which was at high tide and this important information was lost.
The Harbourmaster has suggested users use the latest Google Earth as a guide to navigating the approach as it currently shows the river at low water.