The Saint Malo marinas have been split into 2 separate pages. The marinas are very different and worthy of their own page each.
Vauban Marina lock times – ports.bretagne.bzh/jcms/prepro…
There were new pontoons in place in 2015. Much improved layout, better security and now has fingers. A great improvement.
In 2016 the electrics and water all all complete. The harbour staff are very helpful and speak very good English. They really do make it a pleasure to stay in the Vauban Marina and many marinas could learn a lot from their helpful and positive approach.
The marina can get very busy in the summer, so you may have to go along side the wall and raft up. Do call them first.
Official web site port.saintmalofougeres.cci.fr/
Pilot Guide
St Malo lock and lots of other information, wind speed, Vauban lock, Rance lock nautisme.lefigaro.fr/bloc-mari……
The lock operates as follows and is based on Saint Malo HW. The time listed for Entry is the time the lock gate opens to the sea. It 's better to arrive 15mins before.
Entry
2.5 hours before HW
1.5 hours before HW
0.5 hours before HW
0.5 hours after HW
1.5 hours after HW
Exit
2 hours before HW
1 hour before HW
High Water
1 hour after HW
2 hours after HW
The above is based on my calculation based on the lock times in 2015. Please check with the Harbourmaster or other sources of information if the timing is critical for you.
www.noonsite.com/Countries/Fra…
Facilities
The facilities are a little old and limited. The showers are free (no jeton). There are separate entrances to the toilets and the showers.
WiFi is free of charge and everyone uses the same code. The signal is weak on some of the visitors pontoons and some visitors were unable to receive the signal.
Tides
tide.frbateaux.net/52
Restaurants
www.tripadvisor.com/Restaurant…
We had a good meal and great drinks in the La Base Yacht Club which is right next to the marina and is now at the top of the ramp as you walk along the pontoons. In 2016 it is called La Trinquette
They looked after the Guernsey Yacht Club visitors very well in 2015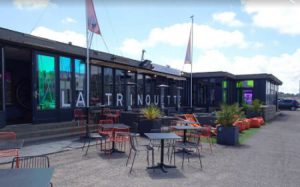 Bakery
There is now a bakery just inside the main gate. More up market and great croissants and pain au raisin etc.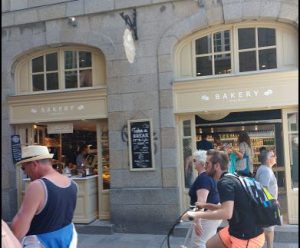 Yacht Club de Dinard
On the food + sailing topic the restaurant of the Yacht Club de Dinard has now reopened.
Knowing the chef, the lunch menu will be competitive and the food very correct. Dinner 35/40 € but in long days May June you can enjoy the sea view and the club atmosphere. Not so many tables so reservation preferably. Denis
Forum information
www.ybw.com/forums/index.php
Market day
Tuesday, Friday
Extra information
Wind graph at Saint Malo – www.iwindsurf.com/windandwhere…
Weather – www.meteo.fr/marine/naviweb/bu…
Weather
www.windguru.cz/int/index.php?…
www.windfinder.com/forecast/di…
Saint Malo weather forecast from xc weather – www.xcweather.co.uk/forecast/s…
9 day – Saint Malo – www.weather-forecast.com/locat…
france.meteofrance.com/france/……