The Rade de Brest is an amazing area. Covering around 70 sq miles, it is the home of the French Navy and an excellent boating ground. The Goulet de Brest is only around 1nm wide.
Marinas
The Rade de Brest is blessed with a number of excellent marinas. The main marinas are called the Marina du Chateau and the Moulin Blanc.
I plan to visit in late May 2019 so will provide more information and photos.
The Château Marina is located in the city centre and the Moulin Blanc is next to the beach but with good links to public transport and ideal for a technical stopover.
Emails and phone numbers: Château 33 (0)2 98 33 12 50 chateau@marinasbrest.fr and Moulin Blanc 33 (0)2 98 02 20 02 moulinblanc@marinasbrest.fr
Moulin Blanc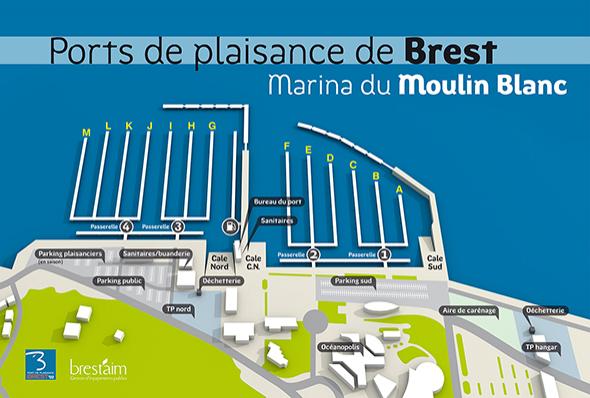 Located at the mouth of the River Elorn, at the tip of a region with much to offer tourists, the Moulin Blanc Marina offers many advantages to passing sailors and is the ideal place from which to cast off and explore the Rade (natural harbour) and its rivers.
www.marinasbrest.fr/en/moulin-…
Transport
The Bus no 3 goes from the marina to the Brest city centre and runs at least every 30mins. It takes around 20mins. The bus is called No. 3 Lambézellec – Océanopolis via Palaren. Visit www.bibus.fr/en/ for further information.
Restaurants – www.tripadvisor.com/Restaurant…