I have included this page partly because all of the tides in the area are based on the Brest tides.
Brest Tides
www.tideschart.com/France/Brit…
Longer term
www.tides4fishing.com/fr/breta…
tides.mobilegeographics.com/lo…
Marinas
There are 2 main marinas in this interesting boating area. The city of Brest is large and has good transport links. It is a cruising area and has a couple of rivers flowing into it.
The marinas are called the Marina du Chateau and the Moulin Blanc.
The Château Marina is located in the city centre and the Moulin Blanc is next to the beach but with good links to public transport and ideal for a technical stopover.
Emails and phone numbers: Château (33 (0)2 98 33 12 50 chateau@marinasbrest.fr) and Moulin Blanc ((33 (0)2 98 02 20 02 port.du.moulinblanc@marinasbre…).
Official website
The marinas official website is www.marinasbrest.fr/en
Useful site – www.noonsite.com/Countries/Fra…
Marina du Chateau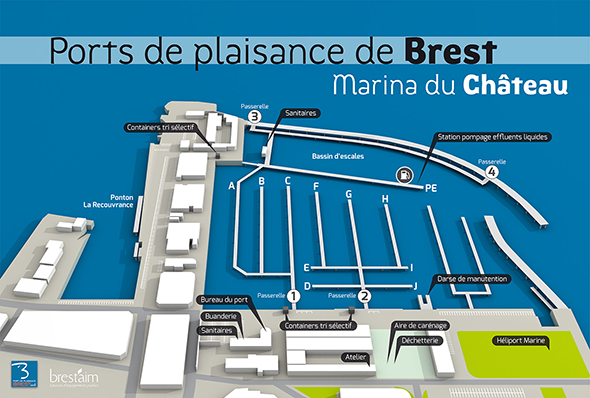 This is the newer marina and is more to the west.
Located at the entrance of the Penfeld river, the Port du Château is a very nice and well-suited marina to accommodate all navigators profiles. Established near the commercial port and military port, this modern and dynamic harbour allows you to explore and enjoy all the charms of a maritime city par excellence.
www.marinasbrest.fr/en/chateau…
Moulin Blanc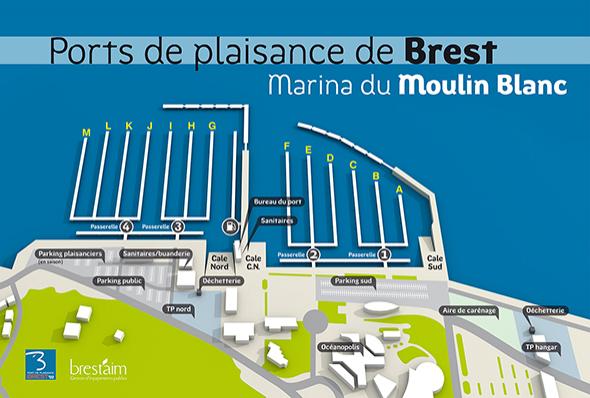 Located at the mouth of the River Elorn, at the tip of a region with much to offer tourists, the Moulin Blanc Marina offers many advantages to passing sailors and is the ideal place from which to cast off and explore the Rade (natural harbour) and its rivers.
www.marinasbrest.fr/en/moulin-…
Restaurants – www.tripadvisor.com/Restaurant…