23rd August 2021 – Latest Guernsey Harbours information
Locally Registered Vessels Returning from Outside of the Bailiwick
www.harbours.gg/CHttpHandler.a…
Visiting Leisure Vessels
www.harbours.gg/CHttpHandler.a…
15th August 2021
Announcement from Keith Martin, Cruising Association, Saint Cast Marina and Côtes d'Armor C.C.I.
I can now confirm that both Finisterre and the Morbihan have the same instructions regarding U.K. boats arriving in France as the Côtes d'Armor and Ile et Vilaine. In other words, the whole of Brittany is now subject to the regulation that stipulates that U.K. boats must call at a recognised entry point (PPF) for passport control before proceeding to any other of the marinas in Brittany.
It is no longer permitted to call initially at a non-PPF and for the crew members to visit the relevant PPF by road as was previously understood. Boats AND crew are required at the relevant PPF (force majeure excluded).
---
14th August 2021
Rick McDermott, a great supporter of these pages, gave up with Saint Malo as they had difficulty telling him where he could tie up while clearing customs.
Rick went to Carteret instead and has very kindly provided the following information.
Carteret Marina and Customs Booking Process (as at 20 Aug 2021)
Complete French Customs immigration "arrival" form (one per vessel and are specific to each marina and/or region) and submit online to the email addresses detailed on the form (don't forget you will also need one for departure. Same form with Arr/Dep tick boxes and reversal of source an destinations)
PREAVIS-immigration-MARITIME.pdf
Also, attach copies of the vaccination certificates for all crew/passengers to the email.
Book your berth at Carteret using the online form
ports-manche.com/reservations-…
You should receive an email from Customs with an appointment time to visit their office at the end if the commercial quay in Carteret to complete formalities and Passport check/stamp (check the appointment time is aligned or later than your estimated arrival time… if not email them to change)
You may need to provide your Covid declaration forms (one per person) at the Customs office. Word document is linked in the following:
www.interieur.gouv.fr/Actualit…
Customs office Location www.google.fr/maps/dir/PORT+DE…
You can go to your berth and then go to Customs at the allotted time. All your crew need to go to customs.
Once the Marina have confirmation from the Port Authority (Customs) that you have been approved for entry they can confirm your berth.
Pass Sanitaire using a French application for COVID vaccine certificate of equivalence, or alternatively visit a chemist who can perform a lateral flow test and issue a 72-hour pass (QR code)
www.diplomatie.gouv.fr/en/comi…
RETURN
Complete the French Customs immigration "departure" form (one per vessel and are specific to each marina and/or region) and submit online to the email addresses detailed on the form. The Customs post is not permanently staffed so give as much notice as possible so that they can accommodate your requested day.
PREAVIS-immigration-MARITIME.pdf
You should receive an email from Customs with an appointment time to visit their office at the end of the commercial quay in Carteret to complete formalities and Passport check/stamp.
On arrival back in Guernsey you will need to complete the Guernsey Customs declaration form and if you have nothing to declare put it in the yellow post boxes currently located by the ramps in the Victoria (visitors) Marina. Note the requirement to fly your yellow "Q" flag until you have submitted your form. Essentially "The Masters of all private vessels arriving into the Bailiwick of Guernsey must complete a 'Report of Arrival for Pleasure-Craft' Form GC27.
GC27 form: www.gov.gg/CHttpHandler.ashx?i…
There may be additional COVID entry requirements in Guernsey, but as these keep changing please refer to the States of Guernsey Website: covid19.gov.gg/guidance/travel…
---
12th August 2021 – latest on QR codes – gov.gg/article/185101/Passe-Sa…
A useful page – Declaration of a pleasure craft arriving from a third country – gyc.us5.list-manage.com/track/…
---
Saint Cast
Please see the following Special Brexit Newsletter from Saint Cast Marina. However, we have received the following revised information on 11th August 2021. Revised info from St Cast is that you can't go directly there but as per the original Brexit rules you will still have to go through a port of entry. See below
Bonjour, Please find attached the latest procedure that we have established following information from the maritime authorities in Brittany concerning the procedure to follow for UK boats arriving in the Schengen area.
You will see from this document that you must call at a registered entry port (PPF), such as Saint-Malo or Saint-Brieuc, for customs clearance and passport check before proceeding to Saint-Cast.
You must send an entry declaration to the PPF prior to arrival.
Despite the above regulations to be followed, we look forward to receiving you in Saint-Cast. Cordially
Saint Cast Marina
---
Ports have Jersey have published a useful notice which may be of assistance to Guernsey boats – mailchi.mp/ports/new-notice-to…
France Designated Entry Port (PPF)
These are the French ports listed on the Atlantic coast which are more likely to concern us.
Dunkirk
Calais
Boulogne
Dieppe
Le Havre
Rouen
Honfleur
Caen-Ouistreham
Cherbourg
Carteret
Granville
St Malo
St Brieuc
Roscoff
Brest
Lorient
Nantes-Saint Nazaire
Les Sables-d' Olonne-port
La Rochelle -La Pallice
Bordeaux
Bayonne
PROCEDURE FOR FOREIGN NATIONALS VISITING THE SCHENGEN AREA
Prior to arrival in the Schengen area
1) Download the arrival declaration document shown on the website of the first port of call. This need not be a DESIGNATED ENTRY PORT (PPF).
2) One copy per vessel must be completed and sent to the email addresses shown on the document prior to arrival in the first port of call, preferably with 24 hours notice. The addresses will usually be those of the Frontier Police (PAF) and the Customs authorities situated in the nearest PPF, or, on occasion, the port authorities (not the marina personnel) in the first port of call.
3) Valid Covid 19 vaccination certificates for all crew members should be sent with the arrival declaration.
4) Despite rumours to the contrary, the "Q" flag need not be flown on entry into French waters, unless there are specific items on board to be declared.
5) A request that arrival and departure procedures be simplified has been made by the regional maritime authorities in Brittany to the national maritime authorities in Paris, so far without reply. Therefore, for the moment, the existing regulations governing passport control on arrival and departure remain in force. Thus, the instructions from the head of the Regional Customs and Frontier Police Authority for Brittany are quite clear.
Maritime authorities in Brittany will require a visit to the appropriate PPF shown on the arrival declaration for passport checks. Should a boat call at a non-PPF port on arrival in France, then visitors must contact the relevant PPF authorities to arrange for a visit to the PPF for passport control.
If in doubt, visitors should clarify the situation prior to arrival with the marina personnel in the first port of call.
Cruising in the Schengen area
6) If the correct procedure is followed, non-EU visitors can then visit other ports (PPF or non-PPF) without further checks.
On leaving the Schengen area
7) Download the departure declaration document (similar to the arrival declaration document) shown on the website of the final port of call. This need not be a PPF.
8) One copy per vessel should be completed and sent to the PPF email addresses shown on the document. The departure declaration should show the same information as that of the arrival declaration. Should there be any change (crew changes etc.) this must be signaled to the relevant PPF authorities.
9) Despite there having been no change to the arrival declaration, a visit prior to departure to the relevant PPF to which the departure declaration has been sent will still be required. Should vessels be in a non-PPF port they should not leave the Schengen zone directly but proceed to the relevant PPF.
10) Should any boat leave the Schengen zone without completing and submitting the necessary departure declaration, the holders of the passports shown in the arrival declaration will be deemed not to have left the Schengen area, and this could breach the 90 days in 180 days regulation concerning visas.
Please note that feedback from visiting yachts from the UK since January 1st, 2021 is sometimes at odds with these instructions, and some leeway from the maritime authorities in certain areas, notably those in Normandy, has been experienced.
It is therefore highly advisable to check with the nearest PPF if you arrive or leave from a non-PPF.
Following a number of requests we have made for clarification from the regional maritime authorities concerning the regulations applicable to non-EU boats arriving and leaving French waters, please find above the latest information in this regard.
It should be understood that the above is a guide based on official information we have received from the Customs and Border authorities in Brittany. As mentioned in the guide, information from U.K. boats visiting France in the last few weeks seems to suggest that the authorities in other maritime Départements may interpret or apply the regulations differently.
As things stand in Brittany, the present instructions will obviously have an impact on all boats arriving from the U.K., particularly in the organisation of rallies and regattas planned to include our marinas. These events could involve a considerable number of participating boats and it is not clear if the main designated entry ports (PPF) will be able to provide the many temporary mooring slots that may be required, and then proceed to process with a minimum of delay the personal documentation of all crew members (passports, Covid certificates, etc), both on arriving and departing the Schengen zone.
Organisers should check with the relevant designated entry port.
We have made urgent representations to the regional authorities requesting simplification in this respect. They have assured us that the matter has been sent to the national maritime authorities in Paris for consideration. A decision is still awaited.
We shall of course provide more information as and when this becomes available.
Cordially,
Keith Martin
Côtes d'Armor C.C.I
---
Mark Le Brocq from Jersey very kindly sent the following report in early July 2021
I thought I would give you an update on how we got on with the travels around Côtes-d'Armor
The official route into France is via a Schengen port, which for us in Jersey and Guernsey, close would be Carteret, Granville, Saint-Malo or St Brieuc. This is the same for departure. Which as you can imagine, would just not be practical for a weekend if you just want to visit another port like Paimpol.
Pre arriving into St Brieuc we filled in the relevant customs form for St Brieuc customs and also CC'd the marina to inform them.
St Brieuc arrival – Easy process, even had a pontoon allocated for us. Customs then arrived, took our passports and COVID vaccine forms and sat in the car for approx. 20mins (as it was raining) then the customs officer came back to discuss with us. He was very grateful for filling out the form as well as letting them know upfront of our arrival. He did stipulate that there are only 10 of them for these few marinas in Côtes-d'Armor and Brexit is causing a lot of paperwork etc. In a nutshell, he explained that as long as we are not causing any issues in France or taking immigrants back, do not worry too much. We know you are trying to do the right thing. We do not want to be stopping every boat to just check this out all the time. Again he was happy to spend about 30mins with us discussing options, we felt extremely welcomed. He said we now have the name of your boat so you will not have any issues with entering or leaving France.
Binic – The marina staff asked us to fill out another customs form, we explained this was already completed but he was very relaxed and seemed to say please can you just do it anyway. This made me think once again you could simply just arrive in Binic without St Brieuc arrival.
St Quay – Trevor in the marina boat asked us if we have we filled in the customs form, I explained yes. He said that's all we have to ask you. Again they seemed pretty relaxed about the whole situation.
Paimpol – No questions asked at Paimpol, very relaxed. I emailed customs to inform them we will leave Paimpol on Friday morning at 11. The same customs officer replied and said someone will come down and stamp the passport at just before 11h00, which they did. Again this goes against the "official" leaving from a Schengen port but made our life a lot easier.
The customs officer did say to let people know at home we are trying to make things easier.
Many thanks Mark Le Brocq
Mark had a negative 72 hour PCR test and was fully vaccinated
---
Karl Thomas very kindly sent this report on 19th June 2021. Karl is based in Jersey.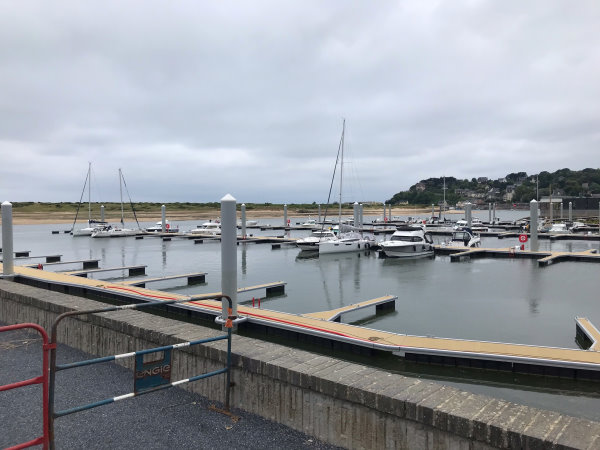 Paperwork
With regards to Jersey/France Covid and border arrangements. The SCHENGEN form needs to be submitted ahead of trip and sent to the email addresses on the form.
apisspl.kpratik.com/storage/up…
I had an invitation to meet customs at the ferry terminal by reply. I met 3 customs people who processed the information and I was asked to return to when I left France later. My passport duly stamped for both entry and exit. This may be an issue if you are frequent visitor as the passport will fill quickly ☹️.
Covid regulations (changing often) and declaration form to be completed for air / sea travel to take with you on arrival.
www.interieur.gouv.fr/Actualit…
UK/Jersey/Guernsey currently amber. A Vaccine certificate allows entry without isolation. A PCR test required up to 72 hours before entry or antigen 48 hours.
See gov.je or gov.gg for returning to the islands.
Boating
That's the paperwork covered, now the boaty bit.
Ecrehous for breakfast for me. Today was neaps with HW 1400 Jersey, Carteret marina indicated opening at 1245 French time. I was early on the tide as wanted a mooch about outside the breakwater and the new gate for research purposes.
The sandbank at the breakwater is back. Extends approx 30 m SE from the beacon. Photo taken an hour before marina opening.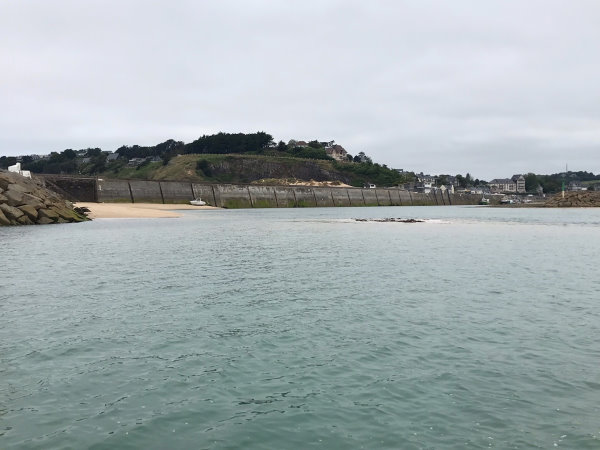 The new lights for the new gate can be seen from seaward don't rush in if still showing red.
I tied up at the ferry terminal to visit customs as I was early, the ladders here are awful and the tide will run quite hard when most people will be arriving. Customs were not there yet as I was early so I moored up at the marina and went back to the ferry terminal.
The new entrance with gate closed. Signal lights on post to Port by the road.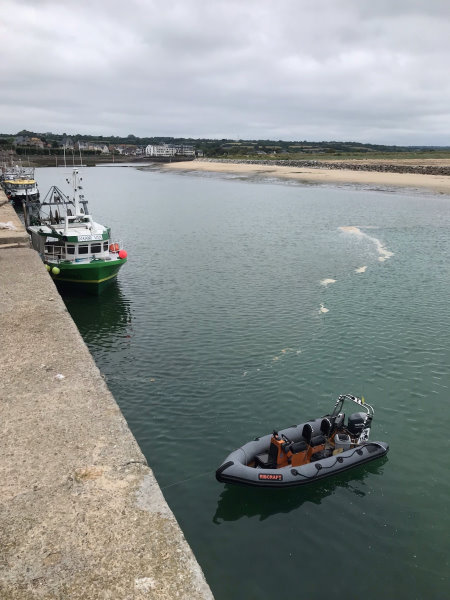 The gate opened at 6.3m of tide at Carteret (navionics/boating app). The board said 1.8m but the digital gauge said 1.5. As there is a slope over the gate at first opening I would err on the safe digital value. The digital gauge is blank until gate opens.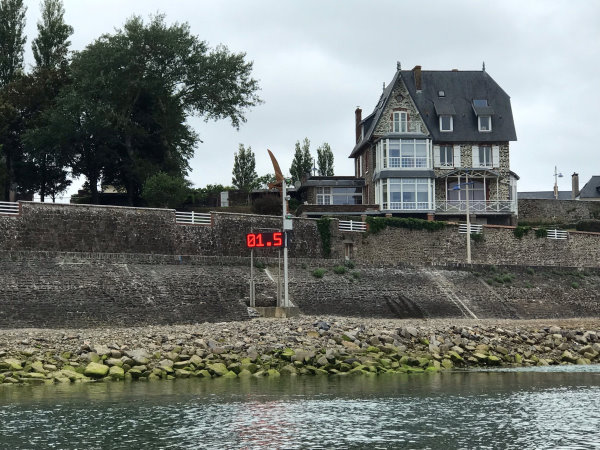 As I was milling about shortly before opening there are some 1.5m patches so if you are deeper draft better to wait out at sea until the gate opens. There is also not masses of room should a few boats be waiting with the current starting to flow.
New pontoon M just beyond La Marine hotel. This is for the big boys. I had pre-arranged to moor here due to logistics. The pontoon is high above the water approx 1.2 m. Big cleats and plenty of wash from passing boats. I was advised no electric or water, however, there are boxes so I guess that's coming. No cleats landside on this for small boats.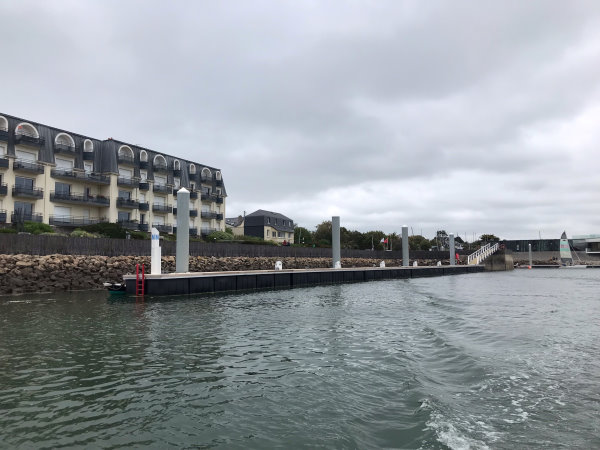 Usual check-in at the marina office. I did not view the previous visitor pontoons but assume with a few less large boats and there may be space or overflow in the local marina. New restaurant at YCBC.
Lots of restaurants around Carteret open but none looked busy. Current restrictions. Curfew 2300-0600. Restaurants outside OK, inside 50% capacity. This all changes Monday 21 June to be more relaxed. I think.
Masks are mandatory until next week but lots of people not wearing in open air. I wore mine in all indoor spaces and was judicious with hand sanitizer
Checked out with customs before leaving France.
PCR test in Jersey and isolating until my 1 negative.
Thanks Karl
---
---