Digimap has a tracking system which uses the official States of Guernsey mapping to display the vehicles on a live basis.
The system uses the latest GPS devices and the latest software to provide an impressive system.
View a demo of the system at arcg.is/000SrO0 
In partnership with Links Communication, Digimap are pleased to provide:
Digimap Basic Tracking System (£10 per month per unit + £50 per tracker installation or removal):
Current location of the vehicle – displays on any Internet connected computer precisely where your vehicles are in real time, using the States of Guernsey or Government of Jersey base maps
12 hour route replay – so you know exactly where the vehicles have been and when
Integrated GPS (satellite) and GPRS (data communication) system – fitted to your vehicle and provides data day and night
Monthly fee includes mobile data charges, mapping
Displays road closures (Guernsey only)
Digimap Standard Tracking System (£20 per month per unit):
In addition to the Basic tracker the Standard system provides the following:
Journey history with fleet and single tracker history for any time within the last 3 months
Command and Control Centre screen with grid view of key information
Medium resolution aerial photography of Guernsey
Monitor vehicle G forces – hard braking, acceleration or cornering
Reports on idle vehicles
Reports on over-speed alert
Map below showing list of tracked journeys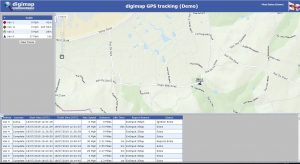 Map below with tracker in View History (12 hour) mode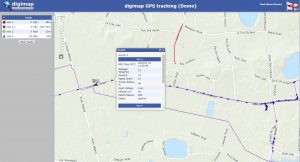 View the live demo system at gps.digimap.gg/
Digimap Address Locator
The above tracker systems may be integrated with the Address Locator product providing address lookup for all domestic and commercial addresses. The Address Locator comes in two formats:
Address Locator – £2,167 per annum: This product includes live access to the States of Guernsey Corporate Address File and includes high resolution aerial photography. It also includes measurement tools.
Address Locator LT – £1,104 per annum: As above but without the aerial photography
For more information on Digimap products please call Guernsey: 01481 700321 or Jersey: 01534 769069