Brexit
NOT SO AMAZING NEWS
We have a number of friends and supporters in Northern Brittany and they have very kindly been finding out more about the arrangements in that area following a number of recent, somewhat contradictory reports.
Apart from the customs ports of Saint-Malo, Granville, Carteret etc. where we know that you can get your passport officially stamped, it seems the other arrangements are as follows:
The checking-in and out arrangement, by sending the form in advance, only applies to the "official" ports of Saint-Quay, Saint-Cast, Lezardrieux, Treguier and Trebeurden, not the other ports in between. Specifically, therefore, other ports, such as Paimpol, Binic, Perros, Dahouet, Ploumanac'h cannot be used as entry and exit ports. This was verbally checked with the Douane-Bureau de Saint Brieuc today in order to clarify the above. They confirmed the information as stated above.
---
Gavin May July 2023 report
It has been a while since I have been here by boat, and the place is quite fun!
Switch to Ch9 on approach as there may be a large number of vessels leaving, and the HM may ask you to hold outside the harbour until clear. The sill has the usual red and green lights ,but it is hard to find them and see the colour from outside the walls . Note, they are NOT on the odd triangular building but to the right!
HM still leans out of the window to direct you to the long visitors' pontoon in front of you, and he comes down shortly after with the various codes. I did notice depths are greatest near the sill; whether you might get asked to move along for yachts, I don't know.  A few bikes for hire from the Office. Do be aware that you can get neaped here for several days, though maybe there is a little flexibility on your berthing fees if you ask, season dependent?
The beach in front of the village has a bit of fine sand above the tide line and some small-scale kids play areas. Round past the Office, there is another large beach with firmer sand for those beach games! Both have lifeguards in season and note the very flat beaches cover quite fast when the tide comes in.
A decent Carrefour City is close by and the good baker is 100 metres from your boat.No fishmonger here. Numerous eateries from simple to Euro three-figure menus. There is still the rather special chandlery that probably stocks anything that you might need and will have you wondering what a lot of the stuff is actually for! The market day in season is Thursday.
In season, the quayside seems a popular stroll, and the visitors' pontoon is somewhat on display.
If you really need a large shop, there is a monster Super U a couple of km away stocking anything from lawn aerators to brown shrimp.
Good walking eastwards. The cliff walk is intermediate level but there are also walks by farmland and through the ravine. Going west, the first 30-plus minutes are redirected through housing. At your own risk, the beach may be viable until you reach the stone cross after about 1.5km and rejoin the cliff walk there. The beach remains very wet, note.
We enjoyed our stay.
---
We love Binic. A lovely little town with good restaurants and a nice atmosphere. The harbourmaster is very helpful and the facilities are good. The marina has quite a high gate and so can be tidally locked on neap tides, so plan your trip carefully.
Marina gate times – www.guide-du-port.com/port-de-binic/le-p…
also Horaires_Binic 2023
Binic is a lovely marina and quite easy to get to. Apart from the reef which extends from Saint Quay Portrieux, it is a clear run from the Channel Islands.
The new marina gate increases the opening times a little, but the main thing is there is 3m of water as soon as the gate goes down.
The harbourmaster's office is well located, very helpful and speaks very good English. They are good at responding to e-mails so do e-mail them if you plan to visit.
Apart from a week in May when they have a big celebration with old ships, the marina should have room to accommodate you. There is also a Jazz / blues event in July which can make it busy. Check with the marina first.
The marina is very subject to tide times and on neap tides may not be open at all. That is probably why a lot of people favour Saint Quay, but they are missing a lot. There are many excellent, high-quality places to eat in Binic and it has a very nice small-town feeling. The Ti Bus means you can get to Saint Brieuc in 20 mins or to Saint Quay or Pontrieux.
Next to the marina are some great beaches and an outside swimming pool filled with seawater. The tide does go out a very long way at low tide.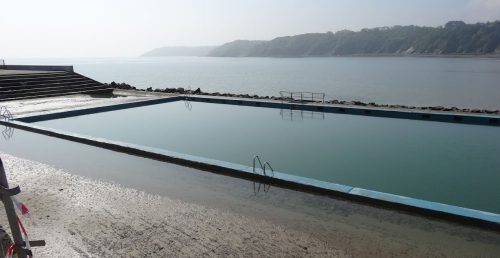 The lock gate has been replaced by a sill which provides longer opening times for the marina. It opens at approx 8.5m and closes at 9m. It is still possible to get neaped in but less frequent.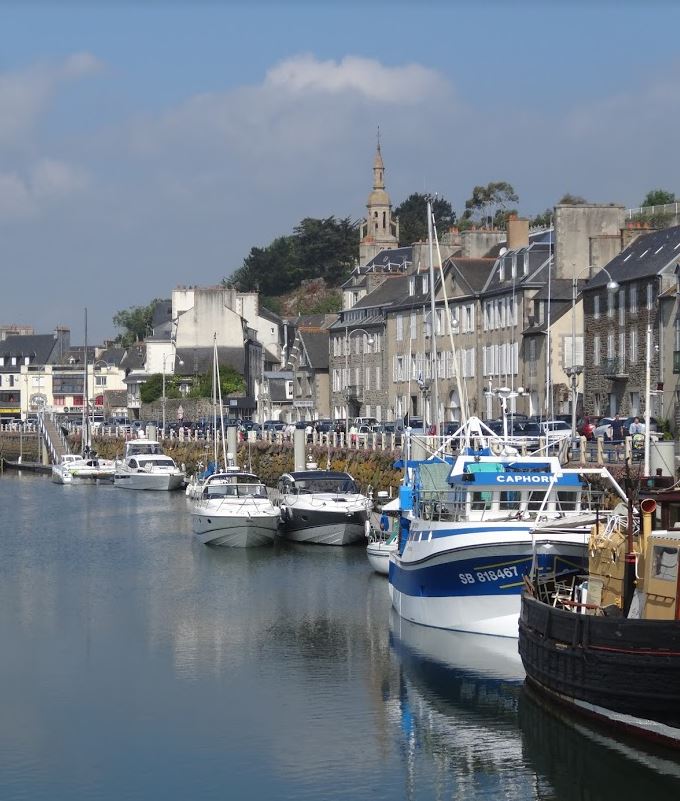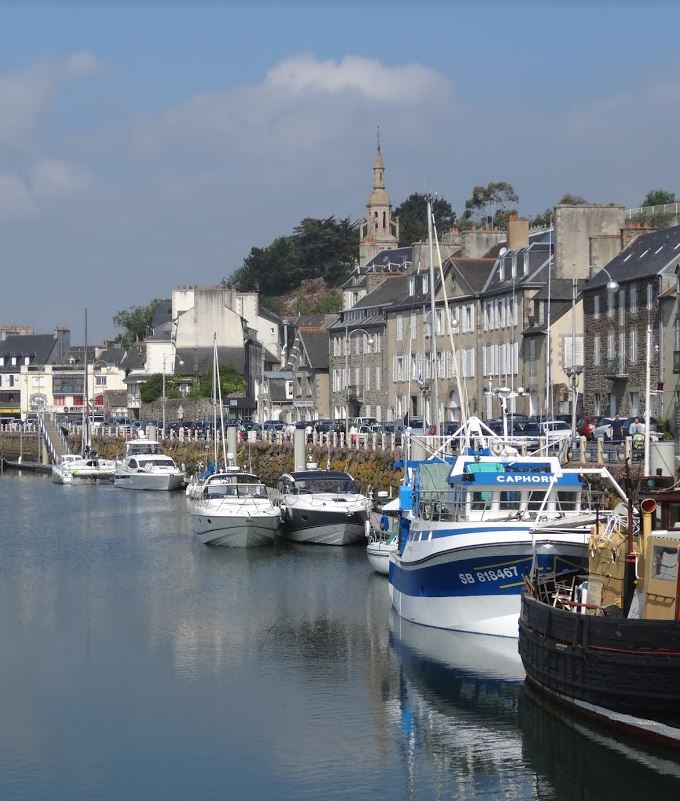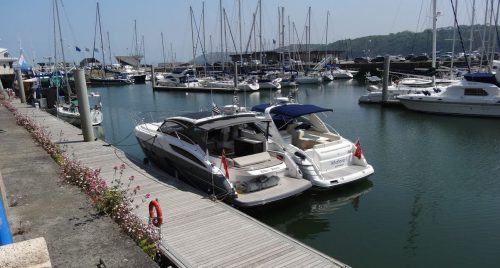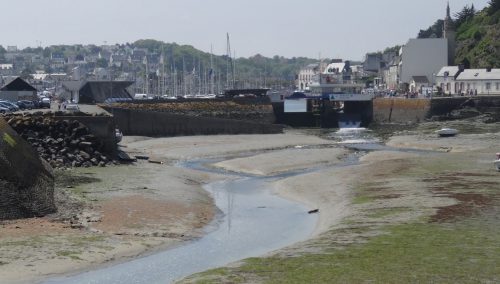 www.ville-binic.fr/index.php?id_site=9
marinas.com/view/overview/893_Binic 
Contact
Tel: 02 96 73 61 86 / 02 96 74 59 19
e-mail portdebinic@eskaledarmor.com
Very good at responding and very good English. The marina office is normally manned when the gate is open. When we arrived in August 2019, we were met by a person in a metal tender who guided us to our space.
Do call on VHF Channel 9. There are "traffic lights" in front of the marina office and a message board in LED lights. The person on the top floor of the marina office controls the lights and will probably tell you where to moor from the window.
YouTube video – youtu.be/V4_vI_5ZGzE
WiFi They will issue you with a code for up to 4 devices. The WiFi is called Port_Binic. Be aware that this seems to transmit on 5GHz only and so may not appear on older devices or WiFi repeaters.
Pilot Guide – www.ville-binic.fr/index.php?id_site=9&#…
www.ville-binic.fr/index.php?id_site=9&#…
www.ville-binic.fr/index.php?id_site=7&#…
Guide du Port
www.guide-du-port.com/port-binic/accueil…
Tourism information – www.brittanytourism.com/discover-our-des…
Map – www.ville-binic.fr/index.php?id_site=9&#…
Web Camera – sometimes shows the visitor's pontoon
www.binic-etables-sur-mer.fr/webcams/
www.vision-environnement.com/livecams/we…
Facilities – small but clean – key code to get in (same as for main visitors pontoon).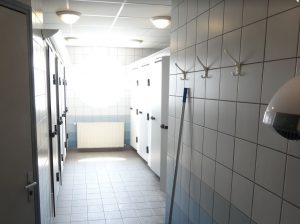 There is a Carrefour supermarket visible diagonally to the right after you have crossed the footbridge
Weather – www.windguru.cz/int/index.php?sc=48419 www.meteoconsult.fr/ter/france/prevision……
Boulangeries
The closest one to the marina is called Jacobs.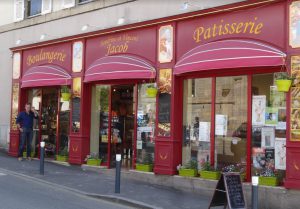 The Patissier Chocolatier that used to sell croissants is now a Tapas bar!
Restaurants
www.tripadvisor.co.uk/Restaurants-g17205…
Market day – Thursday
Restaurants – www.tripadvisor.com/Restaurants-g1720534…