Dinan is beautiful. Indeed the trip up to Dinan is delightful but challenging. Two locks and lots of boats all trying to cram in, but once you get there, it is all worthwhile.
The moorings are in a beautiful setting with great restaurants along the waterfront. A healthy walk up a steep hill takes you to the main town of Dinan and there are some great shops and places to visit.
---
Brexit 2023 – July 2023
French customs will now allow you to take a boat straight to Dinan after submitting your arrival form 24hrs prior to arrival. Damien at the port confirmed this with customs and said that we would be able to arrive and depart Dinan without stopping in St Malo for passport stamps.
The following is the generic entry/exit form provided by the Dinan Harbourmaster to one of our readers – Dinan Formulaire entrée sortie douanes
Arrivals and Departures forms should be emailed to   bsi-saint-brieuc@douanes.finances.gouv.f…
---
The new pontoons are in and they are very smart. They run the whole length of the river and have excellent electric/water junction boxes. There are some fingers and also alongside pontoon mooring.
The facilities are in the back of the marina office, through a side door to the left. They hope to improve them in 2020/2021.
Damien is the harbourmaster and is very helpful and efficient. He speaks perfect English.
Do call and book before arrival. Space is limited and the "marina" is often full, so do call Damien first to help him with his planning.
See YouTube video of our departing Dinan in 2019. The video was taken to show all the mooring spaces – youtu.be/bqO7B93Favk
There is a plan from October to take up to 25m boats. They hope to take them each year out of season when the electric hire boats are not there. They are looking to put electric and water along the area to facilitate this. There is also talk of dredging the river so there is greater depth.
www.dinan-tourisme.com/index.php?&l…
From the Chatelier lock to Dinan is a great journey and takes approx 25 mins. The speed limit is 5 knots
Going from Lyvett to Dinan, it is very well marked. Red and green buoys have now replaced the red/brown and black/white poles. Do stay close to them as it can be quite shallow even though it was dredged in early 2018. You need less than a 1.5m draft.
The wifi is only available at the far end of the marina towards the Harbour office.
The facilities are basic with only one toilet for men and one for ladies. The showers are hot and adequate. The facilities are through a door to the left of the marina office and you will be provided with a code.
The pontoons are all new for 2018 with very good electric and water. There is more space between fingers but this means they can accommodate a few less boats. An impressive improvement.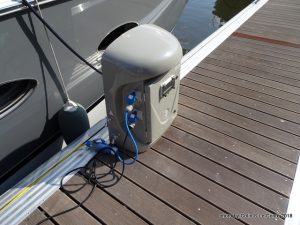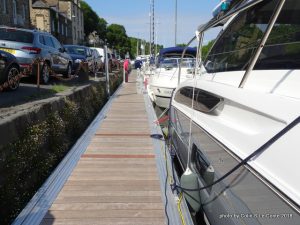 There are some ambitious plans for the future and if they progress they could include
Moving the cars to the other side of the road so there is a better walkway to see the boats
Building a new marina office on the site of the old Public toilets which would include new facilities and possibly a mast store
Possibly having electric bikes available for people staying for more than a week to assist with getting to the main Town.
The area is transformed when the road is closed and although we appreciate there may be local objections to closing a road, it really makes a difference. It is closed on Thursday evenings for a music performance and for special occasions, but it would make such a difference it was closed every evening in the Summer from 18:30 onwards. It makes it a lot quieter for the moored boats as well
Contact information
Harbourmaster Damien's e-mail address is Port de Dinan port@dinan.fr
Tél : 02.96.39.56.44
Interesting recent article – 2010 – sarahjaneodyssey.blogspot.com/2010/06/up……
Boulangerie
There is a boulangerie at the bottom of the hill.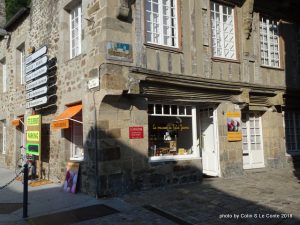 Map
Weather
www.meteoconsult.fr/ter/france/prevision……
Market day
Thursday
Other useful numbers
Port de la Vicomté sur Rance
Tél : 02.96.83.35.57.
Port de Saint Samson sur Rance
Tél : 02.96.39.16.05 (mairie).