Notice – 27th June 2019
Sailors and seafarers are kindly informed that a pollution response practice will take place in Cherbourg (France) harbour on Thursday 27th June 2019. Navigation in an out of the Chantereyne dock will hence be restricted that day from 9 AM to 1 PM (LT).
Meanwhile, boats will have the opportunity to wait either in the "Petite rade" area — no mooring — or in the "Grande rade" area.
Please check plans below.
Please note that further nautical informations will be provided by french nautical authorities.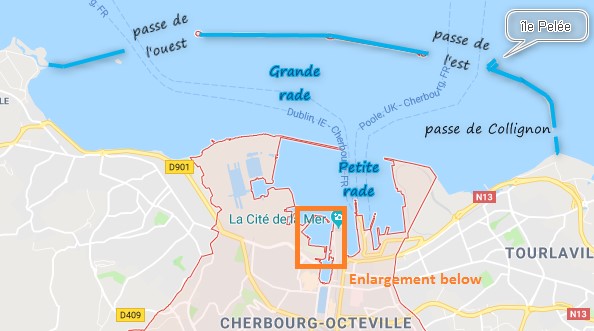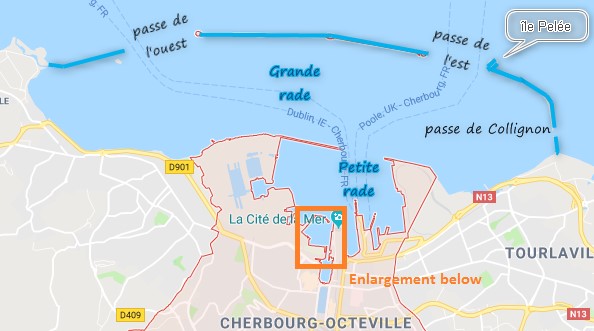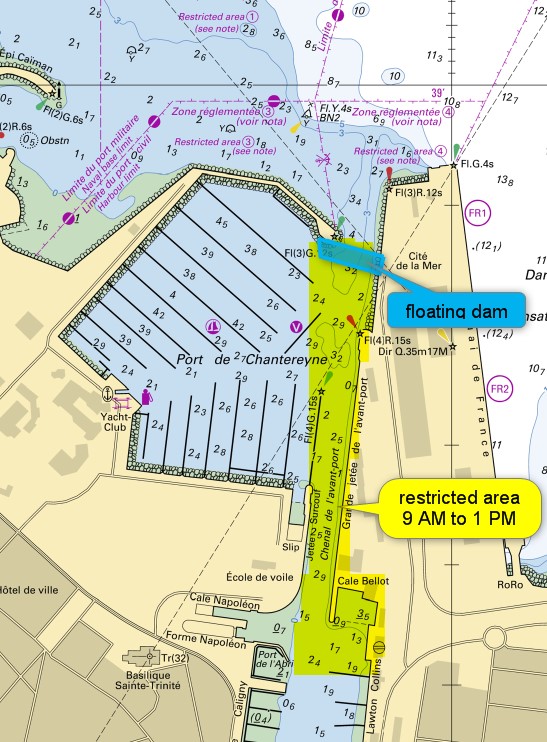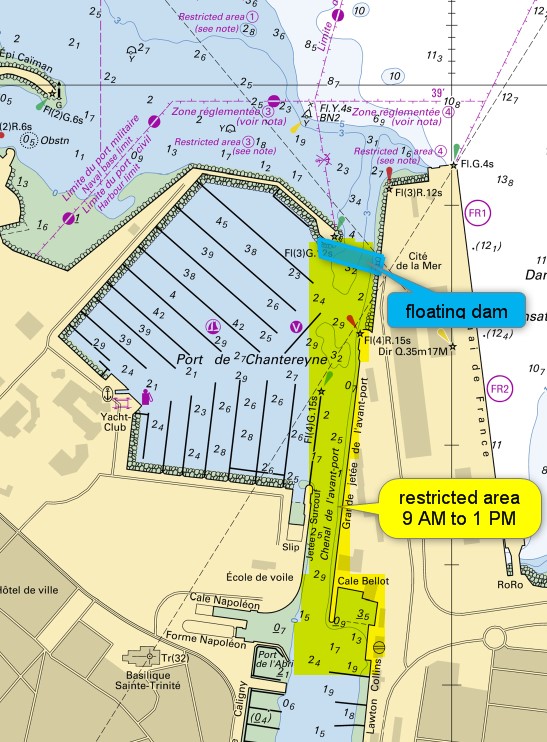 ---
Known as Port Chantereyne, this is a great 24 hour a day marina to visit and a refuge port. Especially popular with the English who can pop across from the mainland and have a few great days in this interesting town.
The marina is very large and appears to have good facilities including fuelling. The harbour office is well staffed and they speak excellent English. They are also very good at responding to e-mail messages and questions, an example other marinas would do well to follow.
The town is about 10mins away and the shopping centre, approx 20mins.
There are a couple of good restaurants available by the marina office.
All visitors pontoons are located in Port Chantereyne, large capacity vessels (up to 25 m long and 3 m draft) can be accommodated.
Pontoons visitors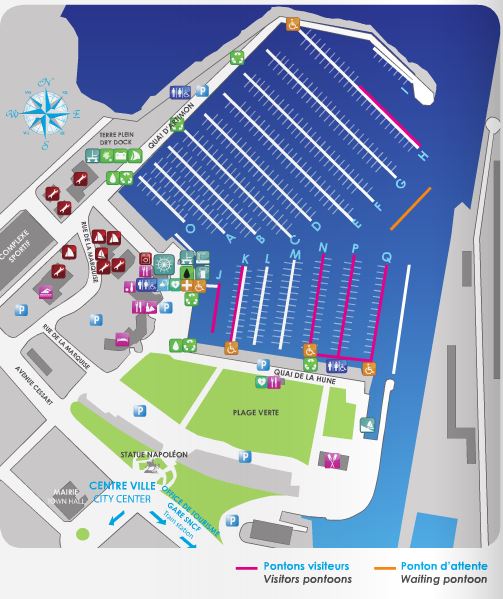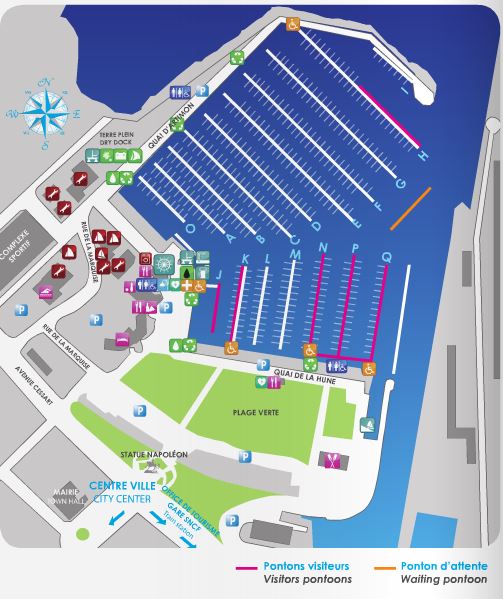 Please click on the following link for an up to date and more informative pdf CherbourgChantereyne 122012
K West: vessels under 9 m

N and P: 9m to 12 m

Q west: 12m to 14 m

Q east: larger than 14 m

H north: up to 25m

J along the pier: vessels up to 25m – please enquire at the marina office to use this pontoon

Waiting pontoon without connection to the land: vessels up to 25m
Official brochure – 2018 version – port_chantereyne_cherbourg_64p_guide_escale_2018_BD 3
Speed limits 14 knots in the wider harbour, 8 knots in the inner harbour and 3 knots in the marina.
Contact information
Tides – tide.frbateaux.net/33
Fuel – Diesel and petrol pumps are located close to the marina reception near J pontoon. Contact marina office or payment can be made 24h / 24h by credit/debit card directly at the fuel pump up to a maximum of Euro120.
Things to do – La Cite de la Mer is the other side of the marina and you can walk across to this amazing site. Le Redoutable nuclear submarine and a Titanic exhibition are included in the site where I am told you can easily spend a day. The submarine, in particular, is amazing and well worth seeing. See www.citedelamer.com/en/ for further information.
You have to walk back towards the town, cross the road bridge and go up the other side of the harbour to get to the Cite de la Mare and so is a good 30mins walk and yet it is so close when you are in the marina – as the crow flies.
Restaurant Guide
www.tripadvisor.com/Restaurant…
Yacht Club – yc-cherbourg.com/
Market day – Market days in the town centre of Cherbourg are Thursdays and Saturdays
Weather –  cherbourg.moustic.biz/ www.metcheck.com/EUROPE/europe…
Car Rental / Hire cars
We rented through http://www.francecars.fr/ who were very helpful and efficient. Where it says "Modifier l'agence" on the web site, type in Cherbourg and then a drop-down list should show Dielette, Carteret Yacht Club, Saint Vaast and of course Cherbourg. 
Web Cam – www.portchantereyne.fr/