This marina is beyond the lock gates. It is a pleasant marina and if you walk to the Town, you will find it very pleasant with a nice beach and centre. It is about 30mins walk to the Carrefour City, the Beach and the Pedestrian area and many people do not make that journey, but it is well worthwhile. You cross the river using the lock gate bridges so you may get held up when the lock gates are open.
The lock gates only open 5 times on each tide and are massive. The times are available on the Ouistreham website.
In 2018 the times were as follows. Please note these are closing times for the lock, not opening times. It takes about 15 to 20 mins to go through depending on the number of boats and tidal range.
In: Sea to Canal
HW -2:45 / -1:15 / +0:30 / +2:15 / +3:45
Out: Canal to Sea
HW -3:15 / -1:45 / HW / +1:45 / +3:15
These are rounded up or down to the nearest quarter of an hour so please see www.ouistreham-plaisance.com/web/horaire…
for definitive times.
The lock is large and has wires down the side for your ropes to slip down. Beware – even though it is a large lock, the water drops very quickly and if you are not tied correctly, your ropes can very quickly get tight.
The walls are a bit green and slimy so probably best not use your prize fenders.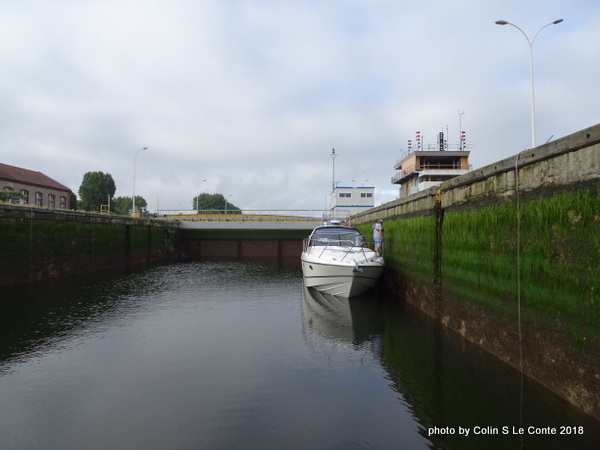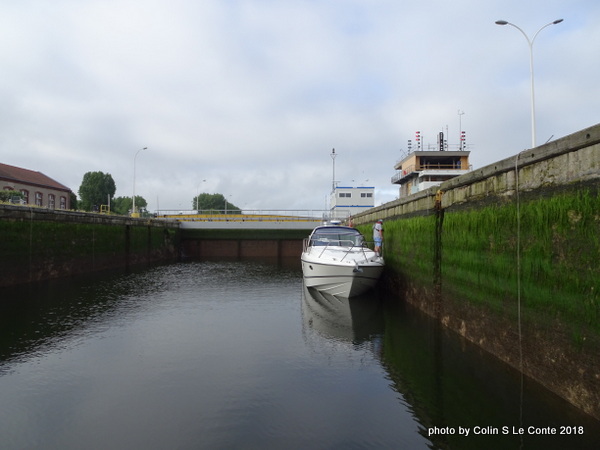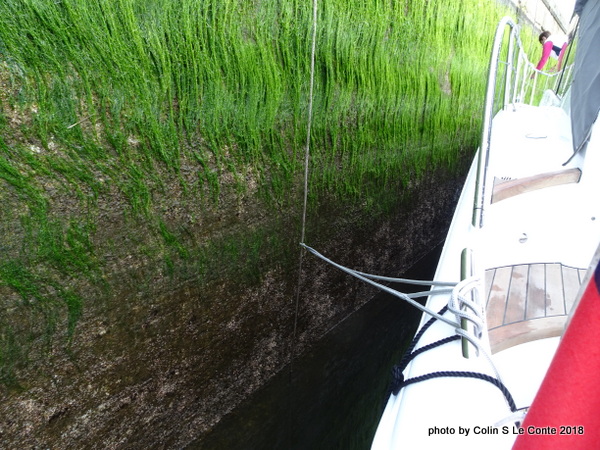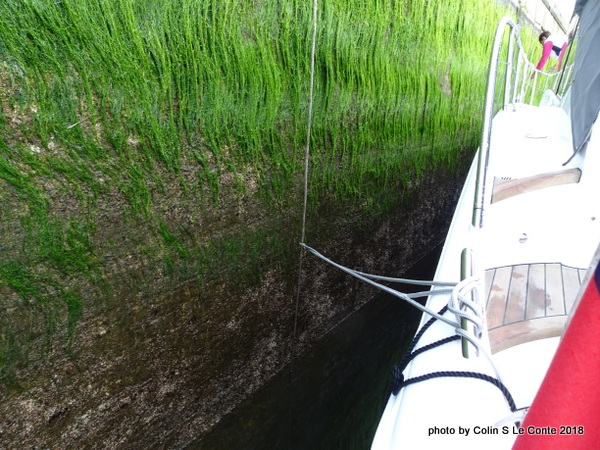 Good fuelling facilities are available just outside of the marina. You put your card in, press 1 for fuel and then select the pump. 1 for petrol and 2 for diesel. You then put in your pin and it authorises Euro 299 which is the maximum you can take in one go. There is a "lorry" button if you wish the fuel to come out quicker. You replace the nozzle, put your card back in at the end and get a receipt. You can then start again if you need more fuel.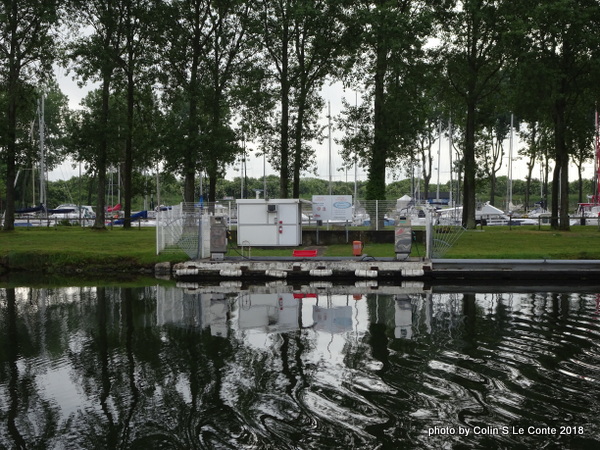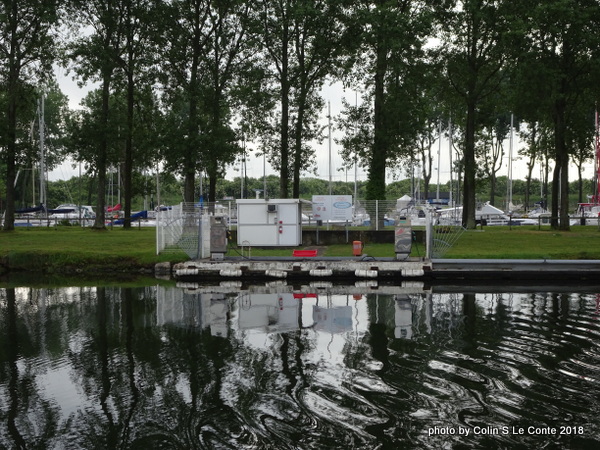 The entrance to the marina is just past the fuelling.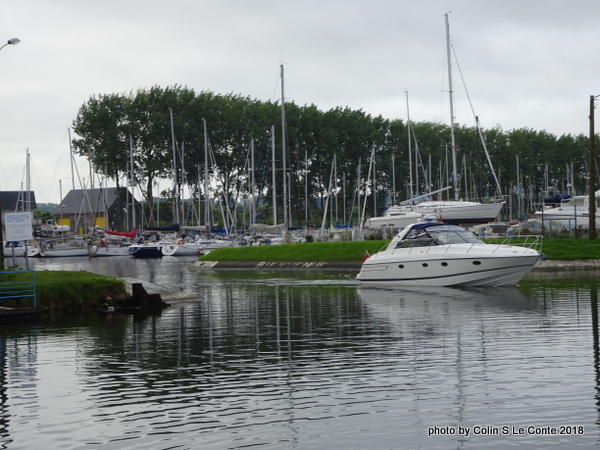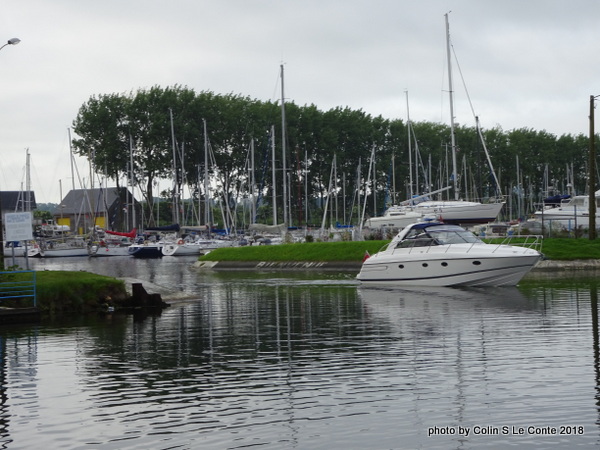 There are facilities under the marina office but the main ones are closer to the visitors pontoon. Facilities are of a good standard and you need to put in a number to access.
There is no boulangerie or restaurant on site but there is a very small cafe. The boulangerie is about 20mins walk away and won the Best Baguette Award of 2017!
Ouistreham also has a ferry port so may be useful for visitors from the UK and if you wish to leave your boat somewhere for a couple of weeks due to weather or to break your holiday.
Once through the lock gates, it is possible to go all the way to Caen, via the Pegasus bridge. This journey must be done in convoy. You can find out more at the Harbourmasters office. For Caen information – please visit www.digimap.gg/marine/marinas/normandy/c…
en.wikipedia.org/wiki/Ouistreham
Top 10 things to do www.tripadvisor.co.uk/Attractions-g64412…
www.france-voyage.com/cities-towns/ouist…
To get to the town you need to cross over the lock gates. There is a fish market on the town side of the river (not sure which days)
Restaurants – www.tripadvisor.com/Restaurants-g644120-…
Ouistreham Contact details
E-mail plaisance-caen-ouistreham@caen.cci.fr
Tel 02 31 96 91 37
www.ouistreham-plaisance.com/
70 moorings for visitors – but not sure where as the pontoon marked as Visitors could only take about 8 boats.
Webcam – see www.vision-environnement.com/livecams/we…
Caen Contact details
Tel 02 31 95 24 47
Only 16 places for visitors
You have to go up the long river in convoy