Paimpol is a lovely port. The approach to the marina is interesting once you pass Ile de Brehats and turn west. The passage between the buoys gets narrower and narrower and then you have the fairly large lock to pass through.
The marina is very good, as are the facilities. Nice shops, great places to eat and all on your doorstep.
It can, however, get very busy in the summer.
Brexit arrangements 2023
NOT SO AMAZING NEWS
We have a number of friends and supporters in Northern Brittany and they have very kindly been finding out more about the arrangements in that area following a number of recent, somewhat contradictory reports.
Apart from the customs ports of Saint-Malo, Granville, Carteret etc. where we know that you can get your passport officially stamped, it seems the other arrangements are as follows:
The checking-in and out arrangement, by sending the form in advance, only applies to the "official" ports of Saint-Quay, Saint-Cast, Lezardrieux, Treguier and Trebeurden, not the other ports in between. Specifically, therefore, other ports, such as Paimpol, Binic, Perros, Dahouet, Ploumanac'h cannot be used as entry and exit ports. This was verbally checked with the Douane-Bureau de Saint Brieuc today in order to clarify the above. They confirmed the information as stated above.
Marina Opening Times – www.guide-du-port.com/port-de-binic/le-p…
www.port-plaisance-paimpol.fr/sejour-au-…
The Harbourmaster and his colleagues speak very good English and are very welcoming and helpful. They normally meet you in their little boat just inside the lock gates.
The lock gates open for through passage (free flow) up to 1 hour before high tide (depending on whether spring or neap) and they close at High water and become lock gates again.
They said they can normally find people a berth for their boat except for mid-July to mid-August when boats may have to raft up.
Gavin May report June 2023
Very helpful staff.
Abbey ticket office is closed 12.30 til 2pm; also buses are available from Paimpol.
Some lock ropes are missing in 2022, and in 2023 starboard rear rope is missing. Had to retrieve some rusty old chains onto the boat from the quayside level. Check if there is anything to tie on to before taking that slot!
Facilities are now by code, no longer bank card swipe.
The noisy fair is usually from 26 May til 6 June.
Two superb bakers. Come here just for that!
Prebook at Tourist Office for Brehat Ferry as it can be heaving for tickets when you get there.
New Pontoon Arrangements in Paimpol 2022
The main visitor pontoon has been improved. This is the area straight in front of you as you exit the lock.
There is now a long pontoon along the wall, and the fingers have been upgraded. I would guess that most of the fingers are 9 or 10 meters in length (David).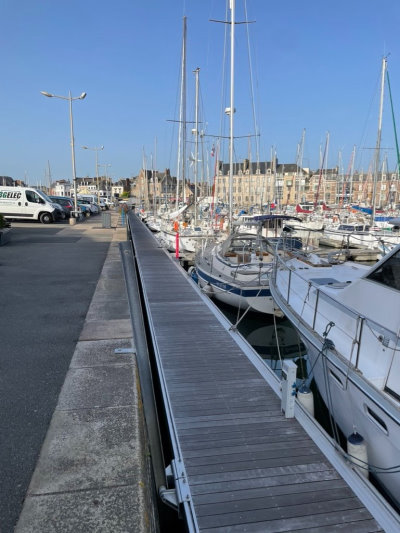 Videos
Entering the lock gates is fairly straightforward – see youtu.be/71UwziGDsc8
Once you are through the lock gates – there is a passage to the left of the marina building or pontoons on your right.
Marina Opening Times
www.port-plaisance-paimpol.fr/sejour-au-…
The lock gate opens on-demand within the published hours. The lock gates do go on "free flow" if the tide is high enough. We understand they go back to lock gates at HW.
Pilot Guide
Contact information –
E-mail port-plaisance@ville-paimpol.fr – they are very good and quick at replying
or portdepaimpol@eskaledarmor.com
Tides
tide.frbateaux.net/62
Guide du Port
www.guide-du-port.com/port-paimpol/accue…
Map
www.port-plaisance-paimpol.fr/sejour-au-…
Weather
marine.meteoconsult.fr/meteo-marine/mete…
When you pay at the marina office, they swipe the magnetic strip on your credit card and this is then used to access the facilities when the marina office is closed. There are doors to access the facilities from the marina office area, but outside of these hours, you go to the opposite side of the building (East) and there are doors for access. You swipe your card using the magnetic strip and the top of the card facing to the left. Swipe slowly otherwise it will not work.
Wifi was rather weak. The office gives you a free code.
Gavin May report 2022
Maybe Tourist Office can give the dates of the fairground because it is hell if it is there. Otherwise, this is a good place for some days, 7 nights for the cost of 4 in June. It is not as tidal restricted as Binic. The walk to and visit of the Abbey de Beauport is good, and the partly ruined Abbey is very nicely restored
As an alternative, an hour each way walk towards the estuary mouth on the West side.
Although you can go to Pontrieux in your own boat, an alternative is to take the very infrequent, one-carriage train from Paimpol. As a day trip, there is not a lot in Pontrieux, so a couple of hours might be enough assuming a lunch! However, the place is extremely tranquil.
Another, and a better day trip is to take the bus and then ferry to Ile de Brehat, which needs about 5 hrs or so to walk both of the charming islands, Plan that bus schedule back to Paimpol; or it is a very long wait!
So, check no fairground, and book in for some days!
2014 report
Visited during the last week of May 2014. The fair was on. It is a big fair with large and quite professional attractions. It opens at 2 pm and by 8 pm is still very quiet, however, after that, it starts getting really busy. The Marina staff told us the fair was from 2 pm until 11 pm but they were wrong. On 2 nights running, it finished at 1 am the following morning. That really is too late. The fair takes up much of the area including the whole of the pier to the Capitanerie – so there is no way of avoiding it. The only good thing is the Marina charges winter rates while the fair is on due to the inconvenience.
And a Marinas.com picture shows 3 power & 3 sail tied up on the pontoon with plenty of space for other boats to raft up although the availability of electricity may be a problem.
Pontoon M has been added in 2013 and provides additional space. It is alongside the wall at the Southern end of Basin 1, although in 2019 seems to have local boats.
Webcam – www.viewsurf.com/univers/plage/vue/16960…
Beach
Quite a nice beach with a seawater swimming pool just past the L'Ecluse restaurant.
PAIMPOL
www.tripadvisor.com/Restaurants-g488278-…
Visit www.paimpol-goelo.com  for further information
La Criée. It is on Quai de Kernoa, it has a terrace overlooking Basin 1
There has been a restaurant here for several years, but it has a new owner (2022)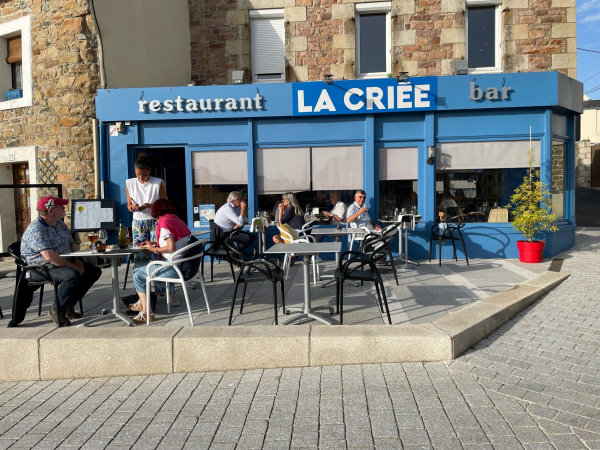 Le Neptune restaurant
A great report was received in September 2018 for the Neptune restaurant adjacent to the marina, reported as the best restaurant for the quality of food and service, by far in Paimpol. Thanks, Andy

There are lots of restaurants along the marina
Boulangerie
There was one to the south of Basin 1 but now appears to be open again (May 2014). There is a good boulangerie in the old square just behind the Restaurant du Port. We tried the boulangerie by the Tourist Information. Amazing cakes but the croissants and pain au chocolate were really flakey and a bit too crisp.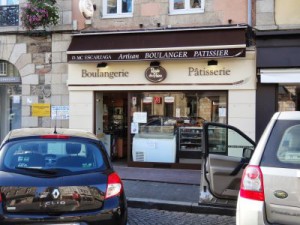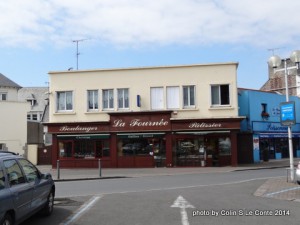 Market day
Tuesday
Some good and interesting shops as well
Things to do
Good walk to Abbey de Beauport. Well worth a visit with a small cafe.
Bus to Ile de Batz, need 6 hours to walk around – watch for bus timetable on the way back – they are not very frequent
Train to Pontriuex; you need 1 to 2 hours there max.
Thanks Gavin for the tips
Ile de Brehats
See the following link
To get to the Ile de Brehats or to travel along the coast – the Tibus provides a cost-effective service but not very frequent – www.breizhgo.bzh/
Weather
www.meteoconsult.fr/mar/port/apercu_port…