9th May 2023
I checked and the special status for Saint Cast and Saint Quay did finish on 30th September 2023. They hope it will start again on 1st June 2024.
We are delighted to inform you that, following discussions we have pursued with the relevant authorities during the off-season months, we have been granted the same derogation for the ports of Saint Cast and Saint Quay as last year, that is to say, as temporary PPF ports. Visitors to the above-named marinas will, therefore not need to call at any permanent PPF port, such as Saint-Malo, Le Légué or Roscoff, prior to sailing to Saint Cast or Saint Quay for the period June 1st to September 30th, 2023
A copy of the official Declaration of Arrival/Departure notice is below. This stipulates that it should be completed and sent to either Saint Cast or Saint Quay as the first ports of call. The port office in the marina concerned will then forward the Declaration to the relevant maritime authorities in Saint Brieuc.
Preavis-entree-sortie-Saint-Quay-Port-dArmor-5
Instructions: PROCEDURE-BREXIT-PORT-ST-QUAY-GB-9
Word version of the form: Controle-aux-frontieres-2023-St-Quay
Following our previous announcement concerning the granting of temporary direct entry/departure status to the ports of Saint Cast and Saint Quay,  please be advised that, following further consideration, the ports of Lézardrieux, Tréguier and  Trébeurden have now been accorded similar recognition for the 2023 season.
The procedure necessary for access to these ports in the Côtes d'Armor is given in the attached document.
Please note that the particular Declaration attached hereto is for the port of Saint Cast. Similar versions for the other temporary status ports will be available on their websites and can be downloaded by those wishing to visit the marinas in the Côtes d'Armor.
Please note that all such visits must start and terminate in one of the ports shown above.
---
Video
Video of the entrance to Saint Quay marina – youtu.be/D168Z8KFL4Q
---
Saint Quay Portrieux – Port D'armor is an excellent base for your boating. It is a large (1040 boats) non-tidal marina with excellent facilities and very helpful, English-speaking marina staff.
Good restaurants at the marina and a few shops. The main town is about 15 mins walk away.
During July and August, they even run a dedicated concierge service to look after your specific requirements. Amazing
Very helpful marina staff and they all speak good English, so do give them a call. Do call them on VHF 9 when arriving at Saint Quay.
We were met as we approached Pontoon 7, the visitors' pontoon, by the marina's orange rib, and they took us to our mooring. You could not have better service.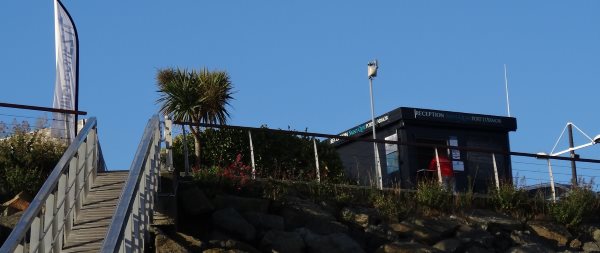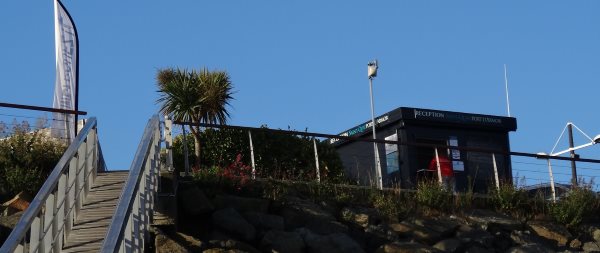 There is a "log cabin" (a wooden hut) at the top of the visitors' ramp so you do not have to go to the harbour office and it is manned from 8 am to 6 pm each day, depending on the time of the year. You can pay there, get information on the BriezhGo (formerly TiBus) and where to go – everything. They will even organise hire cars (some may be available from the car park mid-summer) and any other requirements as listed below. Excellent service.
The hire car comes from the Super U above Binic. Do provide plenty of notice, especially on the weekends and bank holidays. We gave 2 days' notice, and they were unable to supply.
During July and August, Saint Quay marina run a dedicated concierge service to look after your specific requirements (list from 2018)
●Bike hire, including electric-assisted
●Car hire
●Taxi
●Assistance to obtain a technical intervention from boatyards, marine engineers, sail repair…
●Various mobile phone chargers
●Help to organise your stay
●Assistance for booking transportation or travel tickets
●Onboard delivery of goods
●Food provision (foodstuffs, bread, fresh produce, beverages, wines…)
●Tourist offer, hiking trails, golf, tennis, cinema, horse riding, casino…
●Marina guide, town map, calendar of local events…
The facilities are large and clean, and there are good restaurants and cafes at the marina and the old harbour. Good beaches and coastal walks complete the package.
The facilities are large and clean with plenty of showers. All are now free and are well maintained.
www.port-armor.com/
www.saintquayportrieux.com/en/
marinas.com/view/overview/958_St._Quay_P…
Pilot Guide
Contact information
E-mail: welcome@port-armor.com
Guide du Port
www.guide-du-port.com/port-saint-quay-po…
Map
www.port-armor.com/en/marina-map/
Weather
www.windguru.cz/int/index.php?sc=196
www.meteoconsult.fr/ter/france/prevision……
Restaurants
www.saintquayportrieux.com/en/se-restaur…
www.tripadvisor.com/Restaurants-g735170-…
There is another boulangerie up the road to Saint Quay beach, just past the cinema and has excellent cakes! 15mins walk
The location of the boulangeries (outlined in blue) and the grocery store are as follows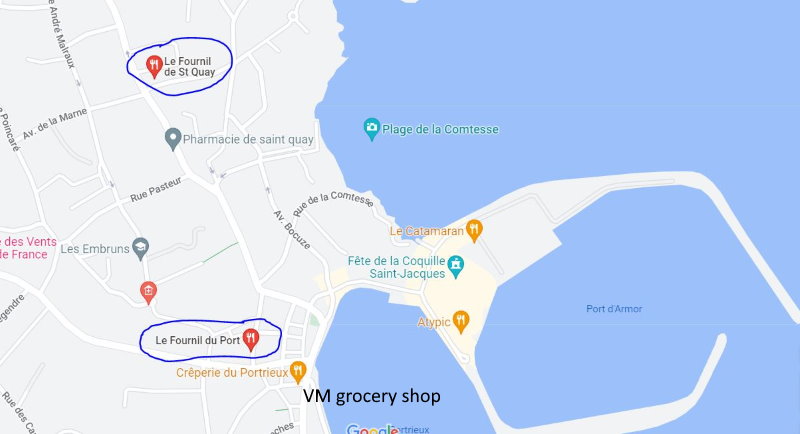 Groceries – the closest shop is the VM shop around the Old Harbour.
Market days – Monday and Friday (at different locations, so do check). The market on Fridays by the Tourist office was good, and the Monday market by the Port is surprisingly big. The Monday market is on the far side of the old harbour, about 10 mins walk.
Beaches
www.saintquayportrieux.com/en/detente-lo…
Webcam  – see www.vision-environnement.com/livecams/we…
Ferry to Ile de Brehat – www.vedettesdebrehat.com/-Brehat-depuis-…
Do note that the ferry will not go from Saint Quay if it has less than a certain number of people. The website says 10 people but others have said 45 people. The ferry from the headland above Paimpol always goes as an alternative but is difficult to get to. You can get a bus to Paimpol, but then it is difficult to get to the ferry point and too far to walk.
The WiFi is good. You need to put the code into your device on the day of arrival; otherwise, it will time out.
---
Robin Fuller very kindly provided some thoughts on things to do in Saint Quay
Beaches
There are some excellent beaches to choose from; La plage du Portrieux – the old drying harbour; great for beach sports and sunbathing but no swimming as a working harbour.
La plage de la Comtesse – the other side of the marina from La plage du Portrieux; good for all the above and for swimming.
La plage du Chatelet – an excellent beach on the other side of town; walk up the hill through the town to the large sandy beach with restaurants overlooking and supermarket and shops all nearby.
There is also a lovely beach with two restaurants at Etables; plage du Moulin. There is a pretty coastal path taking you from the beach front near the marina over the headland to Etables. This is a 30-minute walk from the marina to Etables.
Walks
Apart from the walk to Etables (as above), there is a lovely coastal path leaving from close to the marina, passing La plage de la Comtesse round to La plage du Chatelet.
Buses
There is a good bus service running between  Paimpol at one end and St Brieuc at the other, with St Quay at its midst. This goes through all towns in between, including Binic
Restaurants & shops
There are a number of restaurants overlooking the marina and along the beach front overlooking the old drying harbour. There is also a small supermarket, and a market is held on the seafront Monday mornings.
In the town, there are two patisseries, butchers, a larger supermarket, a pharmacy and a number of other tourist shops. There are several restaurants overlooking La plage du Chatelet. There is a market in this part of town on a Friday morning.
Other activities;
There is a cinema
mini golf
ferries to Iles de Brehat
bike hire from the Capitainerie