Saint Quay Portrieux – Port D'armor is an excellent base for your boating. It is a large (1040 boats) non-tidal marina with excellent facilities and very helpful, English speaking marina staff.
Good restaurants at the marina and a few shops. The main town is about 15 mins walk away.
During July and August, they even run a dedicated concierge service to look after your specific requirements. Amazing
Flyer 2018 – we were handed this useful flyer on arrival in Saint Quay and Jean Michel has provided an electronic version for your use flyer escale 2018-2R
Very helpful marina staff. Do call them on VHF 9 when arriving at Saint Quay, Trevor and his team are very good at responding and speak good English.
We were met as we approached Pontoon 7, the visitors' pontoon, by the marina's orange rib and they took us to our mooring. You could not have better service.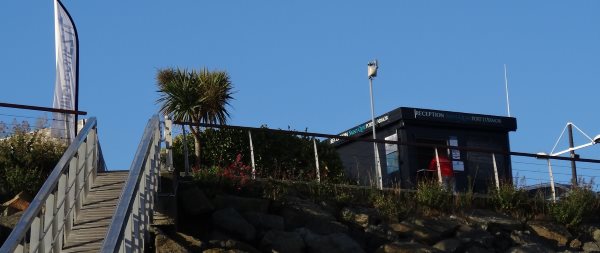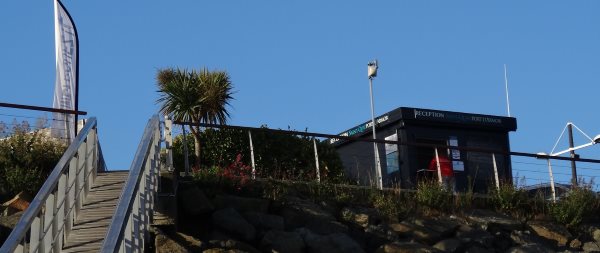 There is a "log cabin" (a wooden hut) at the top of the visitors' ramp so you do not have to go to the harbour office and it is manned from 8 am to 8 pm each day depending on the time of the year. You can pay there, get information on the TiBus and where to go – everything. They will even organise hire cars (some are available from the car park) and any other requirements as listed below. Excellent service.
During July and August, Saint Quay marina run a dedicated concierge service to look after your specific requirements…
●Bike hire, including electric assisted
●Car hire
●Taxi
●Assistance to obtain a technical intervention from boatyards, marine engineers, sail repair…
●Various mobile phone chargers
●Help to organise your stay
●Assistance for booking transportation or travel tickets
●Onboard delivery of goods
●Food provision (foodstuffs, bread, fresh produce, beverages, wines…)
●Tourist offer, hiking trails, golf, tennis, cinema, horse riding, casino…
●Marina guide, town map, calendar of local events…
The new Log Cabin well manned all day with helpful English speaking staff. In the height of the summer, you are met at your boat and presented with a welcome pack including discount vouchers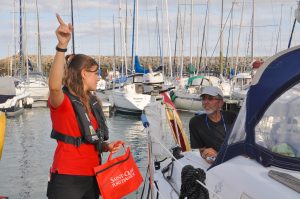 The facilities are large and clean and there are good restaurants and cafes at the marina and the old harbour. Good beaches and coastal walks complete the package.
The facilities are large and clean with plenty of showers. All are now free and are well maintained.
The man behind the initiatives at Saint Quay
www.port-armor.com/
www.saintquayportrieux.com/en/
marinas.com/view/overview/958_…
Pilot Guide
Contact information
E-mail: welcome@port-armor.com
Tides
tide.frbateaux.net/59
Guide du Port
www.guide-du-port.com/port-sai…
Map
www.port-armor.com/en/marina-m…
Weather
www.windguru.cz/int/index.php?…
www.meteoconsult.fr/ter/france……
Restaurants
www.saintquayportrieux.com/en/…
www.tripadvisor.com/Restaurant…
Creperie du Port – Good food and service. Less expensive than at the marina. Located around the old Harbour just before the Spar shop. Tel 02 96 70 40 04
Groceries – the closest shop is the Spar shop around the Old Harbour.
Market days – Monday and Friday (at different locations so do check). The market on Fridays by the Tourist office was good.
Beaches
www.saintquayportrieux.com/en/…
Webcam  – see www.vision-environnement.com/l…