Welcome to the Digimap website. We specialise in creating software solutions and providing digital maps of Guernsey, Alderney, Herm and Sark. The Guernsey Bailiwick mapping is created by the States of Guernsey and we the sole marketing, sales and distribution agent for the States of Guernsey Mapping.
Brittany and Normandy Marinas – including the Channel Islands
Do visit the Marina pages for further information
Marinas
---
Digimap Office
Our top priority remains the health and well being of our customers and staff and strict social distancing and hygiene measures will be observed. Given the current advice on social distancing, please do make an appointment before visiting the office.
Please do contact us if you have any questions.
---
WWII 1945 aerial photography – Community mapping project
Digimap is pleased to launch the States of Guernsey's new WWII seamless aerial photography of Guernsey. The images are based on allied reconnaissance of the Island and were all taken in 1945. The States of Guernsey Mapping Team has assembled this scale accurate image from many hundreds of images across a number of different reconnaissance sorties. This aerial map has been made available on the internet by kind permission of the States of Guernsey Mapping Management Board.
The aerial data provides a unique insight into the defences constructed during the occupation of the Bailiwick. The 1945 imagery is now available as a seamless aerial photo of the island which makes it easy to navigate to sites of interest and compare with present-day data layers.
To celebrate the 75th anniversary of Guernsey's liberation at the end of WWII and to support the Heritage 75 initiative, Digimap has used Esri's innovative ArcGIS Online to provide this free of charge seamless mapping for the community.
The vision of Digimap in partnership with the States of Guernsey is to make this part of Guernsey's heritage freely and easily available to the community.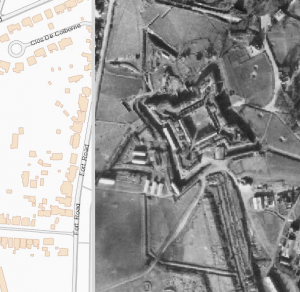 Please click on the image for the Web App provided by Digimap. The bar down the centre can be moved left or right to "swipe" between the latest map and 1945 photography, or just to view the 1945 aerial photography.
Additional background to the project can also be view from this Esri Story Map link;
digimap.maps.arcgis.com/apps/M…
---
Most popular links
Marina Tides
AIS tracking
Marinas
Online mapping
Online Store