St Peter Port harbour (Castle fuel pontoon)


Opening Times – Chandlery and Fuel
Please see Boatworks+ Facebook page for the opening times this weekend – www.facebook.com/BoatworksGSY
Normal opening times
Monday – Saturday 09.00 until 17.00

Fuel Prices – prices as at 15th July 2020
Diesel – 62p a litre (red diesel)
Petrol unleaded – 110p a litre
The seabed at the Castle fuel pontoon dries at approx. Chart Datum +1m. Therefore if the predicted low water is 3.0m there will be 2m of water. There is always approx. 4m of water at half tide. There is an accurate tide board at the East end of the pontoon.
QEII marina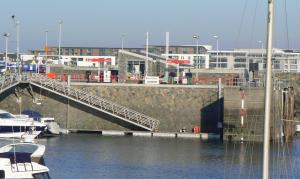 Opening Times
The QE11 fuel dock will be open at the following times
We are open 0900-1700 Monday to Saturday now and 0900-1200 Sunday. We can also arrange fuel service at other times by appointment.
The Fuel Dock in the QE2 marina is run by Sun Yachts
Simon's number is 07911 722161
Fuel Prices – prices as at 15th July 2020
Diesel – 60p a litre (red diesel)
Petrol unleaded – 108p a litre
Accessible from within the marina at all times (depth at pumps 2.6m when the gate is closed). Pumps can only be accessed from outside of the marina when the gate is open. See the Tides site
Contact information
If in doubt – call Boatworks+ on 01481 726071

Boatworks+ web site: www.boatworksguernsey.com