Lyvet is a small village with a couple of good places to eat. No shops, just the pontoons which are a stone's throw from the Lock gates. Very peaceful and a nice place to stop and watch the boats travelling up and down the Rance.
There is a larger town up the hill, but it is quite a long walk.
Lock Chatelier's
This is a small lock and the holding area downstream can be a little limited when the tides is low.
YouTube video of entering the Chatelier lock gate in 2019 – youtu.be/F4UIyBGkh34
Departing the lock gate towards Lyvet / Dinan – youtu.be/D5fnQxd9DNk
The best page for information is on the Plouer website which gives the opening times of the lock (start and finish) for the following week. Published on a Friday. It also helpfully says what time high tide will be within the Rance www.plouer-sur-rance.fr/niveaux-en-rance… . It is best to arrive at Chatelier on high water or with the tide going up.
The opening hours are obtained by phone by calling the lock 02 96 39 55 66.
The lock operates on demand. The lock keeper said they use VHF Channel 14 but they do not appear to use it.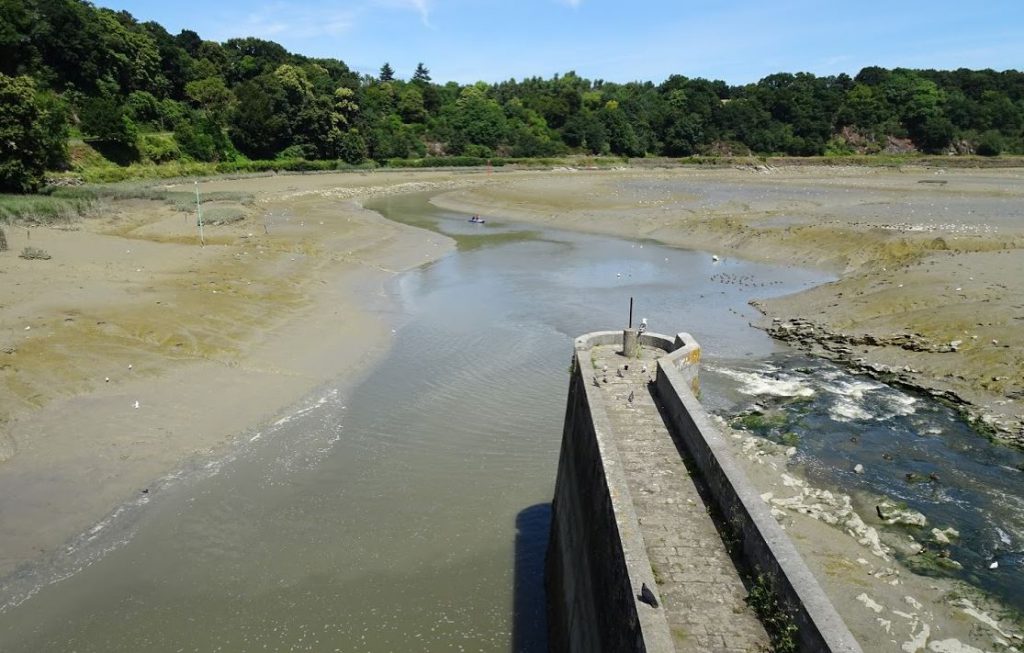 Keep between the poles – photo from 2016 low water. This is the passage to the lock shown at low tide. Holding area is the pool at the front of the photo
Stan says "The marina at Le Chatelier (actually called Lyvet) is not restricted by length but by draft. If you draw more than 1.7m you can't get through the lock and there are shallow parts all along. To get to Dinan you MUST draw less than 1.5m."
We visited by land in 2016. There are no signs for the visitor pontoons. The visitor pontoon used to be pontoon D which is 2nd from the top of the picture (the bottom pontoon does not have a letter). We are informed there are not specific visitors moorings at Lyvet most of the time but Giles fits boats in as and where he can.
I enquired at the marina office and received the following message which translated says "visitors usually call before or take a position and pass the captaincy just after. If I see them arrive and we are available, we welcome."
The office at Lyvet is good and the facilities are clean. There are a couple of showers and a couple of toilets and that is it.
YouTube video of Echo Beach arriving in Lyvet marina from Dinan (not much to see) youtu.be/azUUH6BeOvY
A website (nautisme.meteoconsult.fr/bloc-marine/fic…) suggests min depth in marina 1.7m but no indication of how up-to-date that is.
A fellow boater was delayed going both ways through the lock by over an hour by a Vedette and a bunch of kayakers so don't bank on going through when you plan to. The Vedette has priority.
Important information
port.lyvet.free.fr/
Contact information portdelyvet@orange.fr
E-mailed in July in French and received a received a reply in French
Tel 02.96.83.35.57
Restaurants
Lyvet Gourmande, 9 rue du Port. Good restaurant, reasonably priced, and conveniently close to the Marina. Reservations advisable. English speaking proprietor. Thanks Phil. Very good meal in August 2019. Great burgers, moules and crepes.
Le Saint Patrick – Bar, restaurants and does take away Pizzas. Good fish and chips! Visited in 2016 and good Irish service and food. Closed on Mondays and Tuesdays and when they go on holidays out of season. Visited in August 2019 for lunch but were turned away as they were full.
Bread-The bakers van bread service stopped a couple of years back when the shop at Pledhien changed hands but they do use the Gourmande as a depot in the summer months. The baker in Vicomte is now a Bistro.
Le Maltess
A passenger boat departs from Lyvet and travels to Dinan. Has a restaurant on board. see www.lemaltess.com
Jean-Pierre the Husband of Beatrice who runs the Lyvet Gourmand restaurant runs his amphibious car doing short rides from the slipway up and down the river for patrons of the restaurant.
This site may be of more general interest – lavicomtesurrance.free.fr/