Brexit
Roscoff is an official port of entry (PPF) with Douane staff. This is the form you need to complete and send prior to your visit. preavis_roscoff
You need to send it to both email addresses
The Douane telephone number is +33 (0)9 70 27 51 60
June 2023 – passport "desk" is now staffed during normal working hours, unlike last year.
Best send your form well in advance
Gavin May report 2023
Roscoff has grown on me from my first out-of-season visit in poor weather some years ago!
The marina is well run with very helpful staff, and you will find sailing boats from Sweden and south passing through.  Note the dory may not be around at lunchtimes and the office closes when you might expect. No need to be calling on Ch 9 late in the evening asking for a berth. Even in late June, the marina is very full by late afternoon/early evening.
It is a 20. min walk into the old town. Follow the small green signposts to walk through the cottages or, if not, be sure not to miss the not obvious road left turn to the old town, or you are in for quite a walk around the headland! The old town can certainly feed you a light lunch or some finer evening fare, though given it is a major port, it is quite small.
If you need WiFi, it is weak unless outside the office or you have a lucky berth.
A few electric bikes from the marina and bread can be pre-ordered from the brasserie by the office, or take your chance that they have some extra.
The old town has solid granite buildings, and the commune has put up plenty of plaques around for your information about the history of the town.
Seafood-wise, there is a shellfish specialist out on the headland and sometimes a few stalls in the old town by the quay selling off the boats.
Some pass through and are not overly impressed with Roscoff, but there is more here to enjoy than might be first supposed.
A very decent supermarket with a good fishmonger and butcher is unfortunately not so close, 15 min cycle into St Poul de Leon. Otherwise, make do with the rather small Carrefour in the old town.
Take the ferry to Ile de Batz, Euro 10.
The walk around the coastline is about 3 hrs and very easy, though you can cut the walk shorter, of course.
Visit Morlaix via 29 bus, euro 2.50,  next to Roscoff Tourist Office in the old town (cash only on the buses), though it is a very bizarre bus ride for 45 mins where one minute you are in a small village and the next on a fast dual carriageway. The Morlaix Tourist Office is an old building with a little history of the wealth and history of Morlaix, and they provide a 90 or 180-minute walking map of the town.
Find a small alley and enjoy a fine galette and some local cider.
---
Roscoff Marina is fairly new, and what an amazing job they have done. Wide pontoons, non-tidal, great facilities, and ideally located towards the West of Brittany. It is a ferry port, and many people drive through Roscoff, but the town is lovely and well worth a visit. Good places to eat, lots to see and an amazing day visit to Ile to Batz if you wish.
Train, car ferry and car rental are all available in Roscoff.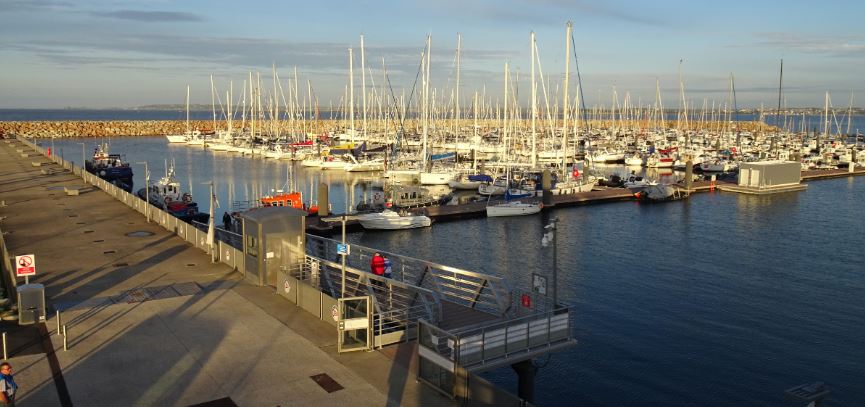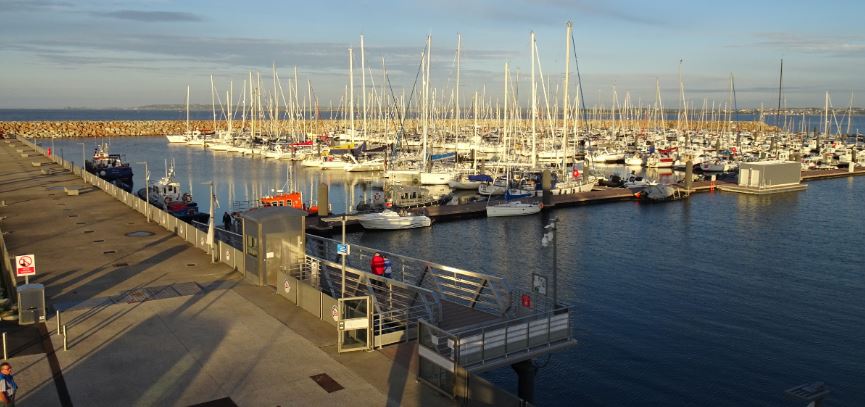 I took the above photo in June 2016 and the marina is well-finished with all facilities provided. Note the large single ramp-up to the marina office, shops and restaurants. The square metal structure that is partially hiding the lifeboat is a lift to the pontoon. The grey structure to the right of the photo is a toilet block on the large and very long pontoon.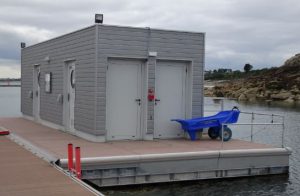 There are 625 berths, with 45 for visitors. The largest fingers are on A pontoon as you enter the marina. The marina's minimum depth is 4m, regardless of tide. There is a tidal flow along the top of the pontoons. You should be aware of this, especially if you moor on some of the fingers at the end. It does not affect most of the marina fingers.
Before you enter the outer harbour, watch for the red light at the end of the breakwater, as there may be commercial traffic.
All the staff are very helpful and speak good English. A person in a blue Rib will meet you as you arrive. You can announce your arrival on VHF channel 9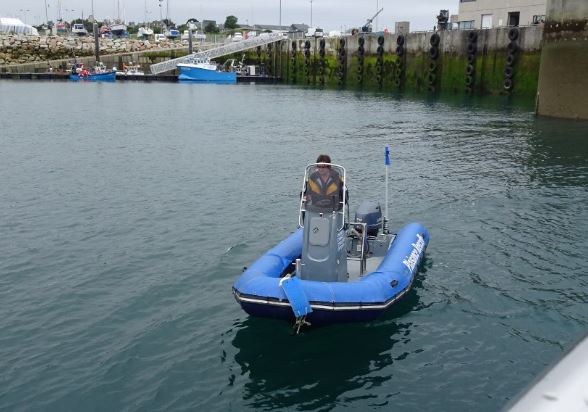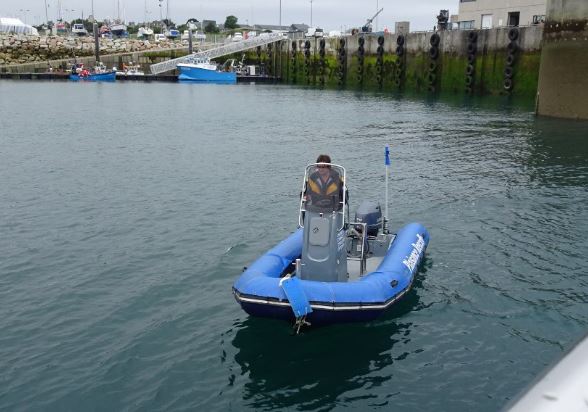 There is an old town which is very pleasant and there is a shuttle bus that can take you there but only in July and August. Otherwise, it is a 15 minute walk. Watch for the green signs that take a quieter route to the old town.
Useful information – www.plaisancebaiedemorlaix.com/en/introd…
Ile de Batz is well worth a visit if you have time. There are regular ferries every day and every 30mins in the peak months. At low tide, they are accessed from the interesting and impressive footbridge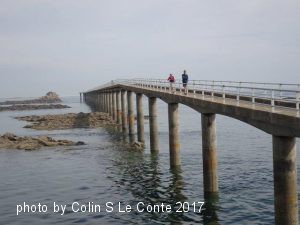 Navigation
Navigation to Roscoff is straightforward. From the west, you can pass between the Ile de Batz and Roscoff at half tide and above. If you go around the outside (to the north), beware of overfalls which extend a good couple of miles north of Ile de Batz.
From the North and East, the passage is well marked. Head for the ferry port, and watch out for the red light on the end of the breakwater which means the ferry or commercial shipping is entering or departing. This may hold you up for a good 15mins or so.
Enter the marina through the north entrance, not the south.
The toilets and showers are to the left of the marina office. They are modern and good, with a similar layout to Saint-Cast. The showers are free and do not require a jeton. There are the same facilities available upstairs and they may be a bit quieter during the busy season. You are given a paper swipe card on arrival, which provides you with access to the facilities, including the toilets on the pontoon.
Wifi is free and you just login and answer a couple of questions. You do not need a special code however it only lasts for 60 mins before renewal.
Fueling is available. You put in your credit card and authorise Euro 300 and then you can have up to Euros 298 of fuel. If you need more fuel, you have to replace the nozzle and start the process again. It only charges you what you use, but your card may think the full Euro 300 has been reserved for a couple of days until the payment is processed.
Gavin May article 2022
Although the sign on entering warns of currents, it is worth paying attention throughout the marina. The fairways look huge, but for some, not huge enough it seems! In high season and after hours, boats seem to raft up outside the fuel pump as it might be the only space left, so if you need fuel and an early start, I suggest you fill up on arrival or wait till mid-morning!
In very high season, there is a free local bus running about. It only runs one way round, so it is a way to get to the Casino supermarket, which is pretty dire. However, there is now a small Carrefour in the old town, one street behind the Tourist Office and 200 metres to the right, which is better and more convenient, if smaller. Unless you have really loaded up, it might be easier to walk back than take the rather long bus ride!
To walk into town, 15 mins, walk up the sloped main entrance to the whole port complex, turn right, and you will see some green signs in 100m guiding you through some side streets to the old port. In season, the old town is actually quite fun and has some charm with plenty of creperies, restaurants, bars etc. and decent bakers. The town is extremely quiet out of season, be aware, and we have struggled to find anything even open. To be fair to Roscoff, that seems quite common in many places.
Take an E10 return trip to Ile de Batz for a 3hr walk around the island.
You could take your boat up to Morlaix. Personally, it was fun once, but there are shallows here and there that seem to catch folk out. You could also just take a bus for a day trip out from Roscoff, though be warned that Mondays might mean little is open.
During High season and if you are early, the Brasserie at the marina may still have bread etc., in the morning
Useful articles
www.playdeau.com/roscoff-bloscon-marina/
www.plaisancebaiedemorlaix.com/fr/les-po…
Roscoff information
www.noonsite.com/Countries/France/Roscof…
Great video www.youtube.com/watch?v=CuaMsNkW7Lw&#038…
English translation
translate.google.com/translate?js=y&#038……
Contact information
Email plaisance.roscoff@bretagne-ouest.cci.bzh
Good response to email using the contact form in good English
Information on hotels and restaurants
There are lots of good restaurants in the old town. Well worth the walk and a visit. Interesting information plaques on some buildings with an English translation.
The marina does have a range of facilities including a shop and a couple of restaurants/cafes. We ate at the one on the left and it was fine. The shops etc at the marina do not open early in June – probably around 9 am. There is a sign which indicates you may be able to pre-order croissants etc for delivery the following morning.
There is an exotic garden only 5 mins walk from the marina which is very pleasant.
www.france-voyage.com/towns/roscoff-9109…
Trains – uk.voyages-sncf.com/en/#/
Tides maree.info/72
Tourist Office – www.roscoff-tourisme.com/en/
Market day is Wednesday
Restaurants – www.tripadvisor.com/Restaurants-g196532-… 
Remember, only go through the Ile de Batz passage when it is above half tide.
Video – www.facebook.com/PlaisanceBaieDeMorlaix/…
Roscoff – see www.vision-environnement.com/livecams/we…