Restaurants
Trip Advisor – www.tripadvisor.co.uk/Restaurants-g66678…
There are 4 restaurants at the marina at the top of the ramps. They are quite good and have a varied menu.
In the summer, there is excellent seating and eating, overlooking the marina on the left of the photo, across the road from all the restaurants.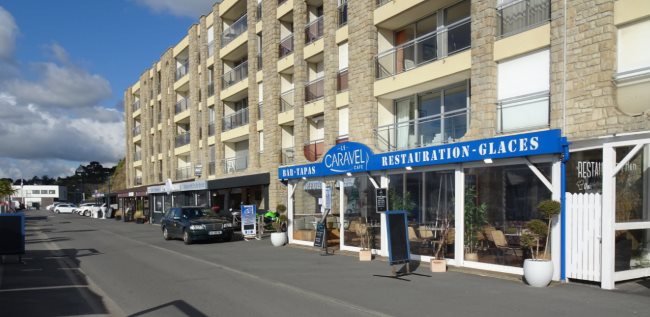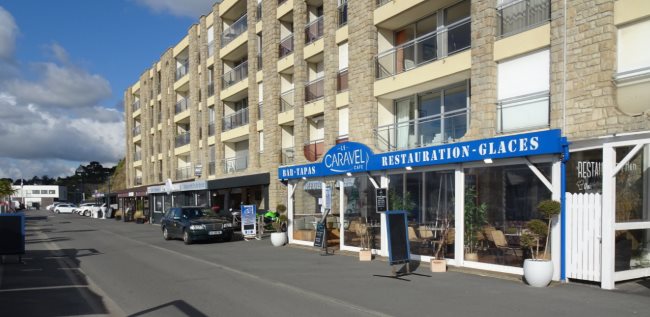 La Poissionerie
There is a fish restaurant that has opened near the marina in the car park towards the promenade.
July 2015 report from Phil – It is clearly very popular. We tried on Monday lunchtime but the Restaurant was full that evening so we took the opportunity to book for the Wednesday night.
This is very definitely a fish restaurant – if you don't like fish there are no alternatives. The food is simple but well cooked. The bill came to just over 110 Euros for the 2 of us for starter and main courses (Trio de Crevettes, 6 Langoustines, and 2 x Sea Bass) and a bottle of Sauvignon Blanc. Service was friendly and perhaps could be described as practical – e.g. we paid at the till on the way out.
They also offer a takeaway service with a different meal available on a different day e.g. paella one day, fish pie the next.
Martin reported – Has a great selection of fresh fish to buy (cooked or uncooked) and an outdoor terrace restaurant.  We did not eat there as it was fully booked each time but from feedback from diners, it is very good.
Le Cafe Face
Newport
Extensive menu with Pizzas, pasta, steaks, moules, crepes, and other meats and fish.
Le P'tit Mousse tel 02 96 41 96 31. Le Port, 22380 Saint-Cast
Famous for its skewers of meat or fish. Check they do cook your meat well enough as lots of reports they cook it French style – so Bien Cuit is more like medium in the UK.
Restaurants in the Town
Very nice walkway to the Town. Looks new and well-lit with blue LEDs at night. Only for walking – not cycling. To cycle, there is a one-way system over the hill which is quite steep. The walk takes about 10/15 mins and ends up at St Cast beach. The town is very nice with a pedestrian area on the road behind the beach road. Lots of restaurants.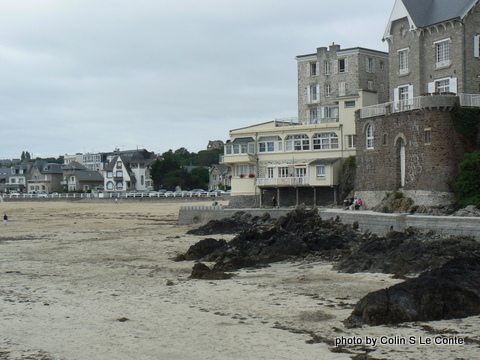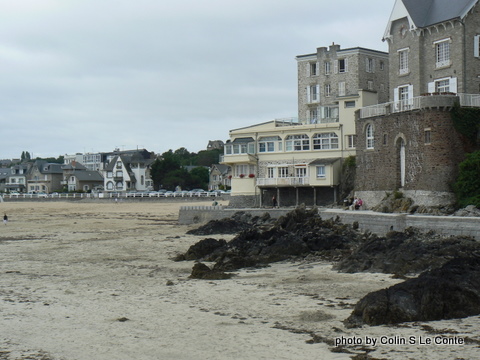 Lovely walk on a new promenade from Marina to St Cast – no cycling!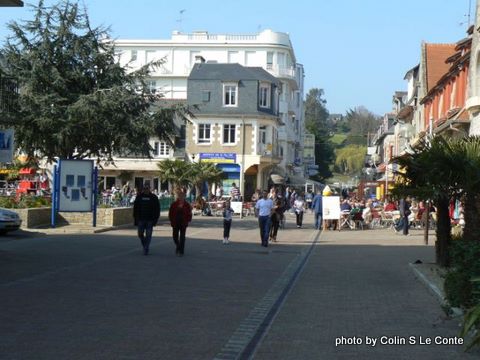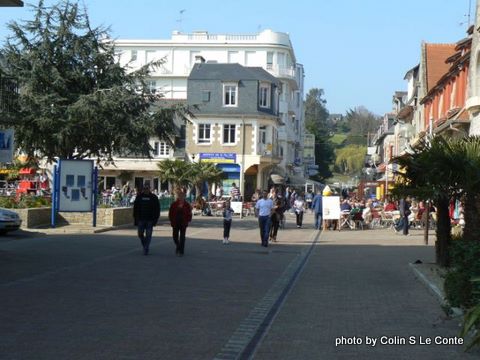 The pedestrian area of St Cast town
La Marinere has opened a restaurant on the beach which was great when the sun came out.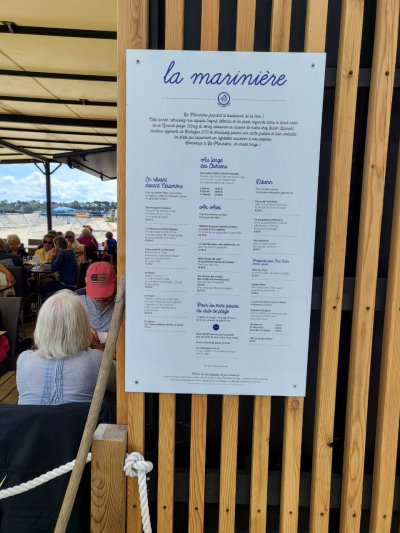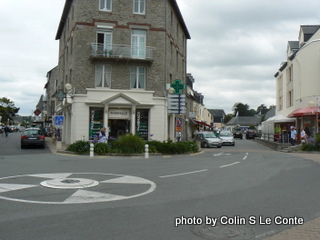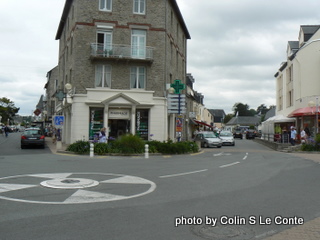 At the far end of the pedestrian area, you can turn left back to the beach, straight on (left road in picture) to a couple of restaurants including Le Jardin Delice, Le Truc Bidule,  La Casa and the Grand Brasserie or right to the Tourist Information, supermarket, 2nd bakery (possily closed)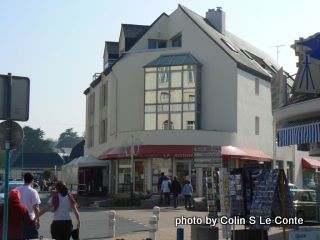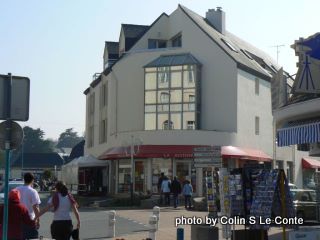 The main bakery in the town – opens at 7:00 am (7:30 am off-peak) – closed Saturday and Sunday in September 2013. There is another bakery about 6 shops to the right (possibly closed in 2022).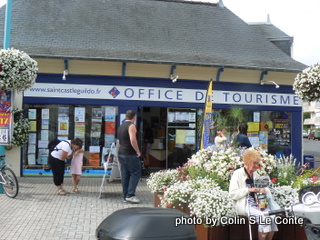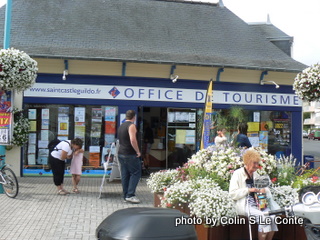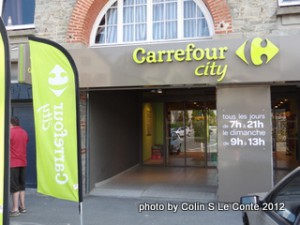 The supermarket – it was a Marche Plus and is now a Carrefour City
Le Truc Bidule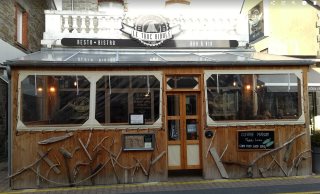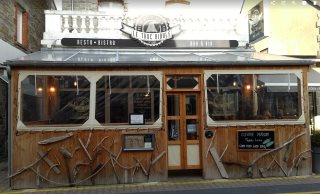 We visited Le Truc Bidule in September 2017 and had an excellent meal. Ranked number 1 on Trip Advisor.
It is a small restaurant and you need to book if you want to be sure to get in. A limited menu of around 5 items per course but well worth it.
The restaurant manager speaks very good English, the service is fine and the food is excellent – what more could you want.
La Grande Brasserie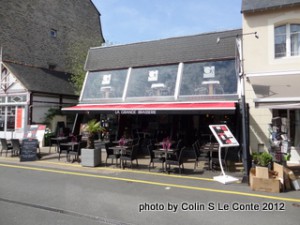 Very nice inside and pleasant staff. Good choice of menu and fair price. The food was fine – nothing special. Pay at the bar. Was full by the end of the evening. The last meal we had there Veal was very good. Great chips. Recommended Tel no 02 96 41 83 36
Les Halles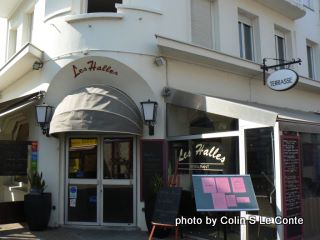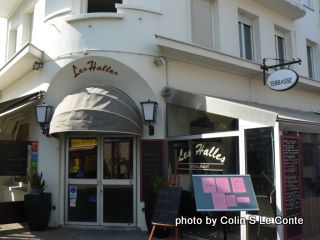 This restaurant offers good quality local food with a few little tasty twists. We had the tempura prawns to start and the Plancha D'Espanyol as our main course, which was an impressive construction consisting of (in ascending order) salad leaves, prawns, mussels, toasted bread with garlic butter and sardines. Others in our group had steak, mussels and an open burger. Damon 2011
Richard reported a good meal at Les Halles in the main shopping area of the town of St Cast – Menu is more upmarket than La Casa
Le Bonheur est dans le Blé – tel 02.96.81.03.99
Right next to Les Halles lies the creperie Le Bonheur est dans le Blé. This is the place to go for a real taste of Brittany. Chose one of the fantastic galettes as your main course and enjoy it with one of their fantastic dry Brittany ciders. Finish your meal with one of their equally tasty crepes and you will have had a great night out. The staff are very friendly and the atmosphere is informal and relaxed with several families enjoying a meal at the time we visited. It seemed this place was full all day but we managed to get in on a Monday night without booking. Highly recommended! Price range: around 12 euros for a galette, 7 euros for a crepe and 7 euros for a 75cl bottle of cider. Damon 2011
Excellent lunch there in June 2012. The Galettes menu is amazing as is the profiteroles crepe.
Le Jardin Delice 23, Bd Duponchel, 22380 St Cast. Tel: 02 96 81 05 27 e-mail menard@bbox.fr
We were great supporters of Le Jardin Delice and have been many times. It is, however, now really expensive (2022) and there are many other very good restaurants. Great for special occasions.
The GYC Motor section had their main event evening meal at Le Jardin Delice and it was excellent. They coped with 50 people very well and the food was delicious. The staff are very helpful. Highly recommended. 2012
Now in its second season, Le Jardin offers what I think is the best food in St Cast. It is a little off the beaten track, located at 23, Bd Duponchel but is worth the extra few yards. We chose the 28 Euro 'Gourmand' menu (menus available at 23, 28, 35 and 45 Euros) and chose the oeuf cocotte with foie gras, the pave du Boeuf and the duck with mango. The tart tatin with salted caramel sauce and vanilla ice cream was to die for!
The restaurant is divided into two areas; a very small dining room and a covered outdoor space. The decoration, furniture and finishes are excellent and help create a wonderful courtyard atmosphere. The staff are friendly and welcoming and not at all pushy. We went on a Tuesday night and it was lucky that we booked at lunchtime, as every table was full and around a dozen potential diners were turned away. Thoroughly recommended but booking essential! Damon 201
4 of us ate off the 27 Euro Menu Gourmand and ended up paying 35 Euros/head. Excellent meal, friendly staff, sat outside in their small 'garden' area. Phil
Ker Flore restaurant
We went twice last year which is at the top of the hill in Le Bourg has a new direction and is in the 2011 Michelin Guide. It is excellent, had the 27 Euro menu. It's about 40 minutes on foot from the marina, well worth a visit – David 2011