Chausey is beautiful. A stone's throw from Granville, this group of french islands provide an amazing are to visit. Mooring can be difficult and the sand can be muddy, but once ashore, there is lots to see on a day trip.
Not a marina – but a great place to visit. We visited in June 2018 on a hot summer's day. The tides were neap and low water was at 12:05 french time. An ideal time to visit.
Access is from the South and is fairly simple. The "Sound" is not very wide, especially at low water, and boats do dry out at the far end of the Sound when the tides are springing.
The first white buoys as you enter from the South are for the ferries so they will not appreciate it if you moor there. Some boats dry out on the beach and the rest tie up on the fore and aft white mooring buoys further up the Sound. A picture from August 2005 taken by Speedbird showed single boats moored fore and aft, but in June 2018 most of the buoys had boats 5 abreast.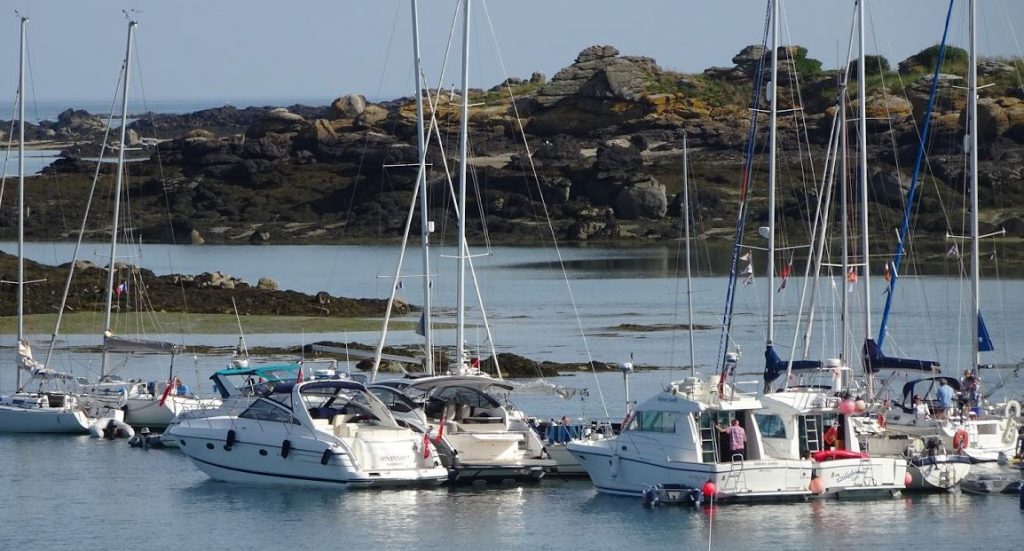 The white buoys have a loop at the top and this can be quite difficult to get a rope through from on your boat. Also beware of the rope going to the sea bed as this may be at quite an angle with the tide. We tied up alongside a helpful yacht and used the dinghy to secure the ropes.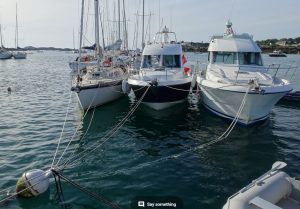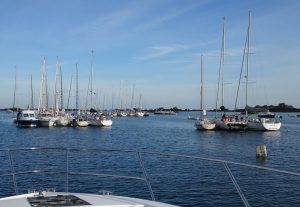 The tide runs strongly through the moorings at high tide. At half tide it appeared to be fairly slack and at low tide, with the northern end of the Sound dry, the tide was also fairly slack. It is advised that you have an outboard on your boat as rowing against the tide may be a challenge.
Also, beware of the silt/mud. We landed at a nice scenic beach towards the northern end of the Sound at half tide and we were up to our knees in soft muddy sand. Fine if you want a mud bath but hard work if you are just trying to get ashore. This may also be a problem for some boats drying out with legs as they could fall over.
Chausey is very tranquil and a beautiful Island. Very similar to Herm and has around 50 houses on it. There is one main restaurant and a good shop which serves baguettes and cakes.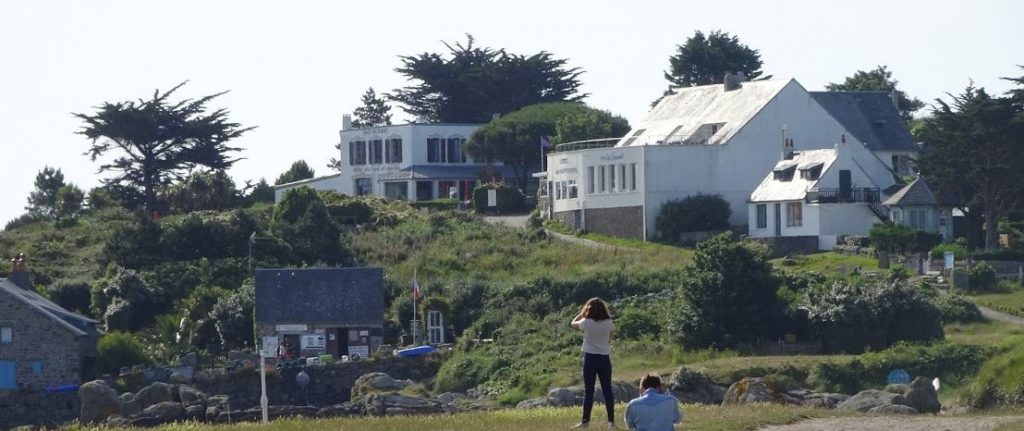 It is possible to navigate through the North of the islands at above half tide and the many boats from Jersey will find this to be the shortest option. The timings and the route are not that clear from the charts so do check with someone who has done this passage successfully before attempting it for the first time.
There is a ferry from Granville each day and in the summer – www.vedettesjoliefrance.com/
there are also ferries from Dinard and Saint Malo. www.compagniecorsaire.com/en/d…chausey-islands.html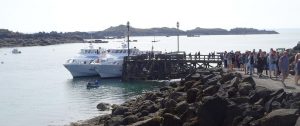 www.iles-du-ponant.com/archipe…
photos – www.flickr.com/photos/clubfoto…
Wikipedia – en.wikipedia.org/wiki/Chausey
Restaurant – www.tripadvisor.com/Restaurant…