Pontoon B is supposed to be for visitors. This is the 2nd from the right. i.e. the long one in front of you as you go in the marina.
Richard reported in 2009 – Pleased to report that the lovely lady harbour master Mlle Liliane Faustin is still there and still smiling. A wonderful welcome as always and a great pleasure to be in such a peaceful marina.
Visited in September 2010. Entrance lights very difficult to see and the entrance is very narrow. You need 8m of water to get in and the approach is quite shallow. Suggest you approach at a right angle to the entrance.
Pontoon B for visitors is the one in front of you as you go in. "A" is on the right closest to the marina wall. We are told it is best to call ahead, but they are normally able to accommodate everyone. The person we spoke with was moored on Pontoon A which is also used for visitors.
Facilities are adequate and were updated a few years ago.
Visited the small town of Plouer (approx 15 to 20 mins) for croissants but the Boulangerie is now permanently closed but a drive-in bakery is open near the Super U roundabout.
Plouer has a very small entrance. Opposite Plouer on the other side of the river is Mordreuc, basically just a slipway and a restaurant that is either always full or never open, ideal chance to pump up the dingy to transport you from the marina but use an outboard unless you have been doing lots of upper body training.
Ken Wheeler suggested on www.motorboatowner.co.uk that pilot books should mention the presence of a pair of seals in this charming little marina.
Opening Times of the Marina
www.plouer-sur-rance.fr/fr/hor…
Contact
VHF Channel 9
e-mail plouer.portplaisance@wanadoo.f…
Tel 02 96 86 83 15
Plouer contact details: www.plouer-sur-rance.fr/fr/por…
Guide du Port
www.guide-du-port.com/port-plo…
Weather
www.foreca.com/France/Plouer-s…
Restaurants
LA CALE : Tel: 02 96 86 97 24. At the slipway and with the "best moules in the world" says one reviewer plus other very agreeable menus. Good seating with river views and parking. VERY popular with locals do book a table. They have added a proper restaurant service as well as the bar lunch style. A good bottle of Muscadet for €20 at the table. David was trained in Taunton with impeccable English.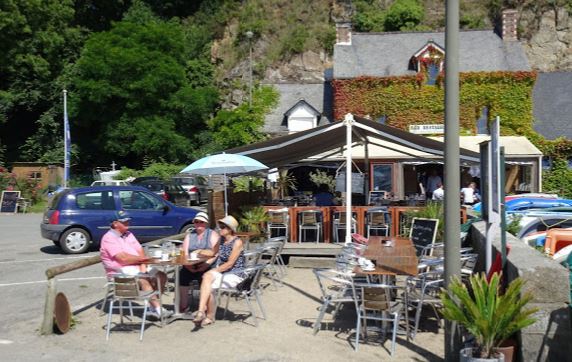 Rive Gauche
Some 25 minute walk from the marina, through the village past the cemetery to the traffic lights. Rive Gauche makes the right-hand corner (turn left down the hill for the big Super U).
Had lunch in July 2015, 3 months after business partners Sylviane & Stephane had taken over & refurbished the run down 'Le Bec du Mousse'. Good simple food & friendly service, with a selection of buffet starters, choice of two mains, a selection of sweets plus a bottle of water & 25cl of wine each – all for €12.50, with coffee just 20c extra. They also open with a more upmarket menu on Friday & Saturday evenings – recommended by friends, but we haven't tried it.
Postscript: It was pouring with rain as we paid our bill & we mentioned that we were off to stock up at the supermarket. An hour later, still raining, we were carrying our shopping out through the Super U car park, when Stephane pulled up beside us in his car & drove us back to the boat – he must have been waiting for some time, what kindness! Needless to say, we've been back for lunch again.
Peter DD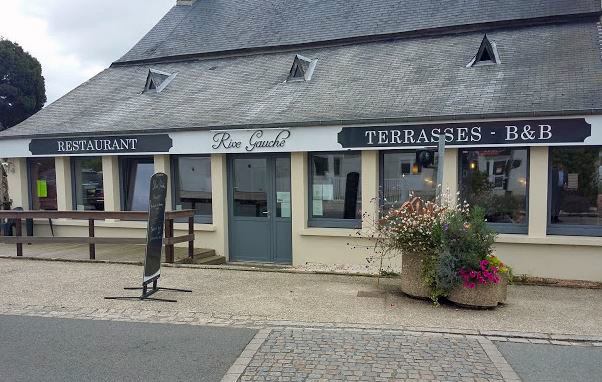 A nice looking Pizza place in the town. The menu looked good but did not eat there.