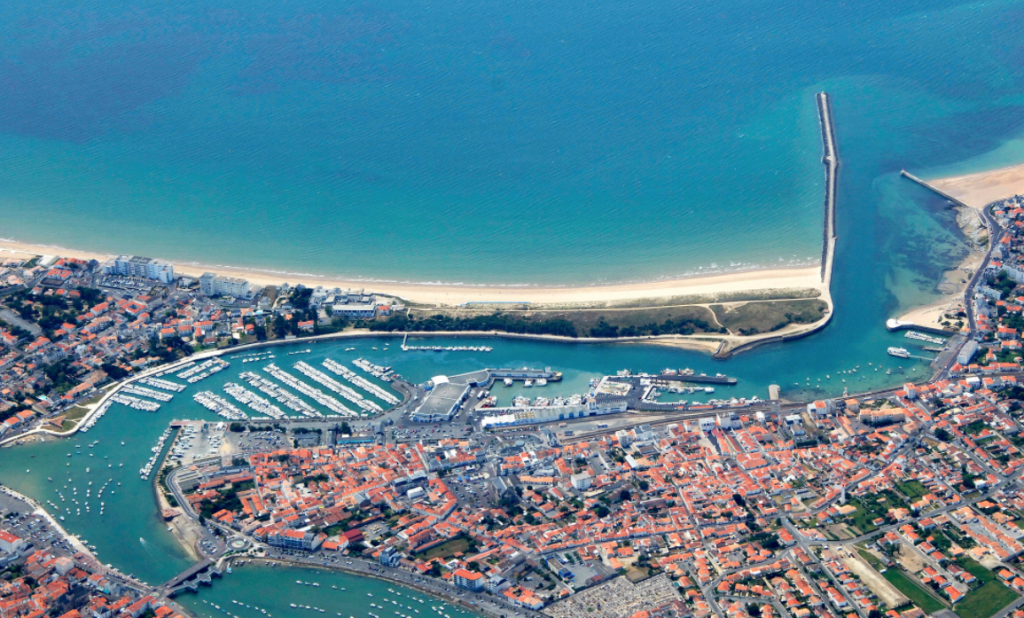 There can indeed be some current running through the channel and as the marina notices advise – be aware of the current (through the moorings). If passing via the west, there are a lot of lobster pots…
This is different in that it is a bit of a holiday spot. Bakers, yes, normal provisioning, extremely limited to hand, yet the area is quite sizeable and seems to be more dedicated to discounted cheap clothes shops. That said, the comptoire de mer has not a single boating item, but is lavished with top-class French designer "marine" apparel. Phone Mastercard before entering.
The marina is one of those places that look great with the tide in and all the boats afloat but watch those red and green buoys because at low tide it is an expanse of small boats lying on their side in the mud and shingle.
To the south-west side is a small funfair park with rides for very little ones, and signs for Grand Plage, and doubtless the success story for the area. On a clear day, you can probably see the end of the beach, miles and miles away. I'm afraid though that this place did not ring our bell, at all.
Gavin May kindly provided the above report – 2021
St. Gilles and Croix de Vie are two towns on the mainland around 18Nm east of Port Joinville separated by the River Vie with St. Gilles to the east and Croix de Vie to the west. We've sometimes encountered high speed (30 to 35 knots!) water-jet catamarans travelling from St. Gilles, but more often we see them operating north of Port Joinville whilst travelling to and from Fromentine. Sadly, the view from the sea as we approach the coast seems to comprise a very conspicuous skyline of a nearly 7 continuous miles length of high-rise buildings from St. Hilaire de Riez all the way to St. Gilles!
The NE/SW direction channel to St. Gilles realistically starts from the sea at the Pilors SCM and thence to a long harbour breakwater. The channel gets narrow and shallow so, as in many of the west French coast harbours, we avoid LW+/-2. However, as the channel is also a river, mid-tide can pose a substantial tidal problem, particularly when berthing upstream in the marina.
As the marina is nearly always full, we've always berthed alongside the long visitor's pontoon just upstream of the fuelling berth just before the road bridge across the river linking the two towns where, from time to time, we've been rafted against other boats. We always call the Capitainerie by VHF ahead of our arrival which usually results in one of their ribs meeting and helping us on our arrival.
Ashore, we much prefer Croix de Vie to St. Gilles – it being both closer to the town, having better facilities and a little more character than crossing the bridge to St Gilles (although there are some spectacular beaches there). Whilst the town is very touristy, it has ample facilities and an excellent street market near the church. A walk around the fishing dock area is interesting and there a are two good chandlers there.
As you may have already gathered, St. Gilles is not one of our favourite harbours, although we've found it useful to pick up friends from there who are joining us on-board Missy-B for a few days holiday – perhaps going to Ile d'Yeu or Les Sables d'Olonne.
Article by Nick Fletcher – 2021
---
Website: uk.payssaintgilles-tourisme.fr/