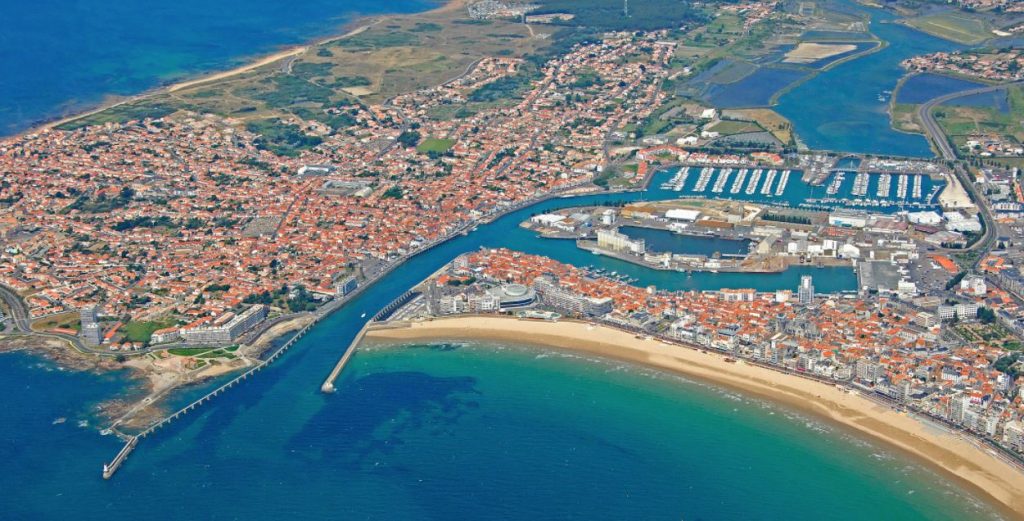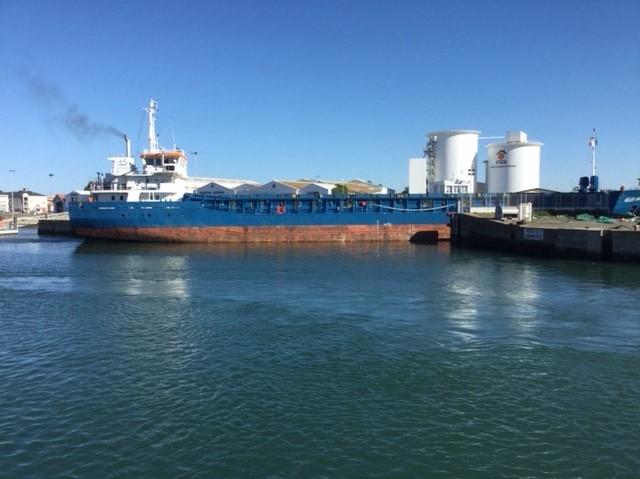 Take those cardinals seriously and /or use your plotter with plenty of magnitude as there are some small but covering rocks around here that are not individually marked by a singular cardinal – one of those places it might be wise to assume your boat is 20 times larger than it actually is.
After Ile d'Yeu, the white rising skyline seems a bit intimidating, but swing round into Quai Garnier marina and onto A pontoon and enjoy the sun setting. You are right on the quayside with restaurants almost on your bow, small shops in the alleys behind and the fish market a few hundred metres away. Opposite the pontoons might be a little less charming with the industrial cooperative maritime buildings etc, but just enjoy the view the other way instead.
The town is actually all rather charming and more low key than your first impression might suggest. The fishing vessels slide on past fairly frequently and while their wash is minimal there is the low rumble of their heavy diesel engines during the night. 400 metres past the fishing boats is a baker and small supermarket; diesel in the main marina complex, which was 10 cents more than anywhere else in France.
Edit: having later visited the marinas close by, this grows on me more and more.
Gavin May kindly provided the above report – 2021
---
Around 17Nm south of St. Gilles, the passage to Les Sables d'Olonne (LSD) is simple, but track 2 to 3Nm off the coast to avoid the shallower offshore patches. The Barges lighthouse marks a rocky outcrop extending nearly 3Nm west of the entry into LSD. After rounding the Petite Barge SCM turn ESE towards the Nouch Sud SCM before lining up for the entry channel. In poor conditions, we've found difficulty picking out the leading shore marker lights on the La Chaume side of the channel.
Once inside the channel, beware the electric ferries which frequently ply across the harbour between LSD and La Chaume, or even more exciting, meeting one of the local fishing boats exiting or arriving from the fish docks oblivious to speed limits or any wash considerations!
There are two marinas to choose from: On the starboard side a small marina called Quai Garnier (about 100 berths) operated by the Chambre de Commerce which also manages Port Joinville. It is opposite the busy locked commercial basin and the fishing fleet berthed 200m further east. Alternatively, there is a much larger marina called Port Olona (over 1,000 berths) on the La Chaume side about ½ Nm further up the main channel.
Although Quai Garnier is much noisier than Port Olona (and often there are no berths available), we much prefer it because we have direct access into LSD, a great choice of shops, the excellent daily market, the fish market, some wonderfully preserved classic buildings and a magnificent sea front. Once ashore, you are spoiled for choice as there many good restaurants within 100m! In contrast, Port Olona is quieter, has many (but in our opinion rather undistinguished) eateries along one side of the marina, is nearer any marine needs such as electronic and engineering companies and three big chandlers and there's a supermarket within 5 minutes' walk. The fuel pontoon is directly below the Capitainerie. La Chaume is a 10-minute walk from Port Olona along the estuary bank where there are a few shops, a small supermarket, and (in high season) the electric ferry to LSD. There are pleasant walks following the coast near the seaward entrance into Les Sables d'Olonne passing an old chapel and an ancient fort.
Article by Nick Fletcher 2021
---
The main marinas is called Port Olona. www.portolona.fr/
Open all year 24h / 24. More than 1500 seats afloat on pontoons. 110 places for visitors.
Useful information
www.france-voyage.com/cities-towns/les-s…
Telephone – +33 2 51 32 51 16
Tourism website – www.destination-lessablesdolonne.co.uk/D…
Noonsite www.noonsite.com/place/france-2/atlantic…
The Vendée Globe yacht race, which takes place every four years, starts and ends at Les Sables-d'Olonne.