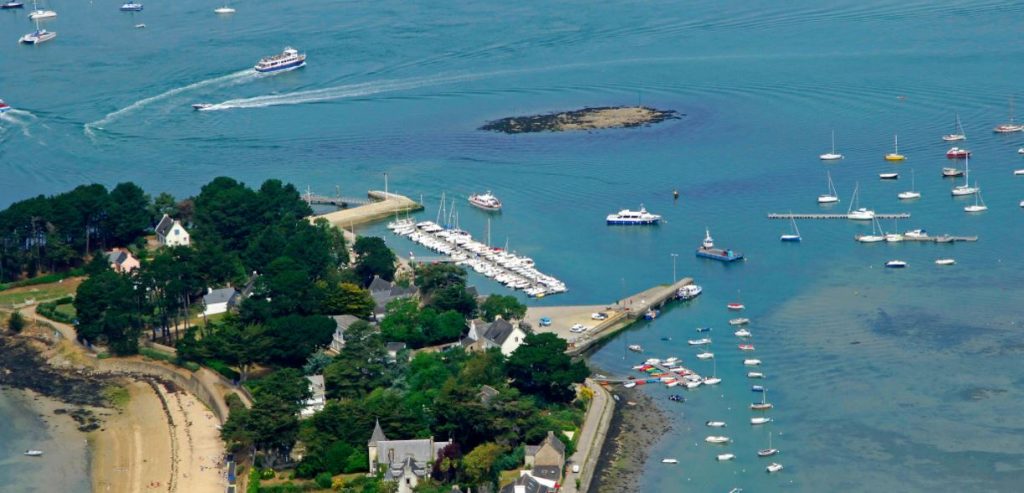 This island in the middle of the Morbihan, is the largest of about 60 other mini-islands. The only other inhabited larger island nearby is called Ile d'Arz. At Ile aux Moines there are two long pontoons with electrics and water anchored in around 2m minimum about 150m off Le Port. The harbourmaster operates a rib service on demand either ashore or across to Port Blanc. At springs the tide can run up to 5 knots through these pontoons and up to 8 knots through the nearby main channel near Les Rechauds cardinal marks.
With limited berthing for dinghies at the port and for safety and convenience, we go ashore using the harbourmaster's rib service. Biking around the island is a great way to see it and there several bike-hire shops near the Capitainerie.
Ashore at this pretty 'bijou port is' the Capitainerie, Office de Tourisme and several cafes. The port is usually remarkably busy with ferries bringing people from the mainland (often referred to by the locals as 'Le Continent') and tourist boats operating from Vannes – mainly taking sight-seeing tourists around the Morbihan.
Walking into 'town' (in reality a small village) reveals the basic amenities and a small daily market in the square. A good boulangerie is only 100m from the square and several good restaurants nearby, but either book ahead or be flexible over the time you get offered a table in season. Walking or biking on Ile aux Moines is great fun (but it's not flat!). We always enjoy visiting Ile aux Moines, whatever the weather.
Nick Fletcher kindly provided the above report