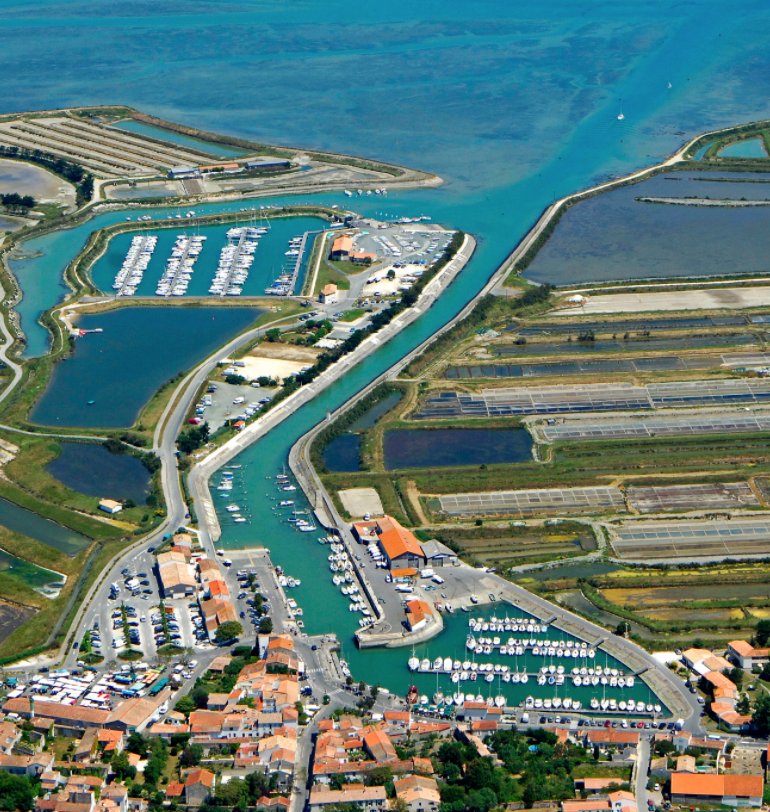 We've now left the Vendee and arrived in the Charente! Ars is situated on the NW coast of Ile de Re. For a first time visit, some careful prior study of the chart is needed together with checking the tidal heights. Many parts of the 4Nm long channel dry (even on LW neaps) and there can also be a considerable tidal stream. That said, we tend to plan our visits to Ars to arrive and leave around HW springs to ensure maximum water depths.
The largest and easily visible marker, whether approaching Ars from the west or the east, is Les Islattes a 13m high NCM tower. The channel position is somewhat 'moveable' but it starts at the not easily identified Bucheron no.1 green buoy. After this, the channel is buoyed – although the buoys may not have been relocated correctly to reflect any changes in the channel. We know this from personal experience as we've nearly been aground in mid-channel! So, if you can follow behind another boat with a deeper draft, it may give some advance warning signs of inadequate depths ahead.
After clearing the (mainly deep water) east to west Boucheron channel, make a 45 degree turn to port around the PH buoy just before Pointe du Fier which will bring the very prominent church in Ars with its white spire with a black top into view, on which you can then transit.
There are two small marinas in Ars. The first is Bassin de la Criee. A little nearer the town is an even smaller locked basin called Bassin de la Pree with access over a cill drying 2.9m and a lifting pedestrian bridge, which we haven't been into by boat. There are several good restaurants overlooking the Bassin and the local Red wine always goes down well sitting outside on a sunny day!
The Bassin de la Criee marina has a lock gate and a drying cill (2m). We always phone in advance of our visit to check berthing availability (as sometimes unannounced small flotillas arrive). We normally aim to arrive at the lock entrance about HW-0100 – having reminded the Capitainerie of our ETA as we start the Bucheron channel. The harbour staff only seem to be around whilst the lock gate is open, but they have always been most helpful.
From this marina it's about a 10-minute walk into the extensive daily market near the Bassin de Pree and the town centre is only another 5 minutes further on. Restaurants, cafes, and brasseries abound. The town doesn't feel touristy or spoiled and still retains a sense of being a genuine local small French fishing harbour and town.
We imagine many leisure boaters may opt to visit the better-known, 'chic' and more easily accessed St. Martin-en-Re (about 10Nm ESE of Ars) and being nearer to La Rochelle, rather than visiting Ars.
There are excellent hard-surfaced dedicated cycle tracks all over Ile de Re. Some of our favourite rides are out to the Les Baleines lighthouse (which is open to the public) on the NW corner or maybe cycling to St. Martin for lunchtime. We found an excellent lunch stop at a beachside setting near the Pointe du Fier from where there is a sheltered and sandy swimming beach. Ars in one of our favourite off-the-beaten-track harbours.
Article by Nick Fletcher – 2021
---
We only visited by bike in our case and perhaps you need the sense of navigational accomplishment to act as standard-bearer for this little port.
A number of restaurants surround the quay but they also seem to be kept well stocked with the cycling clients touring the marshes.
We tried by the church in the square where the galette was good and the moules so awful that I gave up. Not a lot to the place, but my suggestion is taking the bus from St Martin and see via bike. There is also a newer marina before you get to the old port, but we did not visit that; others have said the location is charming.
Gavin May kindly provided the above report – 2021
---
Website: www.portlarochelle.com/en/surrounding-po…
Tél. 05 46 29 08 52
ou 05 46 29 25 10
VHF canal 09
port.arsenre@mairie17.com
www.port-arsenre.com