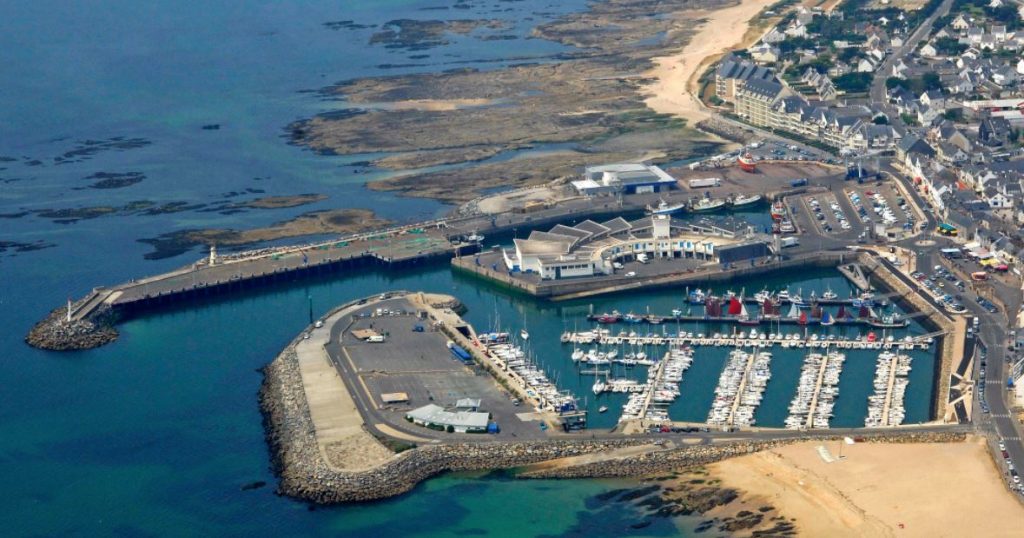 Whilst we have been there by boat some years ago – and walked there many times from Piriac – this is predominantly a commercial fishing port lined along the waterfront with eateries and many French unsightly and prominent high-rise accommodation flats. Visitors are normally 'herded' into a C-shaped of pontoons from which it can be difficult to moor or leave!
Nick Fletcher kindly provided the above report
---
One and a half of the basins are given over to the active and serious-looking fishing fleet, with juggernauts reversing into the industrial complex to load up. That said, it is not intrusive and you might be lucky and some small vans are selling lobsters etc in the evenings at cheap prices. Oddly, there doesn't seem to be a fishmonger in the town.
The HM manages the unusual visitors' berthing with some authority, though perfectly pleasantly. The visitor berthing is in a not very large U shape with a small pontoon in the middle, and basically, it is rafted until it is one solid mass. As a motorboat, you would mess this up, so they will try to find somewhere else for you-so if you arrive and the visitors' pontoon looks empty, do not get too settled as you will probably get moved.
I suspect many stop on passing as it is all tide access (non tidal), and as is so often the case the tidal access spots might have a bit more charm but may not fit into your schedule. Thin film of diesel everywhere, from the fishing fleet perhaps, and some diesel smell too on our visit. Sandy beach, baker and small market all within walking distance, though the newish major Super U is quite some trek out passed the playing fields.
Oddly, not a cheap marina, especially once you add Euro 2 per person for a shower.
Not Passport Escales
Gavin May kindly provided the above report – 2021