There is a bit of a current in the canal, so pay attention. Through the lock is the single, long visitors' pontoon, though not that large and cannot accommodate that many, even rafted.
Most boats on fingers are sub 30 ft, so I suggest you make contact in advance. Harbourmaster and staff are very helpful though limited English.
The small marina is partly surrounded, and very closely so, to numerous moules and creperie establishments that would appear to be ready to receive the ferry tourists from La Rochelle etc. This is all small scale though. Baker and the part-time market within a few metres. The local supermarket has closed, so some provisions are not available locally, and there is no bus out of high season. Large supermarket in St Pierre, dishwashers and down in terms of products, and St Pierre is also a rather upmarket little town that is worth a visit.
Good, clean facilities at the port, third night free when we were there. Good bike hire from Roue Libre by the baker, and a good cycle tour out through the marshes to St Pierre, on to La Cotiniere and back through the woods. The place to eat is supposedly Cafe de la Plage, 750 metres off to the right as you entered the canal, but was never open when we tried.
Gavin May kindly provided the above report – 2021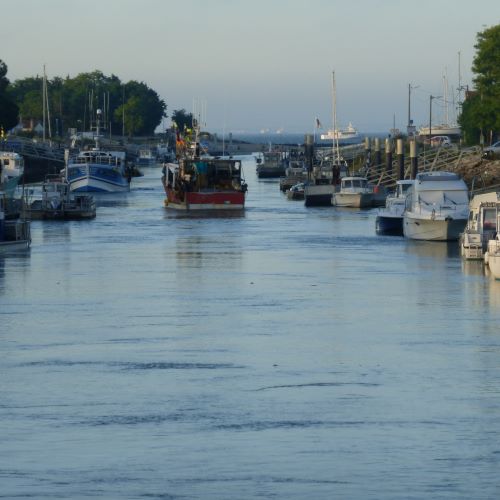 ---
Website: www.portlarochelle.com/en/surrounding-po…
Tél. 05 46 47 23 71
Fax 05 46 75 06 13
VHF canal 09
port-plaisance-boyardville@wanadoo.fr
30 m long waiting pontoon before lock
Sill water height when lock open: 2,50 m (+4,55)
— Coef. 50: 2 h before and after HW
— Coef. 100: 3 h before and after HW
New: welcome pontoon fitted with access catway to pier
Max boat length: 14 m, max draught: 2,20 m (dredged basin)
For >14 m boats, please request 3 days beforehand