It is not surprising that this is popular. Find an aerial view of the place.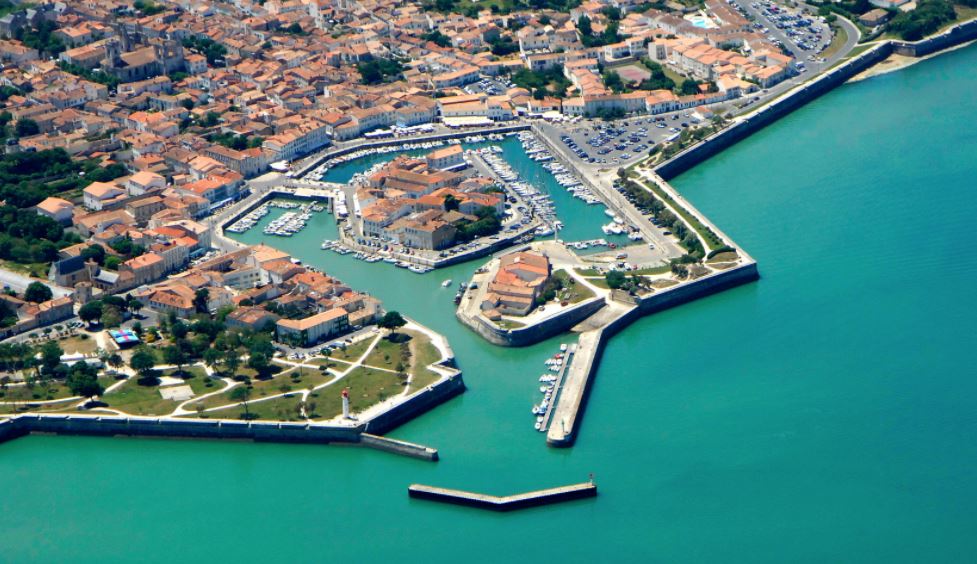 Get ready to raft as they try to accommodate all who arrive it seems, with various UK skippers tut-tutting at the French berthing efforts – though in some cases not wholly unjustifiably.
The port is surrounded by the historic fortifications and partly surrounded by bars, shops and restaurants, a morning indoor market, the artisan baker, and so on. A walk of the fortifications, watch the sun setting, climb the tower and please do take a cycle ride through the salt marshes up at the northern end of the island.
The tourist office must be staffed by former Tour de France heroes if they think you can cycle there in an hour as it is almost an hour's bus ride from the bus stop just next to the office. 1 euro for any bus trip on the island, so take the bus to the Port de Re right up north and the bike hire shop is next to you. Just watch those last bus times or it is a very long walk home. Cycle along dedicated paths through the marshes, now a bird sanctuary, perhaps to Ars en Re for lunch, on to the lighthouse and then back to Port de Re through the pine trees. About 9 euro for the bike hire. There are more working salt pans towards Le Martray. Wonderful.
Gavin May kindly provided the above report – 2021
---
In total contrast to Ars, St. Martin is a much larger town making it more touristy and noisier, but it does have a definite 'buzz'. Access is easy off the Pertuis Breton at HW-2 to HW+2.
Whilst there is a drying waiting pontoon just inside the breakwater, access into the very tightly packed marina is via a tidal lock gate. Whilst we've visited about 6 times, the Capitainerie won't take advance bookings and one only finds out what berthing is available once you've entered the harbour! In our experiences, it nearly always involves multiple rafting (sometimes 3 or 4 deep). The marina, being right in the town centre, means there are plenty of spectators ambling around looking at the boats, all of which means that privacy on board is sometimes difficult
Ashore, we've found St. Martin is an attractive town but has always seemed full of tourists and holidaymakers. Whilst there are boundless restaurants, cafes and shops which charge high prices probably reflected by the captive audience.
Article by Nick Fletcher – 2021
---
Website: www.portlarochelle.com/en/surrounding-po…
Tél. 05 46 09 26 69
VHF canal 09
portsaintmartindere@wanadoo.fr
www.saint-martin-de-re.fr
The wet dock lock is 11m wide and the apron 0, 70 m high.
Opening hours:
• Coef. > 60 : from HW – 3 h to HW + 2 h 30
• Coef. < 60 : from HW – 3 h to HW + 2 h
Please consult lock schedules posted at Harbour Master's Office and on the Town's website. Traffic is regulated with marks /right of way for outgoing boats.