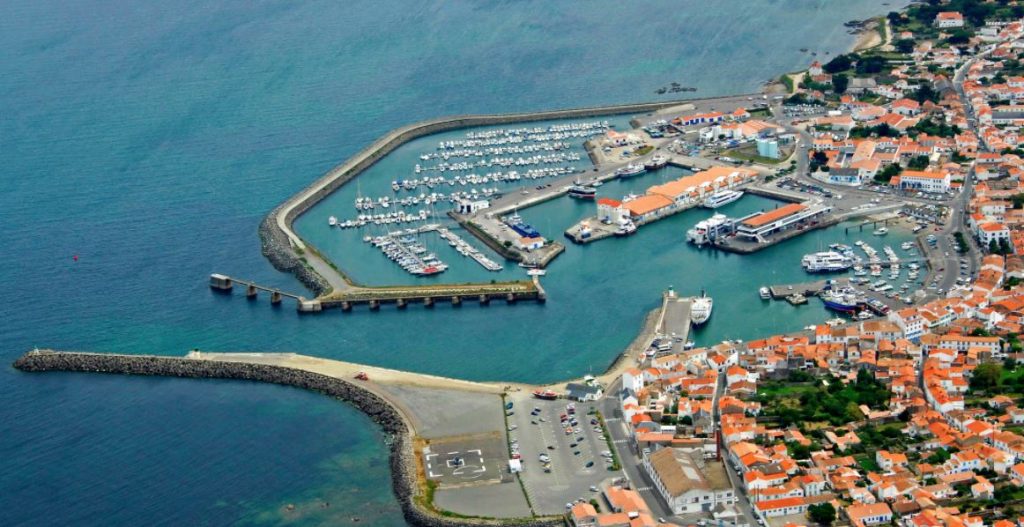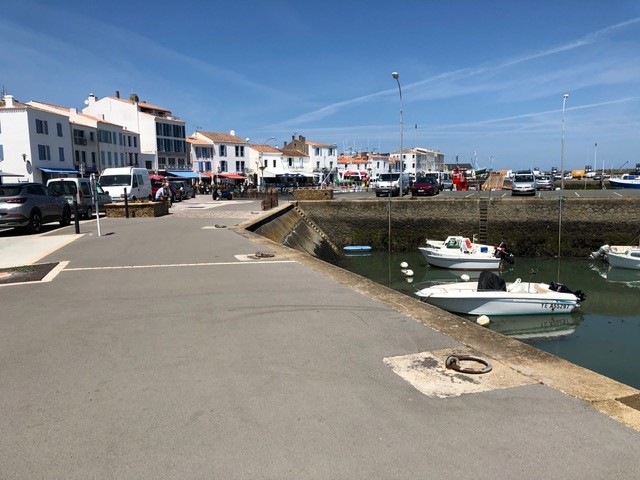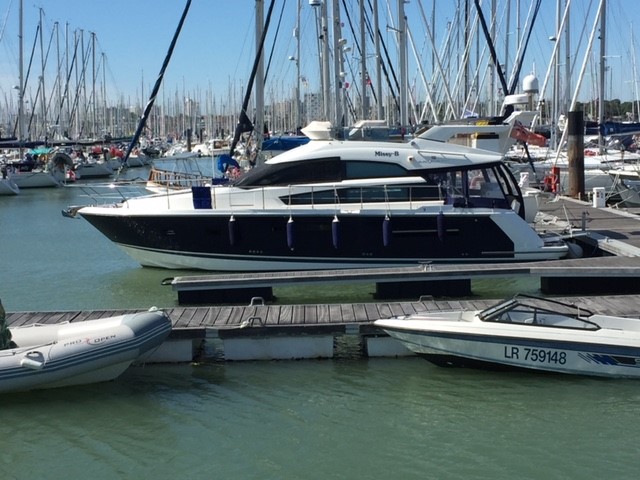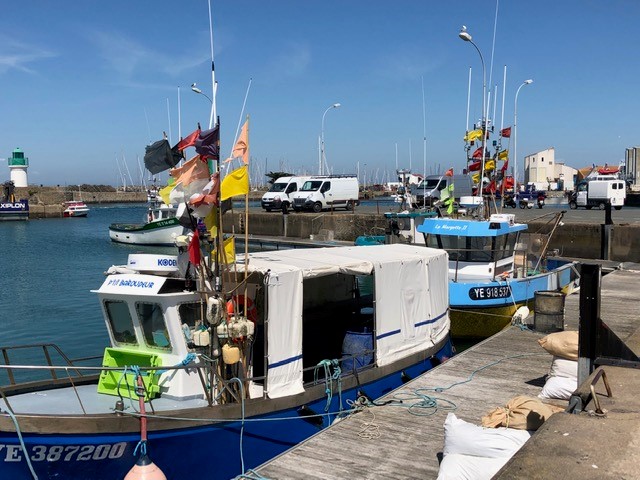 Île d'Yeu is an island and commune just off the Vendée coast of western France. The island's two harbors, Port-Joinville in the north and Port de la Meule to the south, in a rocky inlet of the southern granite coast, are famous for tuna and lobster fishing, respectively. (courtesy of Wikipedia)
---
Gavin May report 2022
Call VHF09 on arrival as they will find you a suitable finger. Ferries bring on the day tripper and holidaymakers and enter and exit at some speed, to warn.
There is a decent supermarket behind all the cycle hire shops, or a slightly larger one out by the heliport. Baker, Poissonerie, etc., are all close by.
This is a beautiful island, and z cycle tour is a must. You could maybe do it in half a day, but that is going to be a bike ride, not a tour by bike. Do the tour anticlockwise as this will give you a bit of shade in the afternoon sun. You will certain get by with a normal bike as the island is pretty flat, though an electric one does aid a little bit.
Plenty of small lanes to cycle or walk on other days, and a good walk to St Saveur and then head south before following the coast back to Joinville.
It is a very quaint and unspoilt island, and worth pushing on that bit further south to visit.
---
Very popular and French might even be the second language!
The whitewashed houses and expanses of terracotta roof tiles imply things probably heat up a bit here in summer.
Lovely island; either walk or cycle your way around it. Bike hire round by the port, 9 Euros a half-day or 17 if you care to slow it down. Head out with a picnic past Super U supermarket and take the rocky side in the cool of the morning and have the shade of the pines on the return leg. The restaurant at La Meule is very sweet, so even if you take a picnic, be sure to drop by for a cool glass of something. Pine trees, sand dunes, beaches, cliffs -it is all marked out on the various routes you could choose.
The action is really only in the port, and a rather good supermarket 500 metres out past the heliport, i.e. the far end of the port. Pretty beefy looking fishing vessels indicate the industry of the island.
The ferries come out of the harbour at some speed, so keep well clear and your eyes open. Doubtless vast numbers of holiday homes or lets, but walking the lanes shows that life has its own pace here, with as many tractors as cars and a lot of Renault 4s just about holding together. With a coefficient of over 100, there was only 1.2 metres of water at low tide on the way in, inside the harbour.
You should come here – shutters of every known and unknown shade of blue, a place where even the coastguard cruiser seems to anchor up for lunch. Please do hire a bike; it is the kind of place that any breeze is behind you and every gentle slope seems downhill.
Gavin May kindly provided the above report – 2021
---
Port Joinville is the only 'genuine island' in the Vendee region being situated about 20Nm south of Ile de Noirmoutier and 10Nm off the mainland. The only practical harbour for us is at Port Joinville, in the middle of the north coast.
The approach is straightforward from all directions and there are some obvious leading line markers. As ferries and cargo vessels run to Fromentine and St. Gilles Croix de Vie and Les Sables d'Olonne on the mainland, plus a sizeable local fleet of fishing boats, so this is always a very busy harbour!
We avoid arriving or leaving Port Joinville at LW +/-2 as there is a drying sand spit in the Avant Port. At the end of the portside mole, make a sharp 180 degree turn to port into the marina entrance. The (expensive) fuel pontoon is to starboard.
Arriving at Port Joinville and then finding a suitable berth is always a fraught time as the Capitainerie will not accept prior bookings. The visitor berthing area of the marina is sometimes occupied for French boating events about which there is often no prior notice. The Capitainerie don't seem to keep either their marina website up to date or issue an advance 'Notice to Mariners' to warn would-be visitors about the events which they have agreed to host!
So, our advice is to arrive early and then try to secure a pontoon berth on the seaward side of the long northerly visitor's pontoon so to avoid the risk of being blocked in if a fleet of 'event' boats suddenly arrive and raft up to four-deep inside the U-shaped area on the south side of this pontoon!
Another reason for choosing this side is to reduce the noise from the adjacent locked harbour when the large barge (Cassam 1V), which carries sand, aggregate and building materials daily from Les Sables d'Olonne, is unloading at any time of the day (or sometimes at night). But, after all this is an island which totally relies on tidal sea deliveries!
However, having secured a safe berth, we always love visiting this island. The flat walk into Port Joinville takes about 10 minutes passing the large catamaran ferry dock called the 'Gare Maritime'. On the way you'll pass a multitude of cycle hire shops all vying for your business, and a chandlery.
On our last visit with friends, as we were confined to the marina due to the widely forecast 'Storm Miguel', we hired a 'clapped-out' open-top jeep. With bald tyres, defective steering, and rather ineffective brakes it was a challenge to drive, but at least it allowed us to travel around most of the island – until the rain arrived and we got wet and cold!
The small town has a real 'buzz' with plenty of cafes overlooking the (predominantly tuna) fishing port. Elsewhere there's a supermarket and an excellent boulangerie nearby which bakes using wood-fired ovens. Particularly in the street back from the main harbour front street, there are several good restaurants, a Vendee wine shop, newsagent, butcher, and the helpful Office de Tourisme. There is a good regular and cheap bus service to most parts of the island.
On the south of Ile d'Yeu is a small picturesque drying harbour called Port de la Meule which is easily reached by bike or on the bus. The café/restaurant at the head of the inlet is popular, but we've always enjoyed our coffee or lunch stops there. On the eastern tip of the island is the rocky Pointe des Corbeaux with a lighthouse walk and a safe beach for swimming, but there are no other facilities there on our last visit. Coastal walks abound around this island to the point one is almost spoiled for choice!
With thanks to Nick Fletcher – 2021