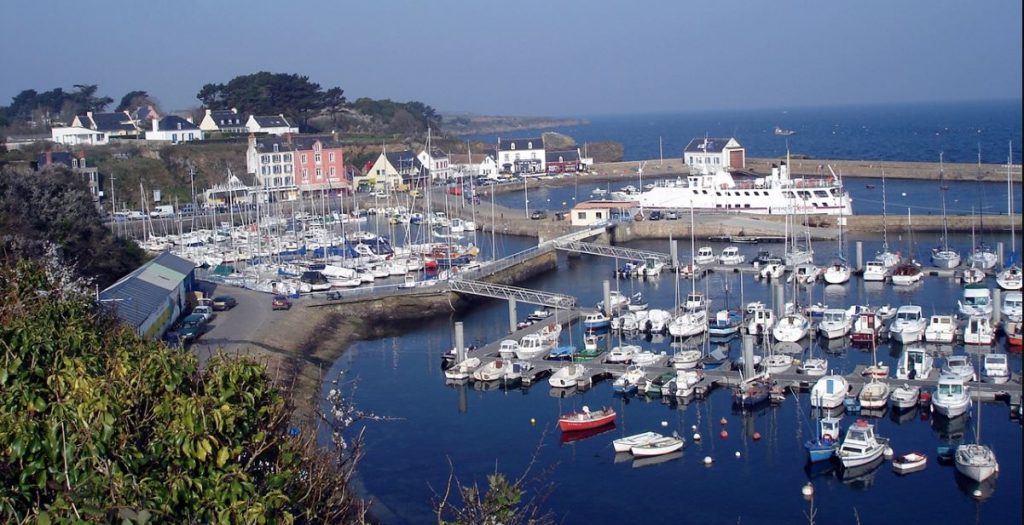 Ile de Groix has the harbour called Port Tudy on the north of the Island. There are visitors pontoons but gets very busy in the summer.
Ferries enter the port all day bringing visitors to the island.
Ideally located, the port is 800m from the village where you will find all the necessary shops and services. With 350 moorings, including about fifty for visitors on pontoons, the port is a lively place and a must for all visitors.
After a day at sea, take the time to stroll on the harbour, enjoy the terraces of restaurants or concerts in the bars. For any information, contact the captaincy at 02 97 86 54 62
---
Getting a berth is not easy, be warned. Early afternoon and midweek, boats were arriving almost non stop, and the 2nd inner basin was already full. The HM looks as though he has seen and heard everything, only yesterday I suspect! You will probably have to raft in the outer harbour and hope something comes up. The marina itself is somewhat basic.
To see the island, there is a bus that takes ferry passengers around the island, and it seems you hitch a lift onto one of those. Alternatively, hire a bike, euro 9 to 27 from half-day to full-day and electric. The island is not that steep or hilly and you can manage with "classic". Note though that you can only go by foot along the coast; bus and cycle paths are for the most half a mile inland. However, by bike, the North end has tiny, quiet lanes with the odd track to the coast, and rustic villages. It is a pleasant cycle, just not a lot of coast! There is a fairly easy walk from the port heading south and east, 12 km round tour. Port Locmaria cafes were not even open, so don't rely on them!
Gavin May kindly provided the above report – 2021
Contact Information
Port-Tudy – 56590 Ile de Groix
Tel: 02 97 86 54 62
e-mail: port-tudy@groix.fr
Warning : the captaincy does not take reservations.
VHF Channel 9
Official Website – www.groix.fr/?mode=port_plaisance
Opening hours of the basin
Hours of access to the basin : 2 hours before and until 2 hours after the open sea (closed in case of surf).
Brittany Tourism – www.brittanytourism.com/destinations/the…
See www.france-voyage.com/cities-towns/groix…
www.passeportescales.com/en/marina/39-po…
Market Day – Tuesday and Saturday
Logs – www.yacht-destiny.co.uk/?p=215
www.jimbsail.info/tidal-europe/biscay/fr…