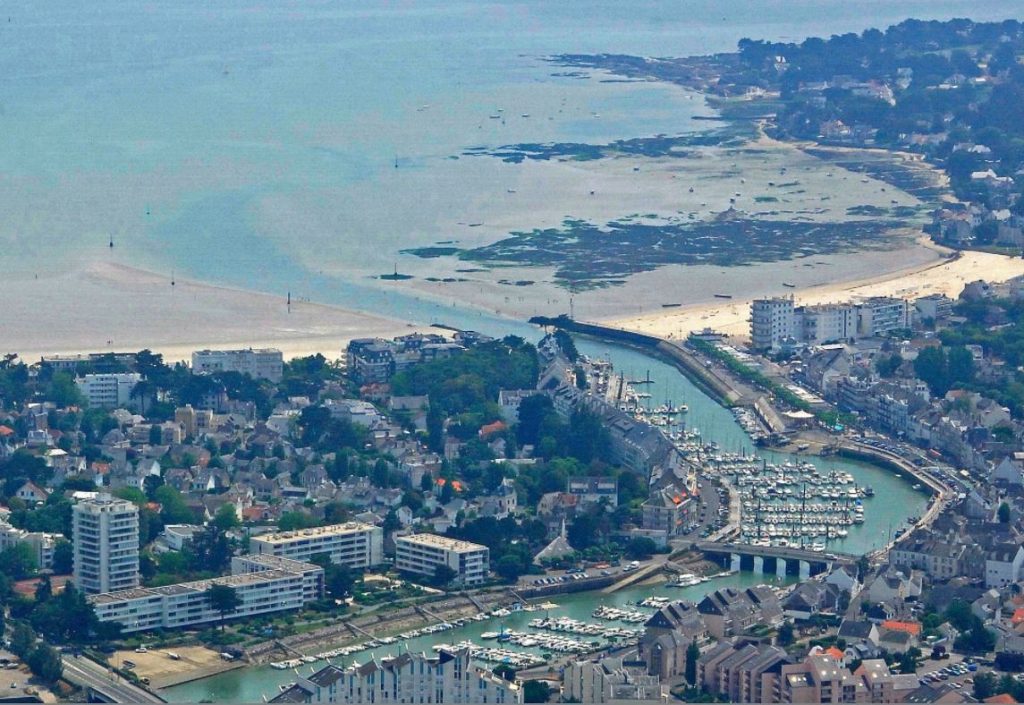 Gavin May report 2022
Probably for the first time you are about to see the coastline dominated by mile after mile of apartment blocks, La Baule.
Access to Le Pouliguen is tidal, and you don't especially want to try berthing if the river is in full flow. For 14m plus boats, there is an alongside pontoon that might accommodate 4 boats. Smaller fry will more than likely be found on a finger. 750m upstream is day boat and jet ski hire, and there is usually a non-stop stream of vessels when the tides permit, but it is well behaved.
It is 250 metres walk to the bridge to cross over to the action, bars, ice creams, a rather grand carousel etc., and baker, butcher and in season a daily covered market. Provisions in a shorter supply; there is a tiny Proxy near the baker, or keep walking for 12 mins more to a somewhat functional Lidl. It isn't a quiet spot, especially in the evenings, but it has more of a buzz to it than thumping disco beats if you are worried. If you are looking for serenity, then this stretch of coast is not where you will find it anyway, but families are promenading up and down, and maybe you will wander over the bridge and join in yourself.
No shortage of beach!
I like it here; it is low-key fun if you are in the mood.
A couple of km towards Pornichet is the upmarket resort of La Baule, with its fine beaches and designer-style clothes shops if your holiday wardrobe needs a refresh.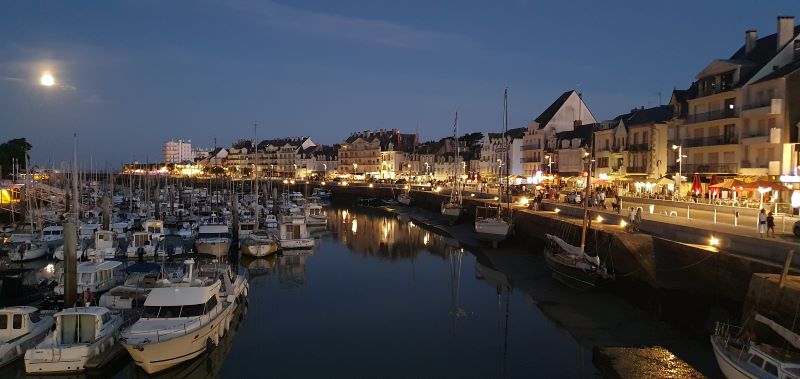 ---
Situated on the western arm of the 5 mile long La Baule bay, access to Le Pouliguen is highly tidal dependant. We have only visited twice by boat but have cycled there along dedicated cycle lanes, whilst berthed at Pornichet at the eastern end of La Baule 's long beach. For us, Le Pouliguen is not as appealing as other alternative marinas – such as Pornichet.
Nick Fletcher kindly provided the above report
---
Do not be put off by the tidal access of sand and rocks. It is straight forward enough for a lot of boats to be moored here! It really is only 5+mins to walk over the bridge to the baker, and there are a couple of small supermarkets etc to hand, with the seasonal market another few minutes' walk, by the church. Supermarkets about 15 and 25 mins walk. The town has a good feel to it, and while it caters for the holiday season it still has cafes where locals meet for a breakfast coffee and read the paper. Huge beach heading back south, La Baule, with many kilometres of modestly tall white concrete apartments but modest rocky coastal walks going north to Le Croisic.
The "opposite" side of the river where the village is, does have quite few ice cream and small scale amusements and in high season a lot of families promenading about. There is big business in boat and jet ski hire, but all in all, it is a popular and busy holiday location, yet rather fun. There are very few visitors berths as much of the whole complex drains of water quite a lot.
The river runs quite hard so aim for slack water re berthing.
Gavin May kindly provided the above report – 2021
---
Le Croisic.
Walk, bus, train or cycle, or, dare I say it, take your own boat. The harbour dates back to that Guerande salt and the historical origin of this port and its wealth. The overall port must be approaching a km long back in the day when they shipped out that precious cargo . Today, the small plaisance port would actually be a good lunchtime stop over when the tide is in but do note the harbour dries. Capitanerie advises that you are most welcome for a lunchtime visit, but overnights require a phone call on the day-though unlikely to be of use unless you can lie in the mud. It's a fun place for a few hours, on the tourist route, so plenty of eateries and bars to delay your departure.
As an aside, there is a modern museum on the salt pans in Batz. A look at Google maps should find you a way to get over the train line so that you can wonder about the very unique salt pans. They go on for some kilometres, so don't get too lost!
I haven't been myself, but reports are very good of Le Grand Blockhaus near Batz- a small WW2 museum.
There is lots to do at this end of the bay.