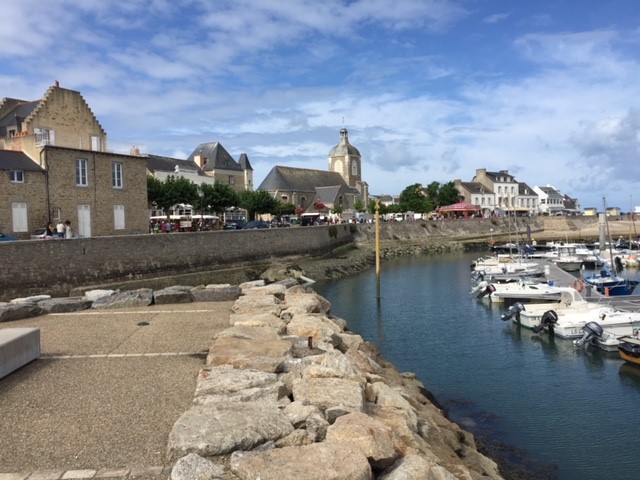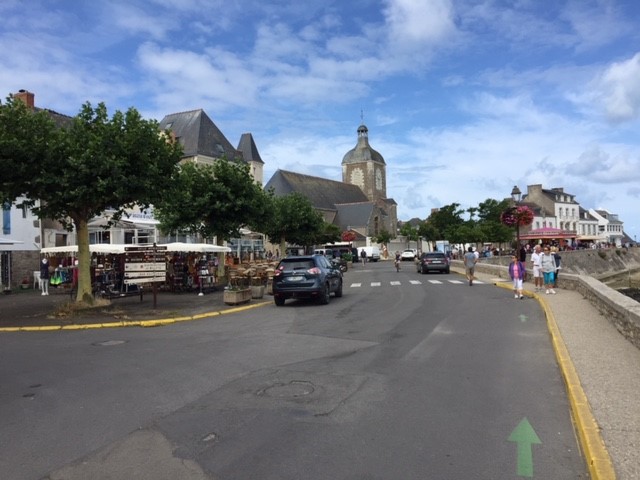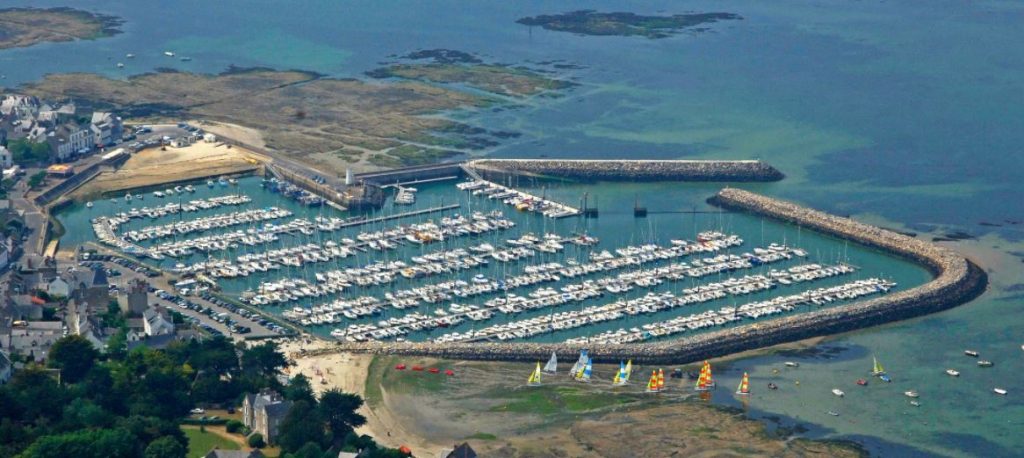 Gavin May report 2022
This is a fair-sized marina and in season with enough BdPort dories about to direct you. Observe those cardinals on entry, especially from Southwest, which is not quite where you might think from a distance. Note there can be quite a tidal flow at the small entrance, after which you will be met with a surprisingly small sill entrance and possibly an alarming number of boats going in or out!
The centre of the exceedingly pretty village is really very small indeed, so a walk to the baker and 3 day a week market (in season) will not tax you much. A small Carrefour is a few hundred metres away. Plenty of eateries to meet usual needs.
Good Facilities; the marina is a personal favourite.
---
This is one of our favourite mini harbours. It is about 7.5Nm south of the seaward entrance into the Vilaine and whilst the harbour may not be visible until quite close, the coastguard observatory tower on Pointe du Castelli is easily identified from long range in good visibility.
Because Piriac harbour projects well out from the coastline and is surrounded by marked rocks and outlying reefs, the approach to the harbour can be challenging when there is much swell running. The harbour water level of around 2m is maintained by a cill just inside the entrance to the marina. There is a digital depth display next to the cill, but this is only visible when you are almost committed to cross it! Timing your arrival at roughly, HW=/-3 hrs. should ensure around 2m minimum depth over the cill. In season and when it is safe to cross over the cill, a harbour dory is usually close to the entrance and will direct you to a suitable berth.
To us, one of the key attractions is that this is still predominantly a low-key typically French local harbour for local boaters, many of whom are themselves fishermen. Visitors have an allocated pontoon or sometimes on the hammerheads. The pontoon electrics and water connections have been replaced so all seems to now work much more reliably than hitherto. Whilst there is a small fuel pontoon, it is too small for us to use. The Capitainerie is in a typically French steep pitched roof classic three storied house only a stone's throw from the marina.
Ashore, to us, Piriac is full of French charm with many old buildings and narrow passages connecting the few streets. There is an over-supply of cafes, bars and restaurants vying for business. One of our favourites is called Hotel Vigie (the Lookout), which looks out to sea and over part of the marina.
Nick Fletcher kindly provided the above report
---
Now we are talking. Good atmosphere on the pontoons and in the village- market, baker, charcuterie, poissonerie, supermarket and plenty of bars, restaurants, creperies all on the doorstep. The buildings are of warm granite and whitewash, and the village is small streets and lanes with crimson roses and geraniums.
Doubtless on the tourist route, so there may be crowds at times, but you cannot help but feel good here.
Maybe the happiest HM staff you will ever meet. A walk towards La Turballe along the coast was not that great. 2019 Fuel E1.48
Gavin May kindly provided the above report – 2021