The GR34 is an amazing walking route around Brittany. Often this is the old Customs Trail around the coast (the customs officers who guard the coast to stop smugglers), starting at Vitre (Ille et Vilaine) and finishes at Saint Nazaire.
In 2017 the Finistérienne section was elected GR favourite of the French
Information on the whole route is difficult to find. There are no Apps I can locate and no single website covering the whole of the route. This may be because individual regions within Brittany maintain the route that goes through their region.
Below are some links which may be of assistance.
This site provides some maps and a GPX download www.traildino.com/trace/contin…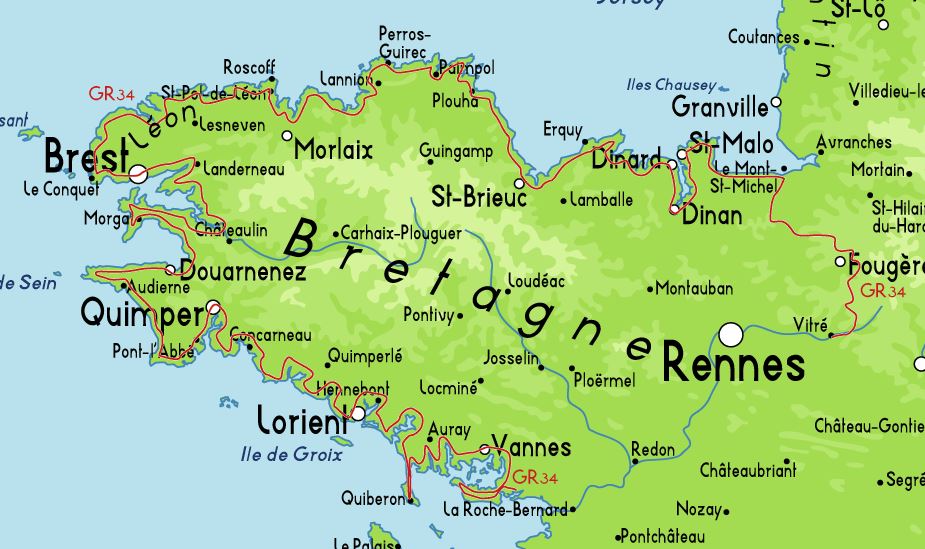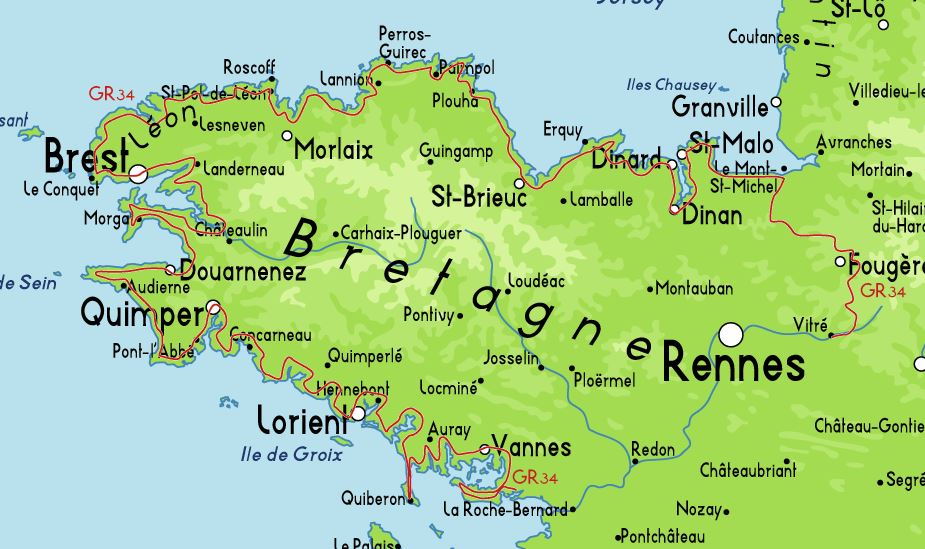 Camaret-sur-Mer to Audierne – ilovewalkinginfrance.com/coast…
GR34 Books – type in GR34 in the search – www.mongr.fr/
for example Morlaix to Brest – www.mongr.fr/trouver-prochaine…
Vitre to Pleine-Fougeres (Ille-et-Vilaine)
Pleine-Fougeres to Dinard (Ille-et-Vilaine)
Dinard (Ille-et-Vilaine) to Pleneuf-Val-Andre (Cotes-d'Armor)
Pleneuf-Val-Andre to Paimpol (Cotes-d'Armor)
Paimpol to Perros-Guirec (Cotes-d'Armor)
Perros-Guirec (Cotes-d'Armor) to Locquirec (Finistere)
Locquirec to Santec (Finistere)
Santec to Brouennou (Finistere)
Brouennou to Tregana (Finistere)
Tregana to Camaret-sur-Mer (Finistere)
Camaret-sur-Mer to Douarmenez (Finistere)
Douarmenez to Trunvel (Finistere)
Trunvel to Concarneau (Finistere)
Concarneau to Doelan (Finistere)
Doelan (Finistere) to Quiberon (Morbihan)
Quiberon to Vannes (Morbihan)
Vannes to Le Tour-du-Parc (Morbihan)
Downloadable map – generalised but useful. Also have a look at Hike Bike Map – www.gpsies.com/map.do?fileId=q…
GR34 Topoguides – books for sale – bretagne.ffrandonnee.fr/html/2…
Paper maps – ignrando.fr/boutique/cartes/ra…