I have had many visits to Plymouth when we used to organise the UIM Class 1 World Championship British Grand Prix which was run in Plymouth for quite a few years. Based on the Hoe and with Race Control in the Royal Plymouth Corinthian Yacht Club, it was an excellent venue with Plymouth providing the perfect grandstand for the Race Course. But that was from land, what is it like from the sea?
---
There is something rather grand about passing the massive breakwater for the first and into calmer waters.
Plymouth has upped its game and the council now have some around- town trails to follow that actually hide some secrets. Do find the small and hidden garden behind the main bar and restaurant area.
The MDL marina is a bit out of the way for the town and be warned is often very full. The short cut to town from QAB is via the passenger bridge by the Aquarium. Still, on the now somewhat elongated walk, you will pass the smaller fish landing warehouses- where with a bit of brazenness you should be able to get yourself some fine fresh fish. The Asian café en route was actually worth a visit, too, but you will need to book a table.
In town, climb up to the Hoe for impressive views over the Sound and scramble up the famous lighthouse.
For a fine day out walking, find your way over to Cremyll Ferry (not exactly close to MDL), cross over to the Mount Edgcumbe Estate and walk as far as you wish. If you walk to the small village of Cawsands, there is also a ferry to take you back into the town.
It is a very enjoyable day out and round trip. Plymouth is quite sizeable, boasting a shopping mall and pedestrianised shopping street.
Article courtesy of Gavin May – 2021
---
Marinas
Mayflower Marina
King Point Marina
Plymouth Yacht Haven at Turnchapel
Sutton Harbour Marina
Queen Anne's Battery (QAB) MDL
Plymouth Yacht Haven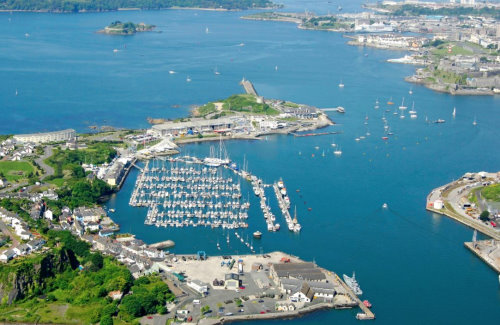 I plan to visit Plymouth Yacht Haven in early July 2021 and will update the site with photos and information.
To date they have been very helpful and quick to respond.