A new, massive wind farm is being built near Sait Brieuc / Saint Quay.
The area of the wind farm should be voided. You must not go through the Wind Turbines area as marked by the yellow buoys.
This affects boats travelling from Guernsey to Dahouet and boats travelling from Jersey heading for Dahouet, Binic or Saint Quay.
The site is sometimes called the Saint Brieuc Wind Farm, although some of the work is carried out from Saint Quay.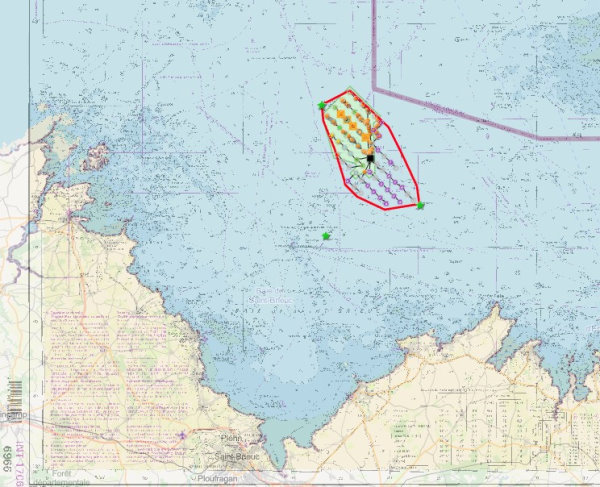 This is the link to the page with the latest information: ailes-marines.bzh/iberdrola-maps/?fbclid…
This is the latest bulletin, but it is all in french – www.premar-atlantique.gouv.fr/uploads/at….
The Saint-Brieuc wind farm, which is scheduled to come into service in 2023, will consist of 62 Siemens Gamesa Renewable Energy wind turbines of 8 Megawatts, for a total power of 496 Megawatts. The turbines will be spread over an area of ​​75 km², the nearest wind turbine is located 16.3 km from the coast of Brittany.

The expected energy production will amount to 1,850 Gigawatt hours, equivalent to the electricity consumption of 835,000 inhabitants, including heating.
The 62 wind turbines will be arranged in 7 rows of 3 to 14 wind turbines, spaced approximately 1,300 meters apart. Inside each line, the inter-turbine spacing is approximately 1,000 meters.

An electrical substation is located in the centre of the wind farm, aligned with the turbines within the fourth row.
Installation work began in the first half of 2021, for commissioning at the end of 2023.
Latest coordinates