Official web site
www.noonsite.com/Countries/Fra…
www.transatbtob.com/lang-gb-pa…
www.transeuropemarinas.com/mar…
www.marina-guide.de/harbour/ma…
Fuelling is available. During marina hours they are able to overide the credit card system if you leave a passport etc at the office.
The visitors pontoon is ahead of you as you enter the marina. This is also where the fuelling is located.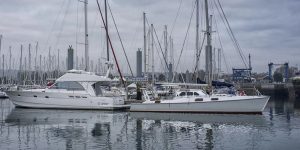 A ferry goes to the Ile de Glenan from Port La Foret, as it does from Benodet, Loctudy and Concarneau – check www.vedettes-odet.com/en/depar… for further information.
2020 news – bikes are now available for visitors.
Contact Information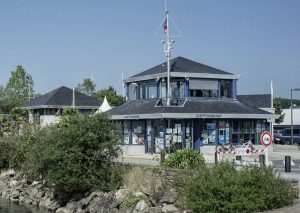 The captaincy brings together administrative and public information services.
Harbor Master: Mr. Jerome CADE
Director: M.Jean-Claude LANNURIEN
Tel. 02 98 56 98 45 
e-mail address – (the following is an image so you will need to type it in)

Replied quickly in good English
VHF channel 9
Opening hours
From September 15th to February 28th
WEEK: 8h30 -12h00 / 13h30 – 18h00
Sunday: 9h00 -12h00 / 14h30 – 17h30
From March 1st to June 30th and from September 1st to September 15th
WEEK 8: 00-12: 00/13: 30-18: 30
Sunday: 9: 00-12: 00/14: 30-17: 30
July and August
Every day from 8 am to 8 pm
Webcam
www.port-la-foret.fr/Web-cam-e…
Restaurants – www.tripadvisor.com/Restaurant…