Right next door to Concarneau, and why would you not choose Concarneau.
Concarneau offers you a lack of space and a fishing fleet, but you would get the ramparts, the indoor market, the town, the tourists.
Well, if instead, you want some peace and quiet, try here in La Foret.
The pilot guide says 1000+berths, but each fairway seems like its own little marina, so you would not guess it. A couple of good chandleries seem to support the engineering on-site and half a dozen cafe/restaurants surround the HM office. There is even a dry stack here. Any food shops (minimal) are now 20 mins walk away into the small village but it IS a very pleasant little walk between the golf course and the drying creek. There also seem to be some more than basic GRP boat offerings around here with the odd classic speedboat, Bertrams etc.
It all seems a bit hideaway and very tranquil and the kind of place you see a heron nosing about at the end of the slipway.
This is clearly an affluent area as there are a lot of newer and larger boats of all types.
2019 fuel euro 1.57.
Gavin May kindly provided the above report – 2021
Official web site
www.noonsite.com/Countries/France/Port-L…
www.transatbtob.com/lang-gb-page-event-e…
www.transeuropemarinas.com/marinas/port-…
www.marina-guide.de/harbour/marina-port-…
Fuelling is available. During marina hours they are able to overide the credit card system if you leave a passport etc at the office.
The visitors pontoon is ahead of you as you enter the marina. This is also where the fuelling is located.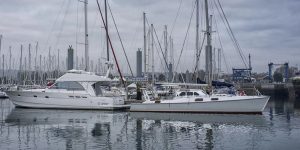 A ferry goes to the Ile de Glenan from Port La Foret, as it does from Benodet, Loctudy and Concarneau – check www.vedettes-odet.com/en/departure-ports… for further information.
2020 news – bikes are now available for visitors.
Contact Information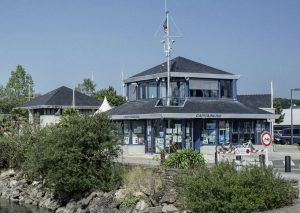 The captaincy brings together administrative and public information services.
Harbor Master: Mr. Jerome CADE
Director: M.Jean-Claude LANNURIEN
Tel. 02 98 56 98 45 
e-mail address – (the following is an image so you will need to type it in)

Replied quickly in good English
VHF channel 9
Opening hours
From September 15th to February 28th
WEEK: 8h30 -12h00 / 13h30 – 18h00
Sunday: 9h00 -12h00 / 14h30 – 17h30
From March 1st to June 30th and from September 1st to September 15th
WEEK 8: 00-12: 00/13: 30-18: 30
Sunday: 9: 00-12: 00/14: 30-17: 30
July and August
Every day from 8 am to 8 pm
Webcam
www.port-la-foret.fr/Web-cam-en-direct-3…
Restaurants – www.tripadvisor.com/RestaurantsNear-g672…