We visited Dartmouth in late June 2021.
A good 69 miles straight run from Guernsey to Dartmouth which took us within sight of the Channel Lightvessel mid-journey (soon to be replaced with a buoy)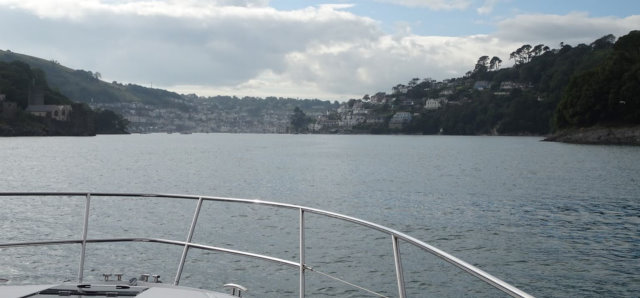 The entrance to Dartmouth is straightforward and covered by many fine guidebooks. Watch for the Dartmouth Lower car ferry which is a boat alongside the ferry and crosses every few minutes. We saw some close calls with people not paying enough attention.

When you get into the Dartmouth area, it is confusing with a mass of buoys and pontoons. The best thing to do is call DartNAV on VHF channel 11. They are very helpful and will try to direct you. www.dartharbour.org/
Alternatively, call VHF Channel 80 which is used by the 3 marinas. If you use their call sign of DartHaven, Dart Marine or Noss on Dart (possibly now Premier marinas), they will try to answer. If you just call on VHF80 then if any of the marinas want your business, they may well respond.
In 2021, all marinas were very busy and Noss on Dart was closed to visitors due to major works. The best thing is to call them on arrival or telephone the marinas at 9:30am on the day to see if they have space.
If you do moor on a Harbour buoy or pontoon (pontoons have blue flags) then there is an efficient water taxi service (VHF channel 69) that will pick you up and take you to Dartmouth or Kingswear. Note, dinghy landing at Kingswear is limited and there is more room for dinghies at Dartmouth. The water taxi will take you to either side but will not run you from one side to the other. There are 2 car ferries (which take passengers) and one passenger ferry which provide that service.
Regatta week is probably best avoided (unless you are racing). There used to be a big air show which was the main spectacle but no longer.
See Visiting the UK pages for information on forms to be completed when visiting from the Channel Islands.
---
Numerous berthing options with Darthaven Marina on the east side being popular – you will catch the evening sun-though this is strictly in Kingswear- the very upmarket Dart Marina, or the Town Quay.
There are also numerous buoys to be taken on the river. Little apart from the steam train on the east side of the river so you will need to take the tender across to Dartmouth itself, or pay the not-so-modest passenger fare each way on the car ferry. Dartmouth has all you need and is undeniably a fine place to stop. In Regatta week, you will struggle to get here by car…by boat…good luck to you! Do take your boat up the river at some point; there are some buoys off the Ferry Boat Inn if you fancy a pint. One of the great rivers of the south coast and a place where everyone seems to have some connection to boating.
With thanks to Gavin May for the article – 2021
---
There are 3 main marinas in the Dart River, Noss on Dart, Darthaven and Dart Marina
Darthaven marina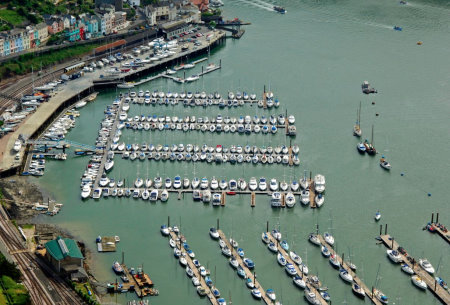 The Darthaven marina is on the east bank at Kingswear, opposite Dartmouth.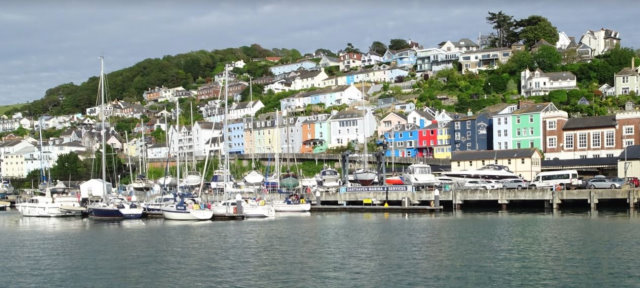 Call Darthaven marina on VHF channel 80. It is best to moor at high water or low water as there is a through tide. On spring tides, slack water can be as little as 10mins either side of HW. Think Lezardriex type tides!
Darthaven is a lovely marina and we enjoyed our stay there. There is not much in Kingswear, there are 2 pub restaurants, one of which does Pizza take away, the Station café and a breakfast and brunch café. There is however the Steam train which is good fun and goes to Paignton and there is also a great round trip you can do. Dartmouth to Totnes by boat up the river (1.5hours), bus to Paignton and then Paignton to Kingswear by Steam Train. To complete the journey – it includes the ferry across the river at the start or end of your journey. www.dartmouthrailriver.co.uk/
However, at the end of the marina area is the ferry across the river which takes around 5 mins.
There is no Yellow Border Agency box at DartHaven, so we posted our C1331 form at the Post office which is next to the ferry and open every day including Sunday.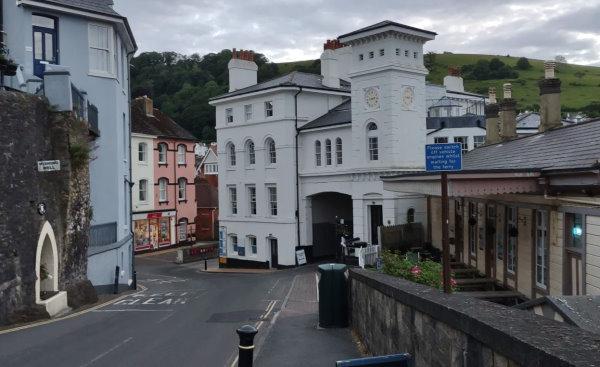 The facilities at DartHaven are in the Chandlery building which is over the railway crossing. This uses the same code as the secure entrance to the marina pontoon. The facilities are adequate but there is a bit of a shortage of shower cubicles.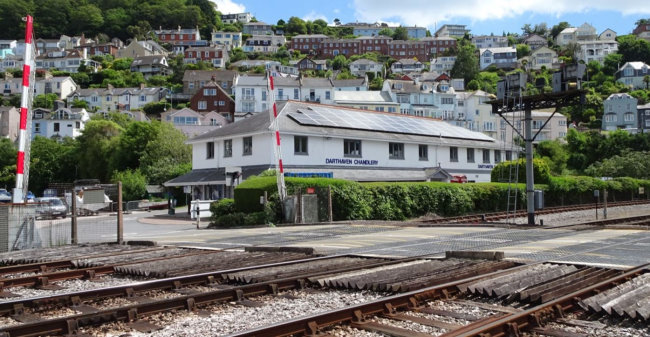 There are visitor pontoons to the south of the marina (no security) but the marina will normally try to fill any spaces within the marina first and please call them before deciding to moor there.
The marina is well equipped with a Chandlery, Volvo Penta workshop and full boatyard facilities. The marina staff are really helpful and friendly and provide a great service.
Video of our leaving DartHaven Marina and leaving Dartmouth – youtu.be/Z78yBXUP4c4
---
Dart marina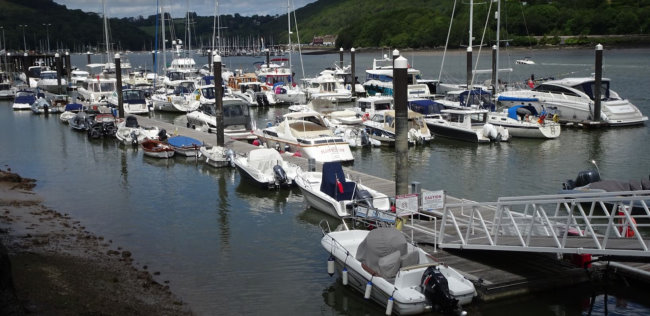 We received the following message from Dart Marina "As we are an annual berth holder Marina, we only have space here when our residents are away. For this reason, we do not take any bookings in advance, please call on arrival in the River or the day before to check on any availability, we will happily accommodate if we are able. We do have access to shore power and water."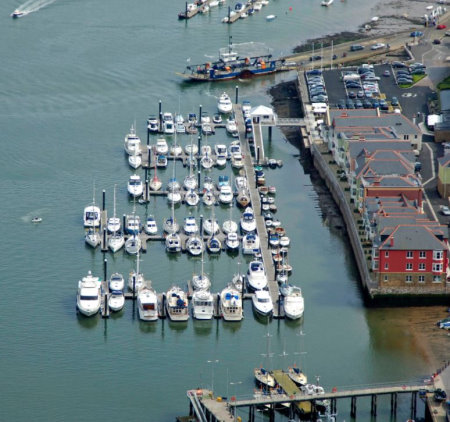 Dart Marina is further up the river and a pleasant 10 to 15 mins walk from Dartmouth main town. It appears to be well run although we did not see the facilities. No dedicated visitor space as indicated above but they will accommodate you if they can.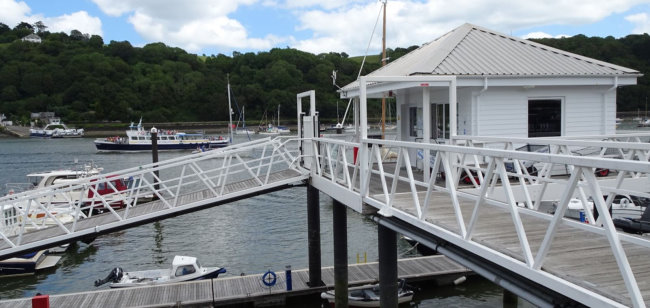 ---
Noss on Dart
Premiere marinas own the Noss on Dart marinas
They are currently having extensive development work on-site, so please check before planning to stay there.
Message from 18th June 2021
Demolition of the derelict buildings has been completed and work on the replacement boatyard, car park and commercial buildings have commenced. Work on the renewal of the floating marina has also commenced with dredging works now complete and the installation of the new pontoons and associated services well underway. Facilities and services at the Marina are very limited and there is considerable construction work still in progress.
Unfortunately, at the moment we are unable to commit to visitors until the marina is complete and the pontoons are serviced and safe to use.
www.premiermarinas.com/UK-Marina-locatio…
Marina map: www.premiermarinas.com/-/media/Marinas/M…
We passed Noss on Dart marina on our trip up the river and the work is massive. New and additional pontoons and major works on shore. The marina is further up river on the east (Kingswear) side and so fairly remote. It is a bit of a walk to the higher car ferry which then arrives next to Dart Marina, and so there is a further walk to Dartmouth. Hopefully, Premiere will provide a water taxi service for people wanting to visit Dartmouth from their marina.