Numerous berthing options with Darthaven Marina on the east side being popular – you will catch the evening sun-though this is strictly in Kingswear-, the very upmarket Dart Marina, or the Town Quay.
There are also numerous buoys to be taken on the river. Little apart from the steam train on the east side of the river so you will need to take the tender across to Dartmouth itself, or pay the not so modest passenger fare each way on the car ferry. Dartmouth has all you need and is undeniably a fine place to stop. In Regatta week, you will struggle to get here by car…by boat…good luck to you! Do take your boat up the river at some point; there are some buoys off the Ferry Boat Inn if you fancy a pint. One of the great rivers of the south coast and a place where everyone seems to have some connection to boating.
With thanks to Gavin May for the article – 2021
There are 3 main marinas in the Dart River
Noss on Dart, Darthaven and Dart Marina
Darthaven marina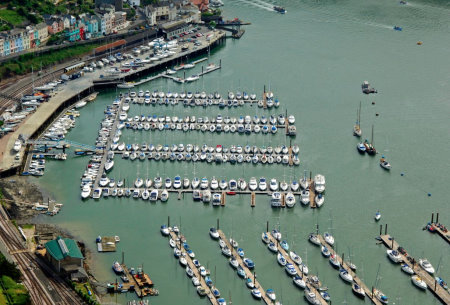 The Darthaven marina which is on the east bank at Kingswear.
We plan to go visit at the end of June and will provide photos and an update. They have been helpful and quick to respond.
Noss on Dart
Premiere marinas own the Noss on Dart marinas
They are currently having extensive development work on site, so please check before planning to stay there.
Message from 18th June 2021
Demolition of the derelict buildings has been completed and work on the replacement boatyard, car park and commercial buildings has commenced. Work on the renewal of the floating marina has also commenced with dredging works now complete and the installation of the new pontoons and associated services well underway. Facilities and services at the Marina are very limited and there is considerable construction work still in progress.
Unfortunately, at the moment we are unable to commit to visitors until the marina is complete and the pontoons are serviced and safe to use.
www.premiermarinas.com/UK-Mari…
Marina map: www.premiermarinas.com/-/media…
Dart marina
As we are an annual berth holder Marina, we only have space here when our residents are away. For this reason we do not take any bookings in advance, please call on arrival in the River or the day before to check on any availability, we will happily accommodate if we are able. We do have access to shore power and water.