Latest newsletter
Please call the marinas direct if you wish to find out how busy they are. Nearly all the Brittany and Normandy marinas DO NOT take reservations and so beware of 3rd party sites offering bookings.
2016 brochure with useful information – StCast
---
Saint Cast, one of the best marina in Northern Brittany – and it is non tidal. St Cast is an excellent, new marina located a few miles to the west of St Malo.
The facilities are excellent, the security codes are changed each week, the marina office is friendly – what more could you want.
Do beware though that Saint Cast is getting very popular and this can cause problems in the middle of the summer. The number of visitor moorings has not increased but they are able to use local moorings in the summer as these become available, which provides some flexibility.
Great news. "Voile Magazine", has once again awarded the marina of Saint Cast the title of "Best French Marina West Channel", from a total of 17 ports situated on the western Channel seaboard.
Under the headline "Brittany excellence" announcing the 2015 placings, the magazine noted that when a new marina is planned and built, the level of expectations for services and environmental considerations are very high, and Saint Cast came out top in their evaluation, citing the excellent services and the charm of our port among the reasons for the award.
Latest News 
There is a cafe two doors down from Le Ptit Mousse which is called Le Caravelle, you can get coffees snacks etc and drinks in the evening. They serve a good breakfast which is welcome. Euro 6 for a croissant, bread, coffee and orange juice – sounds ideal. This is also the new collection point for Croissants, Baguettes etc. – which replaces the one that has now gone. You may need to order the previous day.
The marina has promised the WiFi signal is greatly improved for 2016 season with the installation of additional antennas, and access to the service has been simplified
The big market day is on Monday in July and August and is really worth a visit.
Navigation – Approach
The port of Saint Cast is situated to the South East of Saint Cast Point, overlooked by a signal station and flanked by rocks 500 metres to the North East.
It is not advisable to pass between the Point and the Bourdinots Shelf, uncovered rocks (2 metres) situated ¾ of a mile to the North East of the Point, and signalled to the North East by a Cardinal East buoy. It is preferable to leave the Shelf to the East before heading to the entrance of the channel to the port.
Journey to St Cast from Guernsey was approx 52nm. Head for NW Minquiers and the SW Minquiers. A buoyed channel with red and green buoys mark the entrance channel quite clearly as you arrive at the marina. We approached on a low spring tide and there was plenty of water.
There are a large number of pot buoys in the approach – maybe a gamble at night.
The marina is now open from 07H00 to 21H00 during the season (June 15th to September 15th) and from 09H00 to 12H00 and 14H00 to 18H00 off season. It has 800 places on pontoons, including 40 short/medium stay places for visitors, and approx. 180 buoy moorings, including 10 buoy moorings for visitors. The marina can take boats as large as 50ft. The marina office say there is 2m of water below datum.
Once you get in – look for the Visitors Pontoon.
Personnel should be on hand afloat to greet incoming boats at all times throughout the week, in accordance with the high season schedule, available for consultation in the Marina Office. In theory, the VHF channel 9 for incoming boats is available from 08h00 to 21h00 (from 07h00 as from July 1st). The boat shuttle service takes any calls if for any reason port personnel is not immediately available. Many boats have reported calling up on channel 9 but getting no response unless you speak french.
The port personnel are normally in a red rib or dressed in orange.
If you are 10m or more, turn left between C & D pontoons and go right to the end until orange 'V's start to appear on pontoon poles. If 9m or shorter, turn left after D and again go right to the end but care re depth and length.
The shower/toilet and office block is completed and open and includes 18 well-appointed shower facilities with wet and dry areas, en-suite hand basins, hair-dryer and electric razor plug points. Separate washbasin facilities are also available for a quick wash and brushup. All are fitted with thermostatic taps. The facility has non-slip floor with underfloor heating, with hot water provided by solar panels, and also includes two washing machine/dryers and a dish washing area. Hair-dryers are now available on request at the front desk.
WIFI is available free of charge in the Marina office. It is available on some of the pontoons and seems to be much improved. A booster wifi antenna may help. There is no charge for wifi which is welcomed. You get a code from the Marina office and this will work with your computer for the duration of your stay without having to log in each time. VPN does appear to work.
The credit card operated refuelling berth provides a 24h/24h service, and a pumping station can accept lightly polluted treatable water as well as highly polluted residues.
Contact information
The Telephone number for the Marina Master's office is +33 (0)2 96 81 04 43.
The Marina Master, Dominique DELAMOTTE (+33.(0)607.631.092 mobile) and his assistant, Virginie LECLERC (+33.(0)296.810.443),
E-mail: stcast.plaisance@cotesdarmor.c…
web site www.cotesdarmor.cci.fr
Facebook: www.facebook.com/portdesaintca…
English speaking in the office is limited.
Above information kindly provided by Keith Martin, Ports Concession, Côtes d'Armor C.C.I. and modified by the editor (Colin)
Food
There is was a good shop on the marina site storing many essentials however it has now been replaced by a chandlers.
There is still a small clothes / tackle shop at the bottom of the hill.
Facilities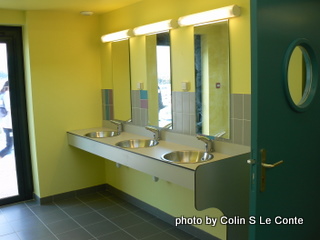 Contact info
Radio Channel: VHF channel 9
E-mail: stcast.plaisance@cotesdarmor.c…
Tourism web site
www.saintcastleguildo.fr/index…
Taxi
Useful taxi number is 02 96 41 86 16 – they speak good English and are based at Saint Cast. Tell them you got the number from Digimap.
Weather Forecast
france.meteofrance.com/france/……
WebCam
data.diabox.com/?id=108&v…
www.pays-de-matignon.net/portj…
Tides
tide.frbateaux.net/54
www.very-utile.com/horaire-mar…
Guide du Port
www.guide-du-port.com/port-sai…
The Marina being built & other info
www.yachtingmonthly.com/news/4…
www.ybw.com/forums/showthread….
marinas.com/view/marina/8496_S…
Some Forum chat
www.ybw.com/forums/index.php
Accommodation etc
www.visitfrance.co.uk/accommod……
We had a lovely walk along the path away from the town direction, to the next little bay, however there has been a land slip so there is a diversion around a campsite – lovely little bay, good swimming, nice picnic area and a very short walk up over the hill into town – café open in season and weekends at the moment – we didn't sample it as we went on the Monday. Jean
Markets
Monday
Restaurants
There are so many excellent restaurants in St Cast, we have created a separate page – the only marina to have this.
See Digimap's restaurants page
Construction of the lifting dock 
The lifting dock opened at the start of May 2012. Repair / maintenance facilities are also available.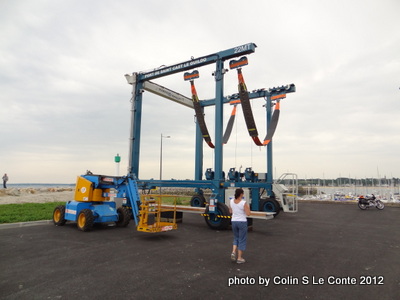 Sited next to the boat handling area that the C.C.I. constructed in 2010, the careening area, funded by the local council, and in consultation with the local maritime community, will have a 1250 m² fully impermeable surface, including boat hoist alleys, and will be able to accept twenty or so boats, from 6m to 13m in length, at any one time.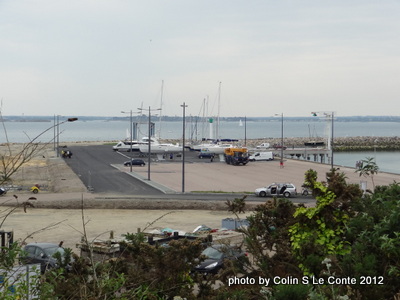 Conforming to the strictest environmental regulations in force, a waste water recuperation system will be installed. A contaminated water collection and treatment plant, consisting of a seperator and decanter of solids in suspension, a hydrocarbons seperator and a treament system for dissolved materials, will ensure that water discharged back into the sea will be completely decontaminated and unpolluted.
A waste collection centre will also be built by the C.C.I., designed to ensure that all waste products emanating from work carried out on boats in the careening area are collected and treated in strict accordance with the relevant environmental regulations.
Last but not least, a twenty ton boat hoist and 2.5 ton dismasting/stepping jib will be installed over the already constructed dock to complete the range of equipment available.
There will be a charge for the use of the facility, which will be accessible to port users and all pleasure craft owners.
The entire facility is managed by the Côtes d'Armor C.C.I.